Profile: Horsch Leeb Sprayer
---
A new range of trailed and self-propelled sprayers from German manufacturer Horsch is now available in NZ
The Horsch Leeb range offers four trailed machines – the AX, LT Light, LT and GS – and a self-propelled model, the PT. Tank sizes on trailed models are 4000 to 8000 litres, while the PT has an 8000-litre tank. Depending on the model, booms widths can be specified between 18 and 42 metres.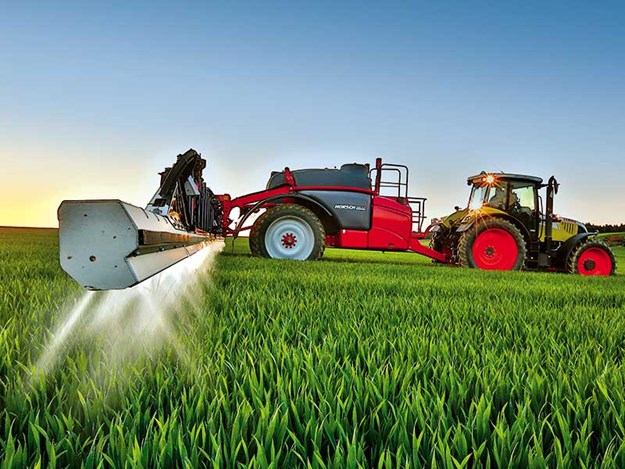 Norwood recently unveiled a Horsch Leeb LT 4000 with a 24-metre boom at the Foundation for Arable Research's annual expo in Chertsey and is now demonstrating this unit and a GS 6000 with a 36-metre boom in Canterbury and Southland.
Norwood Ground Force brand manager Jamie Hanna says the Horsch Leeb is an extremely well-engineered, intelligent sprayer with a low centre of gravity and number of sophisticated features.
"Advanced boom control is one of the biggest advantages the Horsch Leeb offers. While sensors to read contours are not new, Leeb is currently the only sprayer in the world with the ability to vertically bend each boom to follow those contours. This means operators can use wider booms in more undulating terrain," Jamie says.
"The levelling system and speed of adjustment allow it to work consistently at a height of just 300mm above the target.
"It has this ability because the nozzles are spaced at 25cm along the boom versus the traditional 50cm. At 50cm spacings, nozzles cannot provide adequate coverage when working at target height of 30cm."
Jamie says working at lower heights reduces spray drift so more of the chemical that comes out of the sprayer hits the target.
"This means operators can reduce application rates and, therefore, input costs while achieving the same results. And with less drift, operators have a larger operating window because they can spray in windier conditions."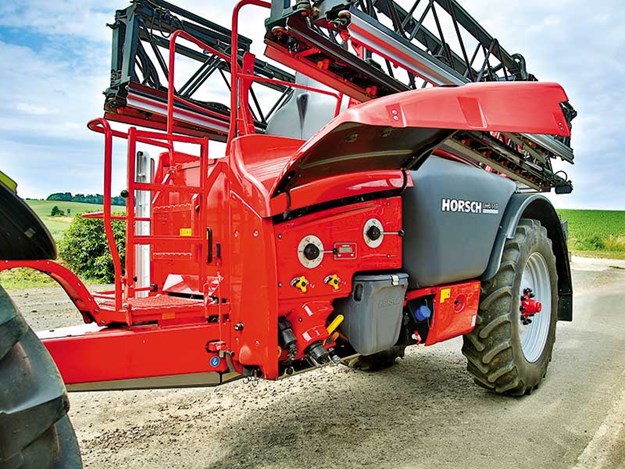 Horsch Leeb sprayers are offered with three levels of boom control: BoomControl Eco, BoomControl Pro, and BoomControl Pro Plus. BoomControl Eco is the simplest system with height control sensors on the outer end of the boom. It automatically maintains an exact working height even at high working speeds. This system gives working heights down to 40cm. BoomControl Pro and ProPlus are more advanced and have up to six sensors across the full boom width to better manage height control.
ProPlus is available on LT, GS, and PT models with booms 30 metres and wider. It takes this technology one step further, allowing each individual boom to bend vertically at a pivot point partway down its length. This provides the ultimate in contour following.
Both Pro and ProPlus give 30-cm working heights, which can reduce spray drift up to 80% compared to standard boom technology.
Additional sophistication comes from the Horsch Leeb's Autoselect system. This gives the sprayer the ability to automatically self-select the spray rate or change nozzles to maintain the programmed spray rate.
"Each holder has several different spray nozzles, and Autoselect will choose the one that best fits the operating speed. As you increase your forward speed it might change the spray rate, and then if you continue to increase your speed it can automatically switch to another nozzle," Jamie says.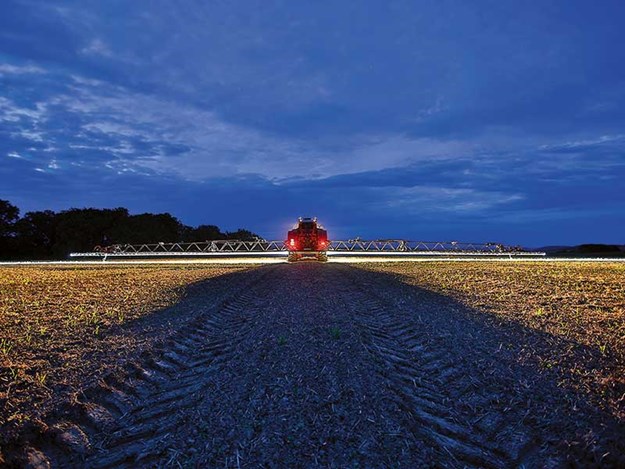 "Autoselect also operates if you are spraying according to a prescription map. If there are sections of the field that require different levels of application, it will automatically select the nozzle or change the spray rate to meet that target application rate."
Jamie says there will be interest in Leeb sprayers in many parts of New Zealand, especially where growers produce high-value crops. This includes the larger cropping areas in the South Island, and regions of the North Island that focus on vegetable and arable crops. Both of the trailed machines
Norwood is demonstrating have steered axles, which are highly manoeuvrable in cereal crops and when following tramlines.
All Leeb sprayers can handle liquid fertiliser, and different pump options are available depending on whether they will be used primarily for chemicals or liquid fertiliser.
"Different suspension options are available," Jamie says. "If you work in lots of rough country you need a suspension that provides more stability so that the boom levelling system does not have to make so many adjustments. If you do a lot of travel on the roads, you need a suspension that gives a smoother ride."
Continuous cleaning ensures constant cleaning inside of the system, and there are five wash programmes that can be run from the workstation on the side of the sprayer or from the cab. Another option is a blow-out function that removes residual chemicals from the boom with compressed air.
Keep up to date in the industry by signing up to Farm Trader's free newsletter or liking us on Facebook