Profile: Wade Contractors
---
Based in Te Aroha, Wade Contractors is very much a team effort with a tightly knit crew dedicated to the continued success and growth of the business
There's no doubt that contracting flows through the veins of Klinton Wade. The 40-year-old has been driving tractors on his parents' Manawaru farm for more than three decades, and having been hooked since he first got behind the wheel at the tender age of eight, he now manages the family contracting business, Wade Contractors. 
The family are also dairy cow and goat farmers, so deal with many of the issues and challenges their clients face. 
Early beginnings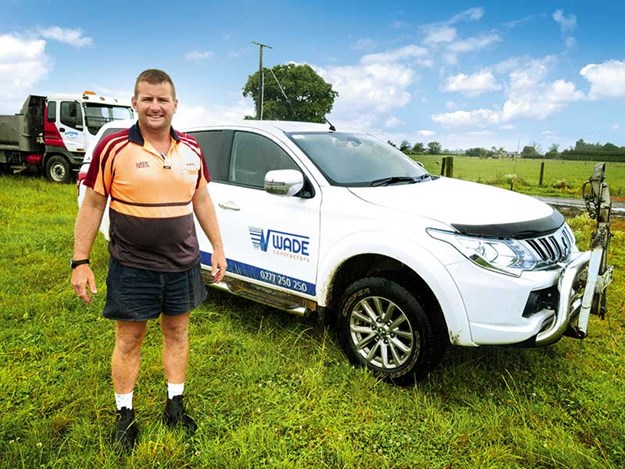 While these days Klinton manages an impressive array of machinery and staff, he has never lost his enjoyment of hands-on driving and recalls feeding out hay to the dairy herd back in the mid-80s.
His parents Kevin and Robyn still live on the family farm, now managed by Klinton's brother Gary.
Klinton's worked for the family contracting business since 2004 but took over the contracting reins in the aftermath of his father's heart attack in 2012.
After leaving Te Aroha College, he completed a welding apprenticeship at Cullen Engineering, before heading to the UK in 2000 for an extended OE (where he met his future wife Laura on a London building site).
"I was driving a digger on a contaminated gas works site in East London and she was a quantity surveyor in the site office. I was having trouble with the hydraulic hitch on my bucket and had to go into the office to ring the boss.
I met Laura and the rest as they say is history."
After returning home briefly and driving diggers for his father for the first time, Klinton returned to the UK to reunite with Laura. The couple moved to Australia where he worked in the mines in Kalgoorlie in 44-degree heat for a stint before relocating to Sydney as a builder's labourer.
By 2002, Klinton returned home to team up with his Dad and commit to the family business.
"I always had an inkling I would end up being a contractor," he smiles.
Today, Klinton and Laura live in Te Aroha, just 10 minutes from the family farm, with children Anna (12) and Michael (11), two dogs, two horses, and a cat. Laura has left surveying, retraining as a teacher and now working at Te Aroha College, as well as being heavily involved in local basketball. 
A typical day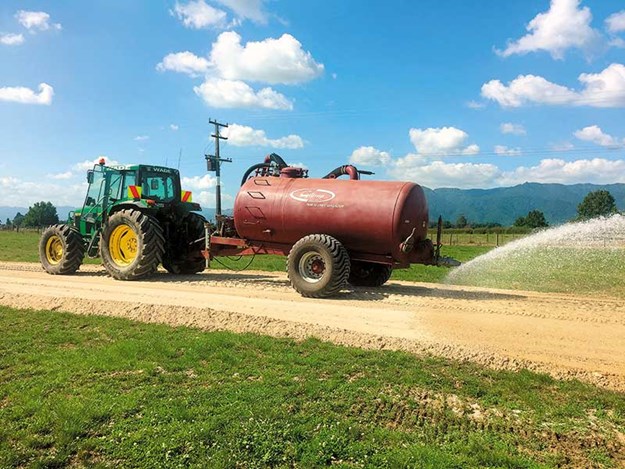 Klinton is usually out of bed around 6am, aiming to start work by 7am.
"I don't have a typical 8am–4.30pm work then head home type of job," says Klinton, smiling while standing in the rain watching one of his graders spread metal along a Piako farm race.
"A huge part of my role revolves around planning, forecasting, organising, and communicating.
"I'm constantly co-ordinating, making phone calls to farmers, to metal suppliers, and our operators. I've got to make sure the material is suitable at the quarry, know how long it takes for the trucks to bring those loads in, have the digger there in advance to clean races off, etc. It's pretty full on."
Timing is crucial and Klinton needs to constantly consider his clients' requirements.
"We often have a fixed window to work in. Sometimes, we need to be off a race by 2:30pm because the herd needs to walk along it for milking. We might have 15 truck and trailer loads coming in that day but it needs to be timed around the farmer's practical needs."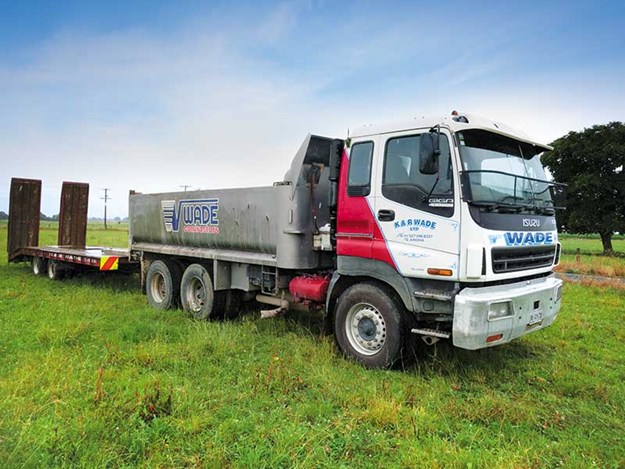 Depending which quarry the metal comes from (there are seven or eight that Wade's typically cart from), Klinton needs to constantly estimate arrival times.
"There are many variables, including weather and the width of farm entranceways or wires needing to be pegged down through to evaluating the firmness of the ground. We also need to coordinate where loads need to be dumped and quickly devise a plan B if roads or races are too wet to drive on."
With three diggers running, in peak season, up to five are in constant action. Wade's bringing in sub-contractors to add to the work capacity of their own truck and trailer unit.
Depending on the material used, Wade trucks could be travelling from Tauhei, Kiwitahi, Tirohia, Waitawheta or Tahuna, Taotaoroa or Huntly.
"We also sometimes use Stock Rock from Rotorua, which could involve a three-hour round trip.
"Sometimes, you're stuck waiting half an hour for a load at a quarry because everyone else in the country is queued up there as well," Klinton says, "but that's just life. I'm always trying to think a week ahead and keep on top of ordering materials and organising the team."
Years of practical experience enable Klinton to estimate the volume and select type of materials required for any given job, allowing him to consult his clients on preferred practices to ensure the best possible outcome is achieved.
Changing times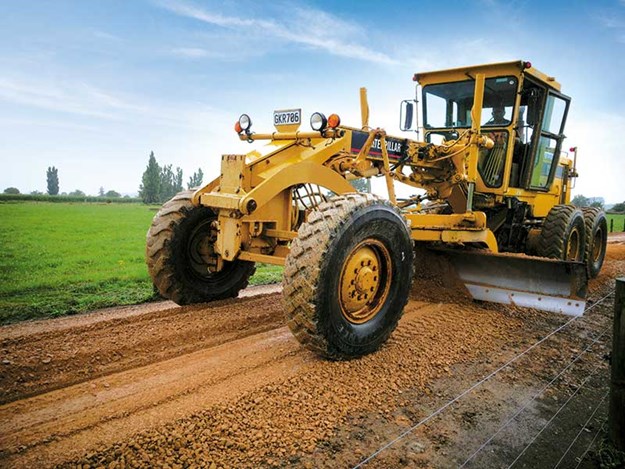 Having grown up on the same land where he now works alongside neighbours and other locals, Klinton has seen many changes during his time in the contracting business.
"In the last decade, many farmers have had to intensify their operations to maximise profit from their land. This has led to feed pads being installed and some farmers switching to autumn calving. 
"The volume of cows using feed pads in winter soon takes its toll on the races, which is why we get called in more regularly now to maintain and upgrade them. Nobody wants to get vets in to treat cows with sore feet so it's imperative that races are kept in tip top condition."
Many of the farms Klinton started out working on are now significantly bigger, often buying neighbouring land or an additional farm. At the same time, herd sizes have doubled as technology has improved efficiency.
"Farms are heavily developed these days," says Klinton, "and have diversified with more intensive operations. My brother Gary runs our farms, and we have converted one farm to goats to complement our dairy herds." 
Kinton reckons that a modern farm manager has to be like a good rugby coach (a comparison which perhaps comes from his days as a Thames Valley Swamp Fox representative tighthead prop). 
"You've got to be organised, be a good team player, able to motivate, communicate, and lead your staff. Having skilled and knowledgeable staff on-board gives you the opportunity to succeed, so it's imperative to have a good team behind you to make this happen."
Annual planning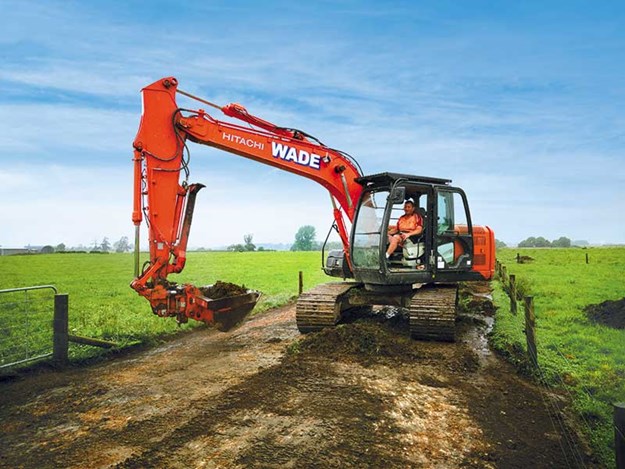 "Going forward from now until July we are full noise," Klinton explains, as another truck trailer unit arrives on-site. "We quieten down from August to September, as it's just too wet for many jobs then."
However, this provides a good opportunity to service machinery in the on-site workshop.
"For the last eight years, we've employed an engineer on contract for much of our repair work. Some of the boys take their holidays around this time, and odd jobs keep our smaller team ticking along.
"Our seasonal workers move on to other jobs during this period. Farmers are busy also with calving, so we don't get a lot of work again until about October. We don't do silage, but we do a lot of muck spreading and there are always a few blown out culverts to repair or replace." 
The Wade team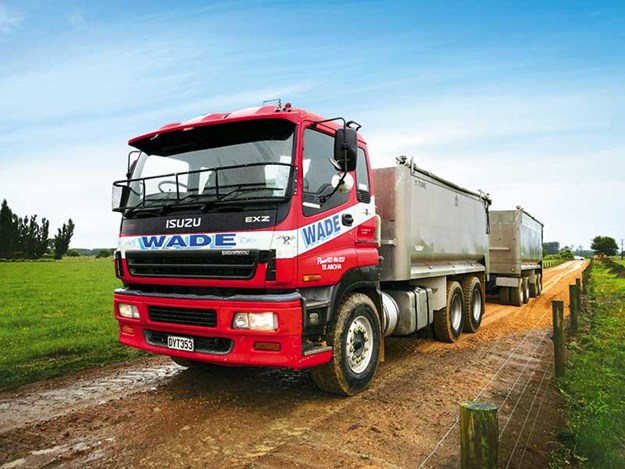 Most staff arrive with some experience under their belts and Klinton continues to upskill them as the season progresses.
"It's a pretty exact science at times. These jobs require a fair bit of know-how and good judgement. Anyone can pick up a load of clay and move it but knowing how to do it correctly and accurately, like setting a laser up, is a skilled role. Our industry needs to encourage more young people to consider farming and support services such as ours as a career.
"The diggers we use are much the same as when I started working for Dad, but the jobs are a lot bigger. Spending one week on a particular site used to be classed as a big job, now we can spend eight to 10 weeks at one location. A lot of the projects can require a team of five to be on that one specific job, with one team member on the grader, one on a digger, one on the roller, plus truck drivers."
During peak season, five diggers could be operating at five different locations, and of those, three may require two or three trucks.
"We rely heavily on our team and their expertise. Our digger drivers can forecast what is required and communicate that information back to me. We're a solid team that works well together.
"It's really important to create a good environment for everyone to work in and we are fortunate to have this. One driver has been with us for 10 years now, we had a dairy manager for 10, and our goat manager has done six years. A good team makes all the difference to your business." 
The horsepower behind the business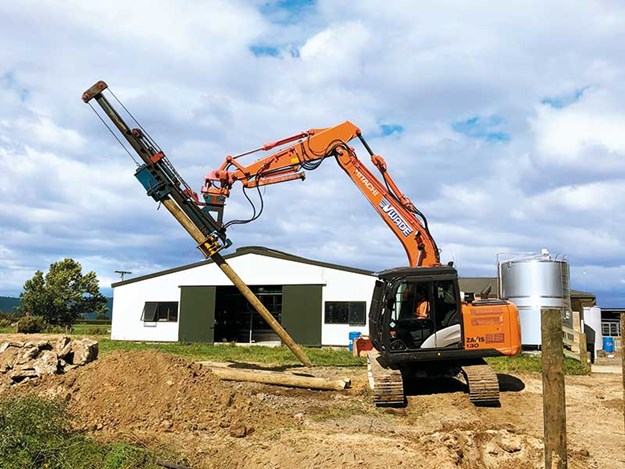 With sheds full of vital machinery, three of the key players at Wade Contractors are the fleet of three Hitachi 13-tonne diggers.
"These are definitely our preference," says Klinton. "One was purchased brand-new last year, and we recently purchased the iDig computer system, which we find extremely beneficial, allowing us to set precise measurements for levelling and digging drains. It's a great tool.
"We have three Isuzu trucks, two low loader trailers to transport machines, and our bulk unit for carting material back and forth from the quarry."
"We use a New Holland tractor, 250hp Power that tows the scoop. Last year, we purchased a new 150hp John Deere. Our tractors do most our muck spreading work as well as a 6910 John Deere, plus our HiSpec muck spreader and Richard Western Muck Spreader, effluent suction tank also used to clean out weeping walls and effluent ponds.
"My brother Gary and I imported the Richard Western brand-new from England in 2013. It's been a great asset. At times, we come across a few issues when foreign objects are accidentally loaded into the spreaders. The spreading of effluent and compostable matter from goat sheds is another way we have diversified. 
"When we converted our dairy operation to goats in 2013, we started using our tractor and scoop to remove used sawdust from the goat barns. The spreaders are used to spread cow and goat waste over the pastures. That helps keep our machines moving all year round.
We have had to adapt our services to cover other roles that have become obsolete. Drains are a good example. Instead of cleaning drains, which were a big part of our services, many have now been lasered piped and drains been fenced off. Last year, we did a huge amount of drains from Wardville Road. Along that side of the river, this would have been the first time in approximately 10 years we have done a stretch that size. 
"We've just recently purchased a post rammer/pile driver with a grab, about to commence our first big piling job in Morrinsville. We will be working alongside a registered engineer ramming seven-metre poles underground to allow a house to be built on top. We also survey out and install Novaflo pipe on farms as well as subdivisions."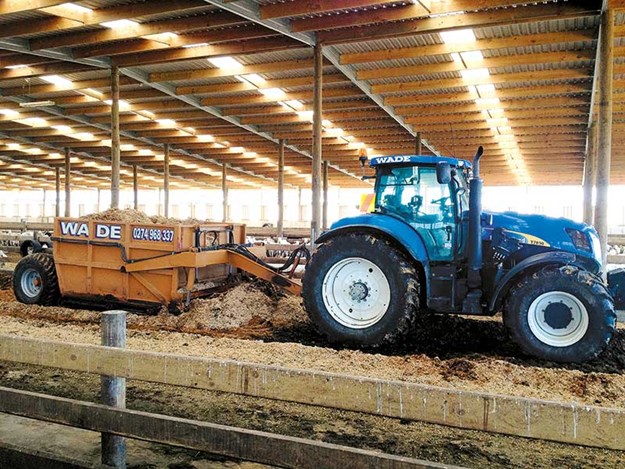 Wade Contracting has also added precision levelling to their repertoire.
"We prepare feed pads and shed foundations. We can level the ground to plus or minus five millimetres, getting the surface ready for concrete to be poured upon.
"I'm doing one at Kiwitahi at the moment, on the side of a hill. We have excavated and carted in 600 truck-loads of clay and spread 100ml of sand over it. We then levelled it with the laser blade to the exact gradient. The concrete layer will come in next week; he will basically just put his boxing and reinforcing steel down, back the concrete truck up and pour.
"We do the levelling using a Massey Ferguson 390, 80hp tractor with a grader blade that's electric over hydraulic. It just follows the lasers. Set your level, press go, and drive around. The builders just love it. We've designed and built our own laser blade and it works well.
"Tractors have definitely changed over time. Every new model is getting bigger now but some of the gateways on farms haven't been upsized," Klinton says. "The horsepower has increased. I think Dad's first truck was a Ford D Series at 180hp. Then he moved onto a Leader that was 225 followed by an Isuzu. Nowadays, our trucks range between 400 and 460hp."
Services and catchment area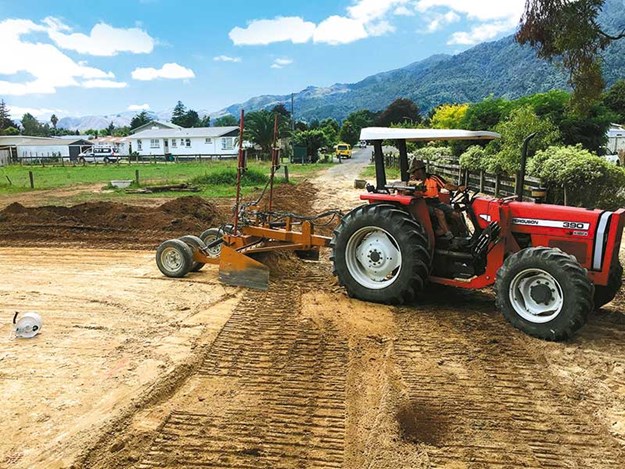 Wade Contracting can offer a wide range of services from track and race repairs, sand and metal cartage, effluent spreading and management, pond, bridge, and culvert construction to heavy earthmoving. 
"We recently spent 10 weeks completing a big subdivision at Waihi Beach moving 24 000 cubic metres of soil and clay, prepping the ground for 28 houses to be built." 
The Wade's catchment area now stretches from Miranda, Waihi Beach, Hamilton, Maungatautari to Tokoroa. 
"We don't advertise a lot. Word of mouth and being a successful well-known family business in the area has helped us meet our customer needs. We keep expanding the businesses over time, ensuring we continue to provide excellent service with good values." 
Keep up to date in the industry by signing up to Farm Trader's free newsletter or liking us on Facebook