Profile: Avant Loader 800 Series
---
Finnish manufacturer Avant Tecno recently launched its largest ever wheel loader—the 800 series
Business could not be any better for Finnish wheel loader manufacturer Avant Tecno, which recently launched its largest and most powerful machines to date.
With production lines full and 110 loaders of all its 15 different models being manufactured each week at the factory near Tampere, Avant Tecno is undergoing a massive expansion plan to help satisfy the strong demand for its product.
Spending €10 million over the next three years, Avant is building a longer production line—jumping from 70m up to 130m to cope with sales demand and to build the new 800 Series.
Currently selling to 55 countries and turning over €100 million for the first time in 2018, Avant Tecno hopes to increase that to €250 million following its expansion plan.
Consisting of two models, the 800 series includes the 860 for the European Union and North American markets and the 850 model for all other regions. Avant says the 800 series will start production this summer for all of the company's global markets.
Power and performance
The new models push the limits of compact loader's performance, boosting a 1900kg lift capacity and 3.5m lift height.
However, measuring only 1.5m wide, 3.4m long, and 2.2m tall, with weight starting from 2500kg, the 800 series has been designed to be a versatile and powerful compact loader.
Digging deeper into the specifications, the Avant 860i is powered with a Kohler KDI 1903 TCR 42 kW/57hp common rail turbocharged diesel engine, which is EU Stage V and US Tier 4 final compliant.
Power for the Avant 850 is supplied by a Kubota V2403 36 kW/49hp diesel engine, making it suitable for markets outside the scope of EU Stage V and US Tier 4 final emission standards.
These models move using a hydrostatic transmission with a hydraulic drive motor on each wheel together with two drive speed areas, which is a familiar feature of Avant compact loaders.
The maximum drive speed of the 800 series is 30km/h and auxiliary hydraulics oil flow for attachments is as high as 80l/min.
A telescopic loader boom is a standard feature on the 800 series as well extending and retracting hydraulically 825mm and gives a maximum lift height of 3.5m to the hinge pin.
This enables loading on trucks with high sides, or mixer feeder wagons, and unloading from a high level. The hydraulic self-levelling system keeps the load automatically level when lifting and lowering the boom. 
The 800 series is equipped with Avant quick attach system for attachments and other systems like Euro 3 will be available as an option.
The hydraulic hoses of the attachments are coupled with the multi-connector, which allows easy connecting with a single hand movement, in all conditions.
Avant 800 series has a certified ROPS/FOPS open cab as standard; an enclosed heated cab is available as an option. This DLX cab mounts on the chassis of the loader with anti-vibration mounts, which guarantees excellent noise and vibration isolation. 
Efficient heating, ventilation, and large windows further improve the user-friendliness of the DLX cab, which can be equipped with air conditioning as well.
When comparing the new series to the previous larger model range, the 700 Series, the 800 series has an extra 600kg lift capacity and 10% extra pushing power.
Avant Tecno's sales director Jani Kakela says, "The 800 series has an extra 47cm lift height compared to the 700 Series and 500kg more bucket crowd force.
"It sits 12cm higher, 33cm longer, 5cms wider, and has an extra 10cms wheel diameter.
"Customer needs are the basis for our R&D. This way, we can develop products that have real demand on the market.
"So far, we have reached our targets well, however, we must keep our finger on the pulse regarding the products, production, as well as our operation as a whole.
"According to Raimo Ala-Korpi, managing director of Avant Tecno UK, the company is going to be "fairly aggressive" with its pricing structure.
He says, "The new 800 series is going to be officially launched at the Bauma Show in April. We are going to be fairly aggressive with the initial pricing which will be in the region of £40,000 (€ 45,000) plus VAT.
"As well as the loaders, Avant also can supply more than 200 attachments for their loaders, including the 800 Series, all produced by sub-contractors. The US is the most important market for Avant Tecno where they sell around 800 loaders per year.
In the UK, Avant sold more than 300 in 2018 and 1500 attachments. Around 200 loaders per year go to Australia and 100 to New Zealand.
Avant's daughter company launches new access platform
Adding to the new products at Avant, the company also launched a new access platform from its daughter company Leguan.
The new Leguan 135 Neo is an easy-to-use, joystick operated lift that has all key operations made with a single joystick, which allows multiple boom operations to be made simultaneously.
The platform is equipped with both automatic and manual levelling. The automatic levelling is made simple since all this operation requires is a single push of a button. The automatic levelling function operates seamlessly on sloped surfaces as well.
Leguan's in-house designed automatic outreach control system measures the cage load and the maximum outreach is dependent on this automation.
Taking the booms back to transit position has been made easy as the operator simply holds a single switch and the booms automatically find their way back to transit position.
In-house software development has prevented the work cage and booms from colliding with any other structure of the machine.
The 135 Neo has been made lower and narrower than its predecessors, however, there have been no compromises made concerning the top-class off-road capabilities Leguans are known for.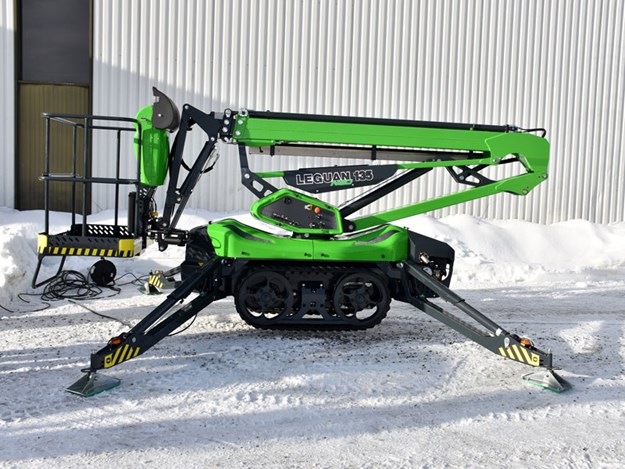 Simplicity and service-friendliness have been two key aspects in the development of this machine. The machine is powered by a Honda GX390 petrol engine, which comes equipped with automatic revolution control.
The 135 Neo can be equipped with either 4WD or rubber tracks. As all Leguan models, it's possible to acquire with a tailored trailer, atop which it can be operated without having to remove the unit from the trailer.
There is also an electric motor (230 volt or 110 volt) fitted, which can move the lift and fully operate the functions when plugged in. A remote control operation for driving and outrigger operations are available as an option.
With growing interest toward greener machines, the Leguan 135 Neo will be made available with battery operation during 2019.
Keep up to date in the industry by signing up to Farm Trader's free newsletter or liking us on Facebook