Cover story: Alpine Buildings
---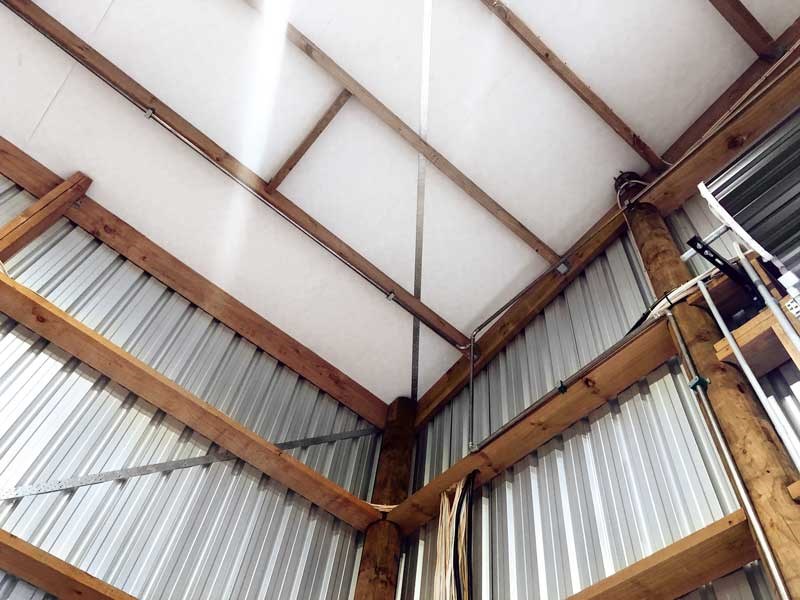 Ryan says he wanted a timber framed building from the very start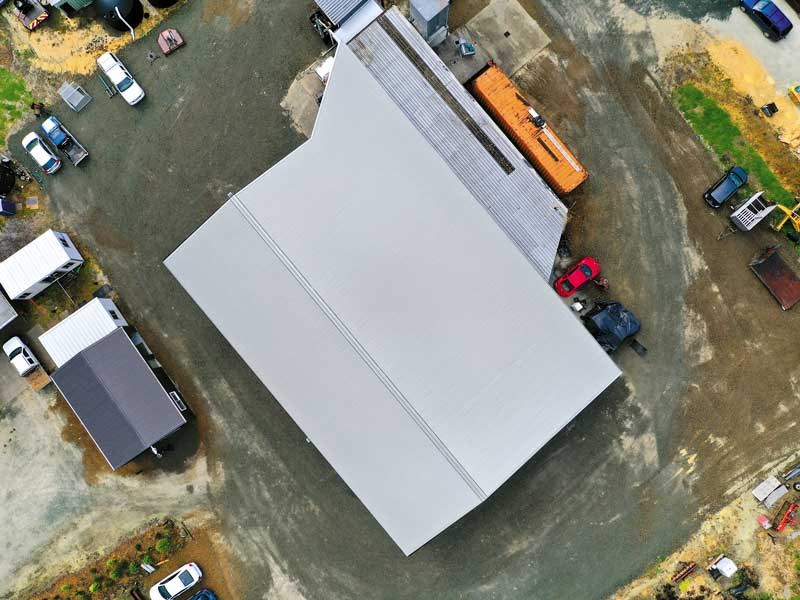 The new workshop measures in at 660 square metres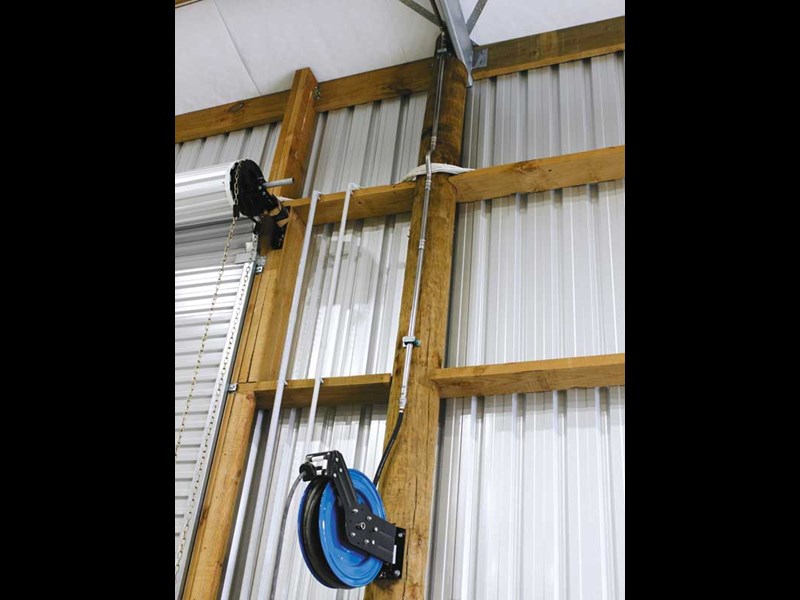 Stainless steel air lines run throughout the building

Designing a great shed for a growing business is all in a day's work for Alpine Buildings
For Northland's Engtech Engineering Ltd, that shed needed to provide plenty of bright and airy workshop space in order to support and service a multitude of different clients' machinery needs in the one spot.
Usually, I take any comments about a product being fit-for-purpose at face value. If the end user says it does what's expected of it, then that's good enough for me. Occasionally though, you get handed supplementary proof.
And sometimes it arrives in the most dramatic of ways. That was the case this month as I geared up for a trip to Northland to check out the Alpine Buildings-designed workshop of Ryan Lusty from Engtech Engineering Ltd.
My trip to the Mangawhai district, just south of the Brynderwyns, to have a look at this large-scale industrial build project happened to chime with what I'm supposing most people in Northland would call the arrival of winter for 2019. Not 48 hours before I fetched up at Ryan's yard, a massive storm front blew through the north of the North.
While the Mangawhai area escaped the out-and-out twister carnage that befell the Doubtless Bay region right at the top of the country, the winds that blew across the rolling hills of Kaiwaka towards the coast at Mangawhai were still something else.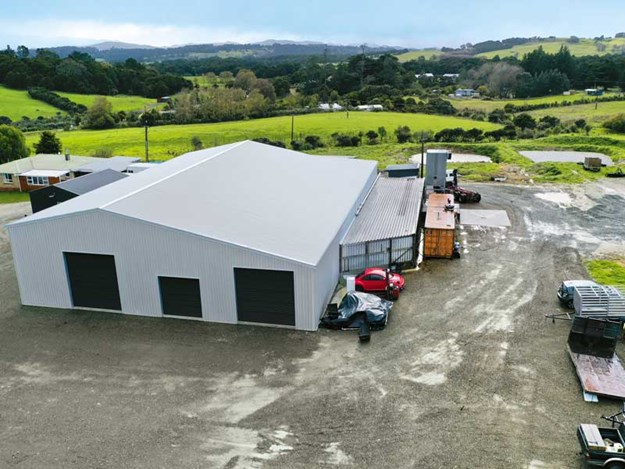 And Ryan, who has grown up in the area, should know. "I've never experienced winds like it. It was a huge storm. But the new shed didn't move an inch; it didn't even shudder. I was really impressed," he says of his company's brand-new Zincalume-clad headquarters.
When you consider that just down the road, a building lost its roof and the landscape was dotted with fallen trees of varying sizes, that's a solid endorsement for Alpine Building's construction quality. For Ryan, though, it's just another endorsement for a company that has provided expertise and engineering excellence from the very beginning.
Blank canvas
Ryan Lusty and Tracey Sewell have been running their busy mechanical and general engineering firm from leased premises for the last two years.
But a move to a recently purchased block of land, which the young couple intends to develop further, gave them the opportunity to extend the footprint of their workspace from a cramped 180 square metres at their last base to a massive 660 square metres with the construction of a purpose-designed Alpine Buildings shed.
"The property was really run down when we purchased it in April last year," says Tracey.
"But we considered it a blank canvas upon which we could design how we'd like our engineering firm to run.
Part of that process was working with Alpine Buildings to ensure the central workshop had enough room for our team to operate in and could be organised as efficiently as possible to suit how job flow works from beginning to end through the workshop."
While the bright black, white, and orange Engtech Engineering signage might be new, the company has actually been in existence since the 1950s.
Ryan says he grew up during the 1980s and 1990s with the company a familiar sight in the district and when the opportunity to purchase the enterprise arrived, he and Tracey grabbed it with both hands.
"We describe ourselves as mechanical and general engineers. We provide sheet metal and stainless-steel fabrication and welding services, and we also specialise in repair work for local transport firms and have a long-standing client base within the ag sector too," says Ryan.
The company also has a field service truck, which can respond to emergency breakdowns around the region, ensuring local contractors can get moving again quickly should the worst happen. "We've diversified in recent years, too, and we also have the contract to build traffic safety management trucks for Traffic Safe NZ," continues Ryan.
"We've built 85 of these trucks now – each of which takes between three and four weeks to piece together, from fabrication to painting and electrical work in our one-stop shop – but we have a constant flow of these trucks through the workshop, so our fabrication and welding stations are in constant use.
"That was a big consideration when we worked with Alpine Buildings to design the workshop; we needed to ensure various different-sized vehicles or implements could be serviced or assembled within the footprint of the building and our team of five could work at their own tasks without being on top of each other like they were at our old leased site."
Ready, kit set, go
While the workshop is already a large-scale building, it's set to transform further still. Ryan says paint and media-blasting booths will be added in the coming months as the company gets up to speed with a full suite of services for its many clients.
"From the outside, the building appears to have a lot of roller doors, but every one of those doors serves a purpose," he says. "They mean that every work bay has a door through which we can get trucks and gear in and out quickly."
Inside, wood is the predominant material on show. Despite clearly having an appreciation for metal, Ryan says he wanted a timber shed to help deaden the noise that comes hand-in-hand with metal work.
The standard builder's paper lining the roof above works in this regard, too, as well as helping to eliminate condensation and adding a neat and tidy uniform appearance to the interior. "We knew after working in the last place that we didn't want clear-light roof panelling," says Tracey.
"It adds extra light into the workshop but this isn't always a positive thing, as you end up battling light reflection when you're welding, as well as having to deal with condensation.
Also, on a really hot day with the sun beating down, you can see the guys actually moving what they're working on to avoid being directly underneath the clear-light panels."
The workshop, which was built by Alpine Buildings' local contracted builder, Andre Nikolai, feels bright and airy, which is down to good lighting and light wall and ceiling materials. The Zincalume finish will help keep the workshop cool in summer too.
Signature moves
Engtech Engineering's workshop boasts a number of standard features that set it above the competition in Ryan's mind. These include the clearspan design philosophy that Alpine Buildings adheres to, meaning the Engtech Engineering team doesn't have to manoeuvre trucks, trailers, tractors, and steel lengths around support poles, which might otherwise interrupt the floor space and compromise workflow through the building.
Alpine Buildings says that most of its clients can fit up to 50% more equipment inside their buildings. Alpine Buildings' Zero-Bird-Perch rafter design – which eliminates nooks where birds might nest (or perhaps take refuge during a winter storm) with a special 'slot and bolt' design – is another key ingredient in making the workshop a better, brighter, cleaner place to work.
Corrosion is becoming more and more of a concern as steelwork around New Zealand is prematurely rusting out due to inferior coatings. The building's rafters are completely hot dip galvanized after fabrication, which is widely regarded as the best steel protection coating available.
The comprehensive molten zinc coating gives optimum overall coverage inside and out, and is 2.5 times thicker than electroplated roll formed steel. This gives peace of mind to Alpine Building clients.
Tough to beat
While the recent weather was certainly fierce, Ryan says the land the company operates from is in a high wind zone, so he needed a structure that was going to be built tough regardless.
"The design and workmanship in Alpine Buildings' sheds is awesome," says Ryan. "I was sold on them right away. We tweaked the blueprint a couple of times here and there, but they were so keen to make sure we had a building that would work for us."
Ryan says every single person he encountered at Alpine Buildings was great to deal with and he was also impressed with how everything fitted together on-site.
"I was so surprised at how little waste there was during and after the build; everything is designed to fit perfectly, and you're not left with a huge amount of offcuts or left-over material lying around. They really do have the kitset building thing nailed."
Ryan and Tracey have been so impressed with the end-to-end service Alpine Buildings provided their company that they have recommended them to both a neighbour (for an XL-sized man cave) and Ryan's own father for a shed he is constructing.
"I knew we were on to a good thing from the very start with Alpine Buildings," concludes Ryan. "These guys have built massive sheds all over the country in a heap of different locations and environments, so we were confident they would deliver for us up here in Northland. And they definitely have."
Keep up to date in the industry by signing up to Farm Trader's free newsletter or liking us on Facebook