RCNZ president's message: We don't want to spread M.bovis
---
Farm Trader takes a closer look at Rural Contractors NZ, checking in with president David Kean who points out the difficulties posed for contractors over M.bovis
Given the opportunity, rural contractors were not shy recently in asking some hard questions around the efforts to eradicate M.bovis. At our Rural Contractors NZ conference, we had the opportunity to engage with both MPI and Federated Farmers on the issue.
I took the lead, reporting what I was hearing in my area with suggestions that a second round of the disease was emerging on some Southland farms. I said we, as contractors, were no better off than the first time in knowing whether a farm was infected or not.
Like many contractors, I use TracMap, which means me or my staff can visit three farms a day without direct contact with a farmer. This, of course, raises the potential risk of our machinery spreading the infection.
Fellow RCNZ member Chris Satherley, who is from Manawatu, agreed, saying MPI were putting contractors in a terrible position because they simply did not know which farms were affected. He said if eradication was sought, the names of affected properties had to be communicated.
Gavin Forrest, Federated Farmers GM for policy and advocacy put the position for the Feds. He said all those with infected herds were required to have signs on their gate and it was traumatic enough for farming families without the risk of victimisation.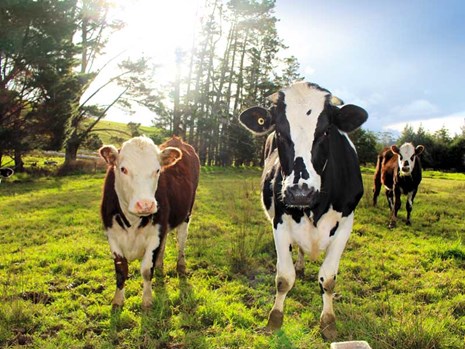 Our RCNZ chief executive Roger Parton made the point that contractors have to travel from farm to farm so knowing which farms were suspected of having M.bovis would allow them to take appropriate measures and not expand the risk. Gavin said if contractors were washing down equipment between farms, the chances of spreading were virtually nil.
Joe Stockman of MPI told us the primary sources for transfer were cow-to-cow contact and contaminated milk. He said 176 properties were under investigation for M.bovis out of 22,000 farms nationally. He reassured contractors that fewer infected dairy herds were emerging and it was not moving into beef herds.
I also raised the matter of staff from agricultural supply companies dropping supplies of chemicals on farms with no chemical storage sheds. Often, we contractors are obliged to use a few litres from a 20-litre container to supplement what we have provided, meaning a large amount was left on the farm.
Gavin said it would be safer and cheaper for farmers to only use chemicals that were needed and agreed to review the issue with us. So we are making progress on behalf of rural contractors.
RCNZ Membership benefits
Earlier this year we announced a $15 increase in fees for RCNZ membership, which makes the annual fee $505.
There are many benefits to be had from paying less than $10 a week to be a RCNZ member:
On-going, lengthy engagement with Immigration and Ministry of Social Development officials to get our intake of skilled machinery operators under the Approval in Principle scheme. You can only get one or more of the intake (this year, 147 of them) if you are a RCNZ member
Submissions to the Government, including on the latest proposals for an employer-led immigration policy and WorkSafe's paper on contractor responsibilities for health and safety
Access to the annual Agrichemical roadshows around regional centres to provide a convenient way for you to stay up to date with the regulations and requirements
The accreditation programme we run for Registered Contractors and Chemical Applicators
A financially sound organisation with gradually increasing membership
Your tailored diary, including an agricultural vehicles guide
On-going involvement with the Agricultural Transport Forum
Professional media and communications advice to position us as a leading rural organisation
Engagement on your behalf and resulting outputs from
GrowSafe
WorkSafe
Federated Farmers
Responsible Care NZ
Agricultural Leaders Health and Safety Action Group
NZ Police – Commercial Vehicle Safety Team
Connexis – our Industry Training Organisation
RCNZ also offers individual assistance to members with:
Immigration New Zealand issues
End of course employment
Assistance with finding suitable staff
Advice on employment issues, starting with draft employment agreements and some free initial consultation
Advice on compliance issues
And, of course, while we pay to attend conferences, your fees helps fund bringing together events as successful as our recent Nelson conference. So, I think RCNZ offers value for money when you take into consideration that fees cost less than $10 a week.
Wishing you safe and successful contracting.
Find farm machinery for sale in NZ
Keep up to date in the industry by signing up to Farm Trader's free newsletter or liking us on Facebook