Profile: Claas Lexion 8000/7000
---
The all-new Claas Lexion 8000/7000 series of combine harvester makes its Australasian debut at this month's Henty Machinery Field Days
With its revolutionary APS Synflow Hybid threshing system and cutting-edge operating systems, the new series raises the bar for harvesting performance even higher. 
Claas claims the new series delivers 10% more capacity than its existing 700 range, which is already acknowledged as the world's most productive and efficient combine harvester.
Claas Harvest Centre product manager (Lexion) Steve Reeves, says the 8000/7000 is more productive, more efficient, and easier to operate than ever before.
"This is not a new series; it's effectively a new machine," he says. "Every aspect has been re-engineered to meet the needs of today's grain producers – increased efficiency and ease of operation and reduced downtime and operating costs."
Launched in 1995 after more than a decade in development, Lexion was the first combine harvester to feature the unique Hybid threshing and separation system. The accelerated pre-separation system smoothly accelerates crop flow to 20 metres/second across all concave areas, meaning 70% separation occurs before the crop even reaches the twin longitudinal rotors.
"At the time, the Hybrid system was rightly recognised as a breakthrough in harvesting technology at the time," Steve says. "It allows Lexion to operate more efficiently and longer in all harvesting conditions and crop types.
"Claas is still the only manufacturer to offer both systems in the one machine. The new APS Synflow Hybrid system takes this technology to a whole new level."
Claas has increased the diameter of the threshing drum by 26% to 755 mm and the feed drum by 57% to 600 mm. Likewise, the capacity of the residual grain separation has increased by 20%.
"Combined, these improvements optimise crop flow and separation efficiency while reducing power requirement."
The system has undergone more than 6000 hours of field testing in 10 countries, including Australia, over the past eight years. Grain holding and unloading capacity have also been significantly increased to a maximum of 18 tonnes and 180 litres per second, respectively.
The first three models in the series – the 7600, 7700, and 8700 – are fitted with the reliable and super-efficient 12.5-litre six-cylinder Perkins 2206D engine, which delivers a maximum power of 461, 524, and 571hp respectively. The 8800 model is equipped with a 15.6-litre six-cylinder Mercedes-Benz OM 473 LA engine delivering 653hp.
All engines are equipped with Dynamic Cooling and Dynamic Power. "Dynamic Cooling is an on-demand variable drive cooling system that reduces power requirement by 26hp," Steve says. The horizontal cooling system creates a 'curtain' that prevents dust from rising.
"By comparison, Dynamic Power is an advanced engine management system that automatically adjusts power output to field conditions for maximum fuel efficiency.
"This system has been proven to deliver fuel savings of up to 10%."
Lexion 8000/7000 can be equipped with the proven 635, 735, and 890mm Terra Trac tracked assemblies or wide diameter tyres (2.15 metres front and 1.75 metres rear) for maximum traction and comfort.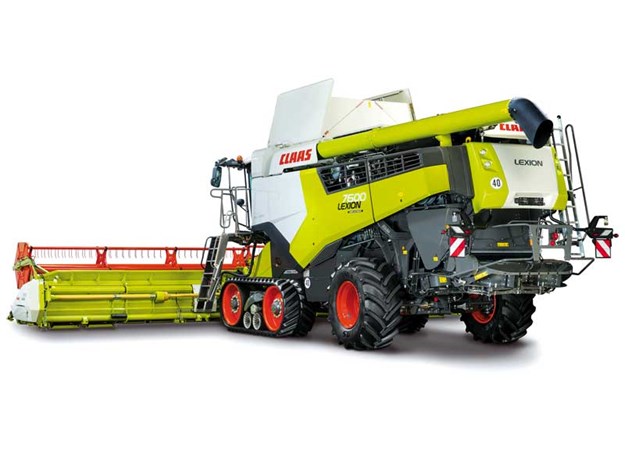 Both variants are capable of 40km/h ground speed for speedy on-road transport.
On-board technology includes Claas' award-winning Cemos Auto machine optimisation system, which continuously reviews and automatically adjusts the threshing, cleaning and separation settings for maximum throughput, grain quality, and fuel efficiency.
"These systems are not technology for technology's sake – they are designed to make the operator's job as easy and as comfortable as possible," Steve says. "Cemos Auto can improve output by up to 20% compared to the manual operation.
"All machines feature Telematics as standard.
"This GPS tracking and data transmission system can be used for a range of jobs, including machine optimisation, harvesting logistics, fleet management, remote diagnostics, and documentation.
"For example, your service team can access your machine's data to enable remote diagnosis and service scheduling."
All models are fitted with Jetstream, an eight- or six-stage turbine system that delivers a strong and consistent air blast over dual-ventilated steps for pre-cleaning and the full length of the sieve box.
Optional 3D or 4D cleaning systems automatically adjusts the blower speed according to the lateral and longitudinal angle of the machine. Claas Lexion 8000/7000 models can be equipped with either the new Claas Convio draper front or the tried-and-proven Vario variable cutterbar, which are both available in 13.8-, 12.3-, and 10.8-metre operating widths.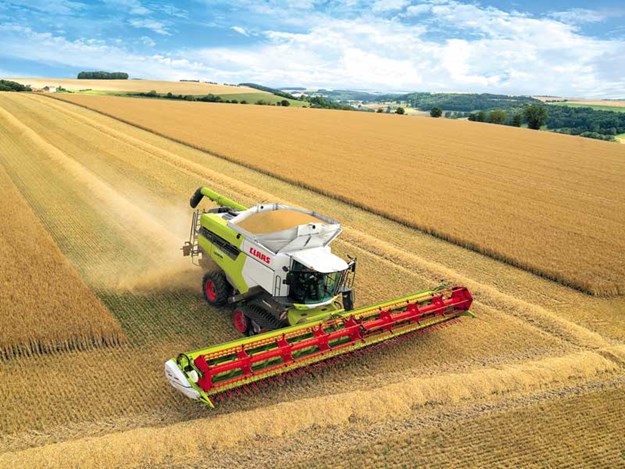 "Convio fronts ensure smooth, reliable crop flow with minimal grain loss, even in lighter conditions or direct-cut canola," Steve says.
The optional Flex configuration enables the cutterbar to flex up to 90mm upwards or 135mm downwards, making it ideal for harvesting pulse crops or lodged cereals." Claas Vario variable cutterbars provide optimum performance in all crops and harvesting conditions.
"The knife position can be adjusted from -10 cm to +60cm 'on the go' for optimum throughput, flexibility, and ease of operation," Steve says.
Find more harvesting machinery for sale in NZ
Keep up to date in the industry by signing up to Farm Trader's free newsletter or liking us on Facebook