Share milking success
---
Attracting good share milkers or contract milkers can be competitive. Farm business developer Angie Fisher shares some advice.
At this time of year, many people in the dairy sector are thinking about setting up new sharemilking or contract milking relationships. There are a lot of things to think about but fortunately, thousands of other people have gone through the process of entering into contract milking or sharemilking arrangements.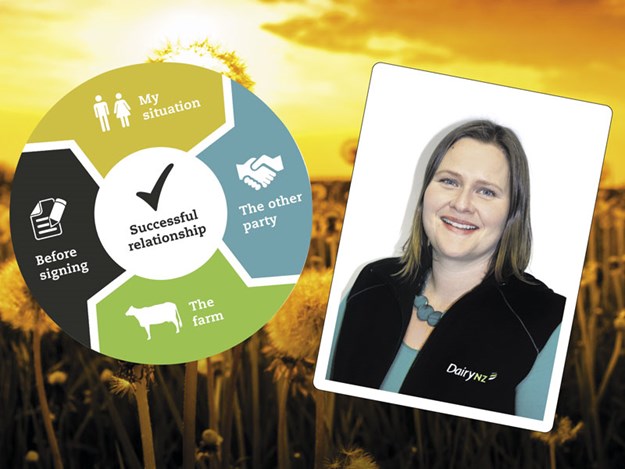 Talking with someone who's had experience in these situations is a great way to get some advice. Another option is to visit dairynz.co.nz/dairy-connect and we can put you in touch with a farmer who is happy to share their experience of sharemilking or contract milking relationships.     
DairyNZ's Do your homework webpage outlines a five-step process that can help you cover your bases and set up a successful relationship. It covers a wide range of topics such as checking references, contracts, and budgets. To find these resources, visit dairynz.co.nz/homework.  
I often hear from farmers that creating a good working relationship starts with good communication. In your first meeting, you can talk about what's important for both parties and what you want to achieve. A walk around the farm is also a good opportunity to share your thoughts on how the farm operates.
And they're likely to be more relaxed when out on the farm than in a formal interview, giving you a chance to get to know them better. Whether you're an established farmer or a progressing farmer, it's worthwhile thinking about what skills and abilities the other party has, as well as what you offer – and how you can structure arrangements to draw on and develop both of your skills and experience.  
Having a robust contract and written farm policies are a good way to ensure that everyone knows what the expectations are for the future. Federated Farmers has a range of contracts and agreements, which are developed by farmers for the current farming environment. DairyNZ also has some examples of farm policies that can help if you want to create or update these. Just type 'farm policies' into the search bar on our website dairynz.co.nz.  
For farm owners, attracting good sharemilkers or contract milkers can be competitive. So, think about what you and you farm have to offer and include this in adverts and interviews. The time that you invest into building a good relationship and setting out clear expectations for both parties will have a big impact on how well a farm operates. It's well worth spending the time building a solid partnership and doing your homework to create a successful relationship
Keep up to date in the industry by signing up to Farm Trader's free newsletter or liking us on Facebook