The mighty ute – Part 1
---
With the year (and decade) drawing to a close, it's the ideal time for a Farm Trader overview of some of the brightest lights to have illuminated the new vehicle market over the last 12–18 months
In our two-part series, this issue is dedicated to the mighty ute, and next month we'll follow up with a closer look at what we reckon are the best family cars on the market.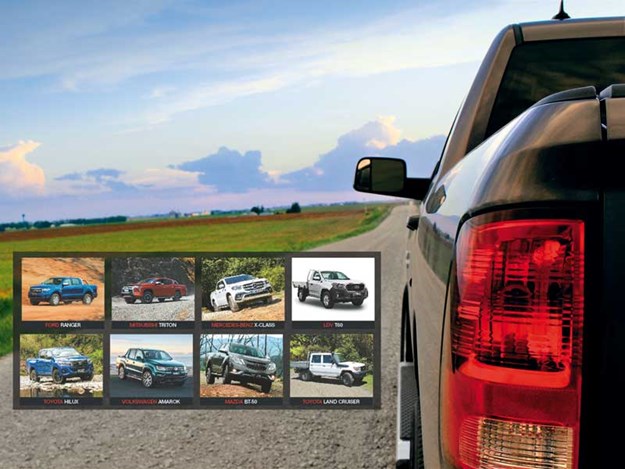 When Bluetooth mobile phone connectivity has become just as important as bullbars up front, you know the ute market is evolving rapidly. Here are eight models we consider worthy of your attention to help complete the hard yards ahead.
Ford Ranger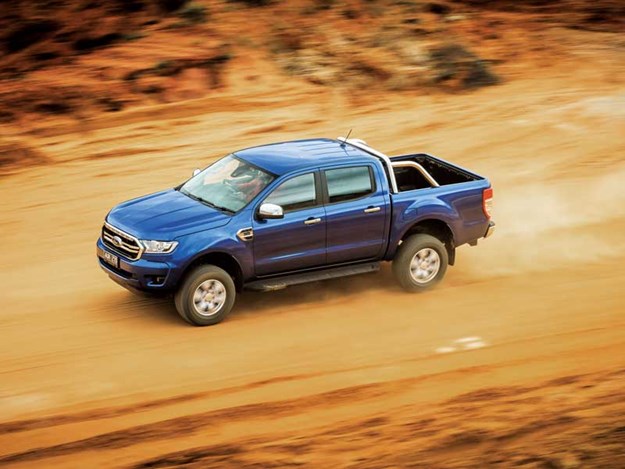 There's no point burying the lead. The Ford Ranger isn't just the country's most popular ute but New Zealand's most popular privately-owned vehicle overall. A large part of its success lies at the work boots of the country's multidisciplined trades.
But Ford's biggest selling model also arrived at the perfect time in terms of a distinct shift in how utes are now used by everyone – not just those towing mini diggers on tandem trailers – for everyday family and recreational life, too.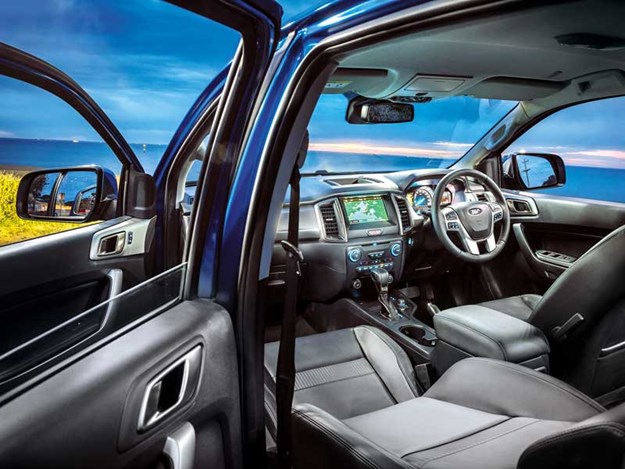 Despite all that, utes still remain a necessary workhorse on the farm. And, so the sales stats show us, the Ranger clearly has plenty of plus-points that make it a favourite.
Sure, it comes with all the mod-cons you'd expect to find. But it's also underpinned by a tough 4x4 system with easy-to-use Shift-On-The-Fly transfer, an 800mm wading depth, locking rear differential and a 3.5-tonne braked tow rating.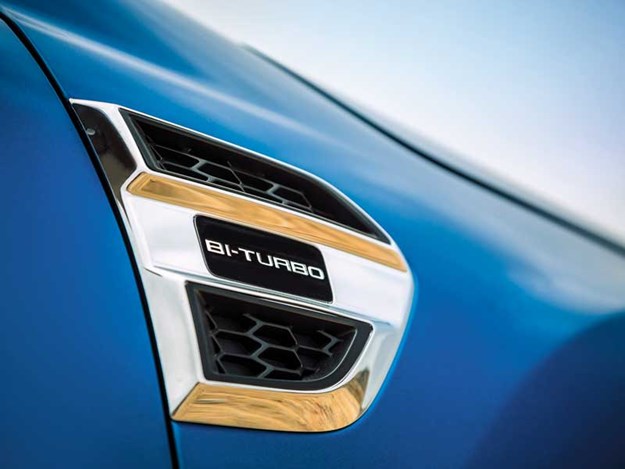 While the Wildtrak (and Raptor beyond) offer up all the looks, the XL and XLT grade Rangers deliver a good catch-all specification, whether in single cab-chassis, Super or Double Cab configuration. The unique 3.2-litre five-cylinder turbo diesel has all the grunt you'd hope for too.
Ford Ranger specifications
| | |
| --- | --- |
| Engine | 3.2L 5-cylinder TDCI turbo diesel  |
| Transmission | 6-speed automatic |
| Power | 147kW |
| Torque | 470Nm |
| Fuel economy | 8.7L/100km |
| Price | $63,990 (Ranger XLT 4WD Double Cab) |
Mitsubishi Triton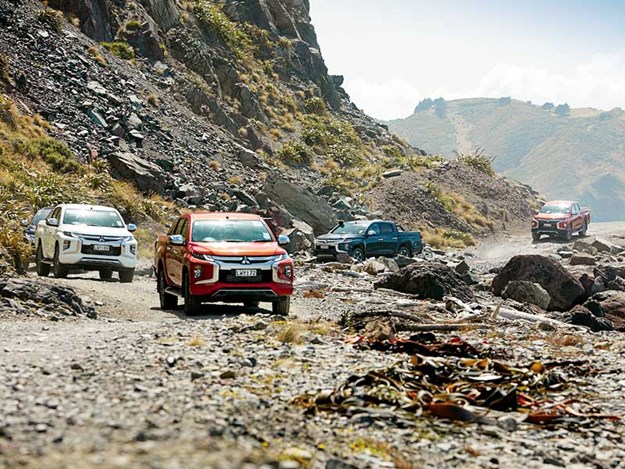 The Mitsubishi Triton continues to be the unsung hero of the light commercial ute sector. It doesn't get as many headlines as the Ford Ranger, Toyota Hilux, or Holden Colorado, but it's a big seller with a major overhaul at the start of the year breathing new life into it.
The Triton has adopted squared-off haunches and a 'tough truck' demeanour, as well as major work having been completed under the skin, including enhancements to the transmission, suspension, brakes and 4x4 system.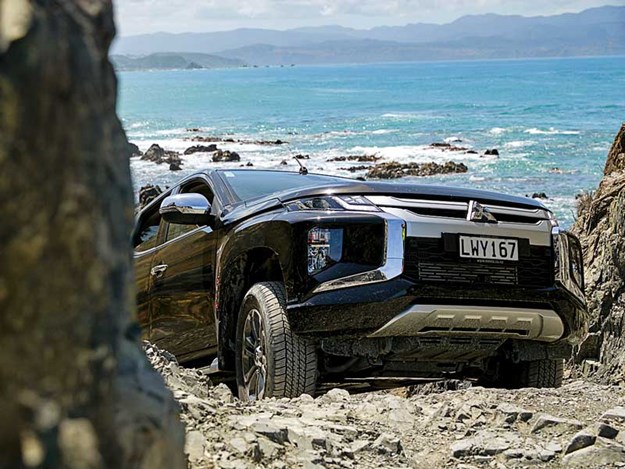 All the sheet metal is new, too, making this technically the newest truck on the market from an engineering standpoint: new bonnet, front bumper, side steps, guards… even the fuel filler door has been redesigned.
Similarly, where the previous Triton's cabin was looking a bit tired in comparison to the competition, the interior has been given a spruce up.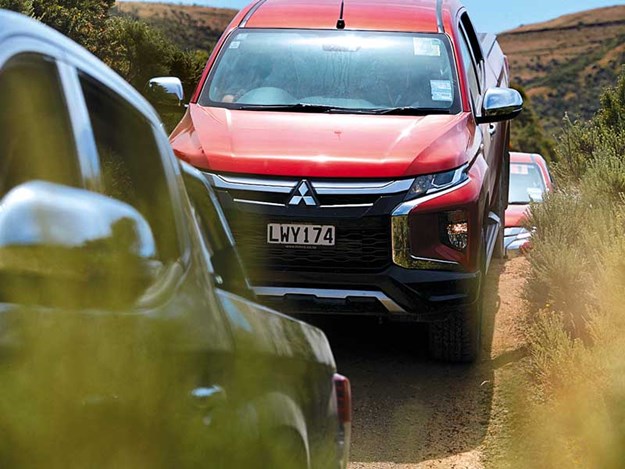 One thing that hasn't changed is Mitsubishi's proven 4WD system, available in either three-mode Easy Select (on GLX and GLX-R grades) or the top-spec VRX's Super Select II guise, which provides the unique benefits of 2WD, full-time 4WD and locked 4WD with the ability to lock the centre diff to provide maximum torque through all four wheels.
Also worth considering when weighing up the Triton's merits is Mitsubishi's impressive Diamond Advantage powertrain warranty, covering internal mechanical components for 10 years or 160,000km.
Mitsubishi Triton specifications
| | |
| --- | --- |
| Engine | 2.4L MIVEC turbo diesel  |
| Transmission | 6-speed automatic |
| Power | 135kW |
| Torque | 437Nm |
| Fuel economy | 8.6L/100km |
| Price | $41,990 (Triton GLX 4WD Double Cab Auto) |
Mercedes-Benz X-Class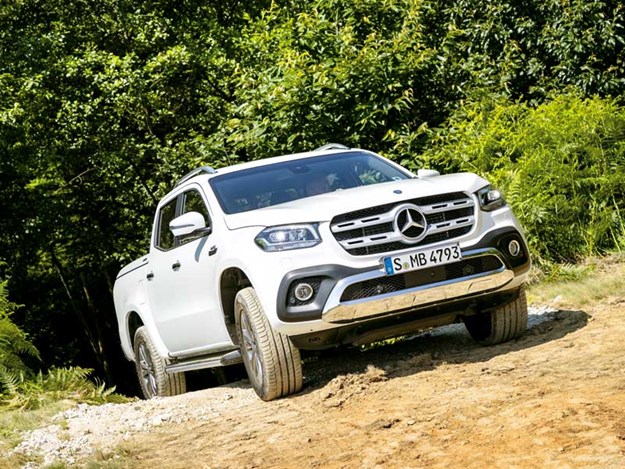 Mercedes-Benz went about launching itself into the heady world of double cab utes in an unexpected way. With so much strength in the commercial sector already (albeit through its long-established van range), the decision to partner with Renault-Nissan to such a degree caught a lot of people by surprise.
The first X-Class utes on Kiwi roads were, essentially, Nissan Navaras with Mercedes-Benz bodies and Nissan-derived four-cylinder engines. The V6 models that arrived next featured native Merc engines, but as before, all the running gear and even the core body structure is Nissan through-and-through.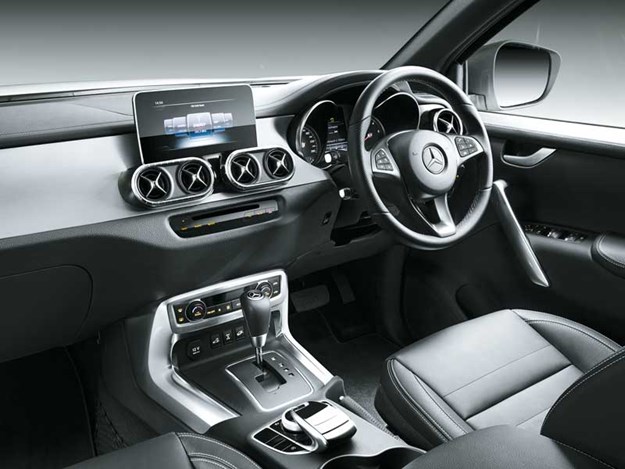 Rather than put anyone off though, the X-Class has been a steady seller since it arrived here about 18 months ago. After all, it does everything a light commercial ute should.
There are three grades to choose from: Pure, which is the workhorse-y one with unpainted bumper sections and the option of a cab-chassis load bed; Progressive, which gives you mid-range upgrades; or Power, which features extras such as sports bars and satellite navigation. A bit like its passenger car range, Mercedes-Benz offers a huge number of optional extras too.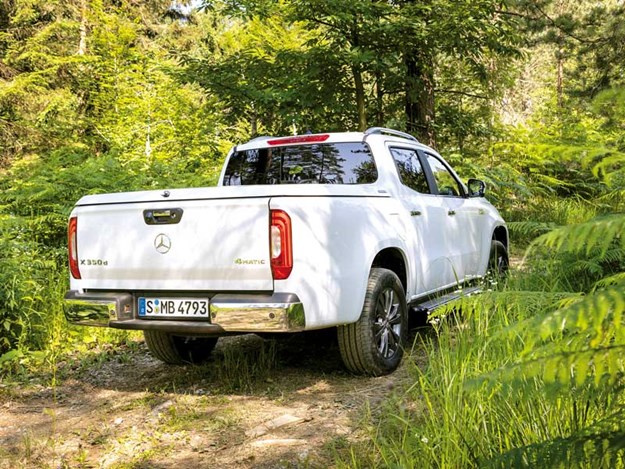 The range was vast from launch and has gotten even bigger since the six-cylinder models began arriving. In all, there are a multitude of options (even manual transmissions if you really want one), but for the rural sector, a 4MATIC (four-wheel drive) Pure or Progressive grade should prove the sweet spot.
Mercedes-Benz X-Class specifications
| | |
| --- | --- |
| Engine | 2.3L bi-turbo diesel  |
| Transmission | 7-speed automatic |
| Power | 140kW |
| Torque | 450Nm |
| Fuel economy | 7.9L/100km |
| Price | $61,100 (X-Class X250d Pure 4MATIC Double Cab Wellside) |
LDV T60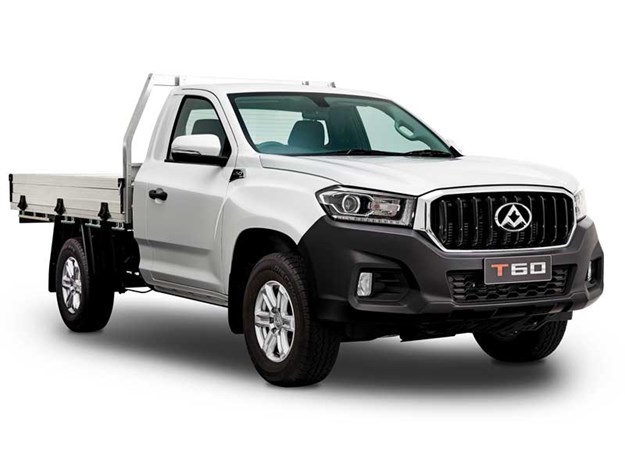 Having already led the charge in the budget-friendly section of the light commercial ute market, LDV recently doubled down on the price incentive with a new single cab-chassis 4WD model.
The Chinese-manufactured utes have found plenty of buyers in New Zealand, thanks in no small part to local agent Great Lake Motor Distributor's track record in flogging SsangYong metal by the boatload.
Despite being at the bottom end of the line-up, the T60 single cab-chassis comes standard with plenty of kit, including active LED headlights, tyre pressure monitoring, cruise control, alloy wheels, Hill Descent Control (which can be engaged to let the ute effectively 'walk' itself down a steep slope without driver intervention) and all the usual raft of Bluetooth connectivity.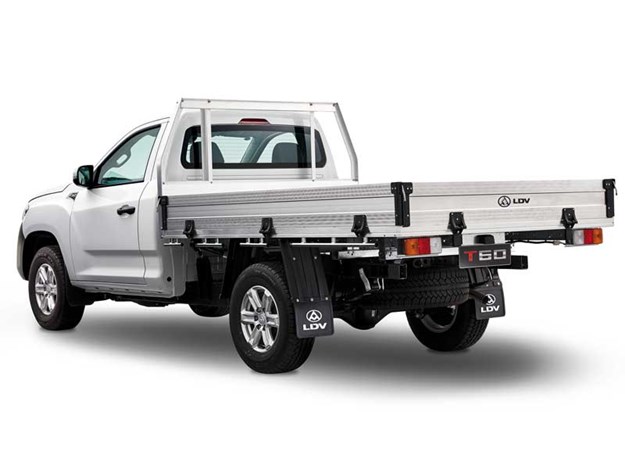 LDV's sharp pricing doesn't include the tray in this instance, but an extra $3000 plus GST secures a ready-made-in-Australia alloy deck with internal measurements of 2550mm length x 1777mm wide.
The remainder of the LDV ute range consists of double cab wellside models, all playing the budget-friendly card across two grades with either manual or automatic transmissions.
LDV T60 specifications
| | |
| --- | --- |
| Engine | 2.8L VGT turbo diesel  |
| Transmission | 6-speed manual |
| Power | 110kW |
| Torque | 360Nm |
| Fuel economy | 8.8L/100km |
| Price | $26,990 (T60 Single Cab-Chassis 4WD)  |
Toyota Hilux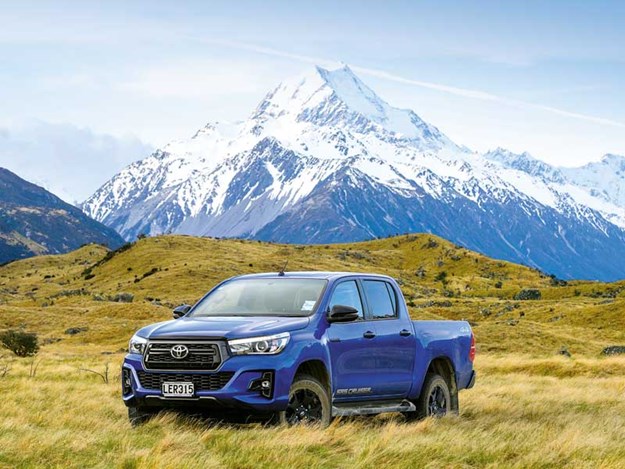 Just like any discussion about family cars traditionally included the Holden Commodore, any argument for the ideal work truck has been morally obliged to dwell on the Toyota Hilux at some point. While 'iconic' is a heavy-hitting, yet oft-reached for adjective, the Hilux must surely rate as one of a handful of models available in New Zealand that might be considered as such.
It'll come down to brand loyalties and preferences. Suffice to say, though, what hasn't been written about Toyota's perennial work truck over several generations probably isn't worth reading.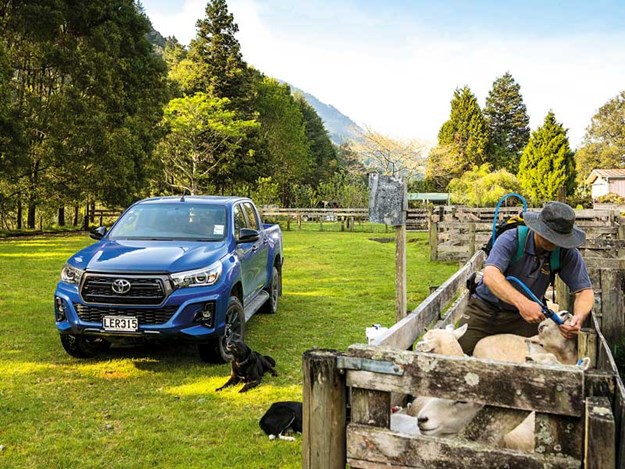 Despite Toyota's big push in recent months for its new WorkMate models (stripped back budget-friendly 2WD single cab chassis and double cab wellside options with unpainted bumpers and steel wheels, aimed at the urban tradie market), we all know a well-specced Hilux can be a very good thing indeed.
The SR5 Cruiser sits at the top of the tree, although an SR grade Hilux provides plenty of standard kit and the ability to DIY your own wheel and mud tyre combos, bull bars and other accessories.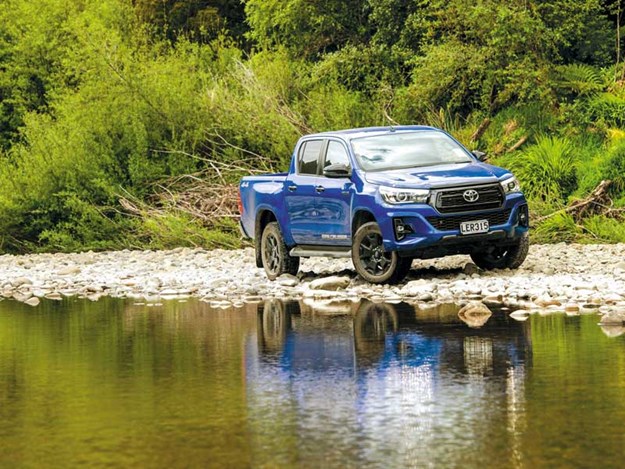 The modern Hilux features a bevy of solid safety spec including Vehicle Stability Control, Dynamic Radar Cruise Control, which will slow down or speed up to ensure a safe distance between you and the vehicle ahead at all times, and Trailer Sway Control, which will work to brake individual wheels in order to slow down and rein things in should whatever you're towing start to fishtail.
Toyota Hilux specifications
| | |
| --- | --- |
| Engine | 2.8L 4-cylinder turbo diesel  |
| Transmission | 6-speed automatic |
| Power | 130kW |
| Torque | 450Nm |
| Fuel economy | 8.4L/100km |
| Price | $48,990 (Hilux SR 4WD Double Cab Auto) |
Volkswagen Amarok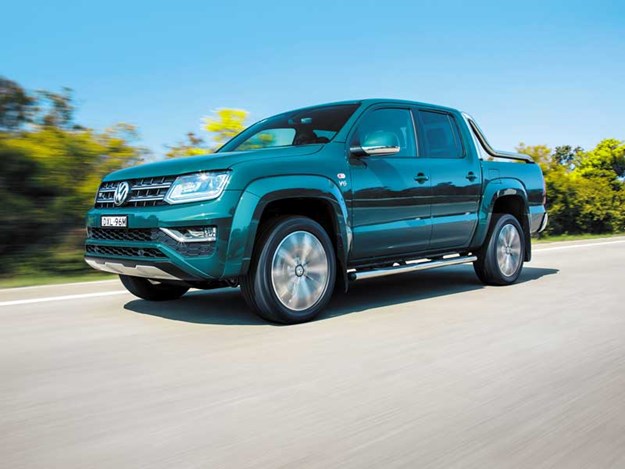 There seems to be a bit of a 'pace race' going on in the upper reaches of respective light commercial ute manufacturer ranges, as marques such as Ford, Holden, and Volkswagen vie for punchier levels of performance power from their workhorses.
The punchiest of them all, in terms of sheer off-the-showroom-floor numbers go, has to be Volkswagen's Amarok V6 line-up.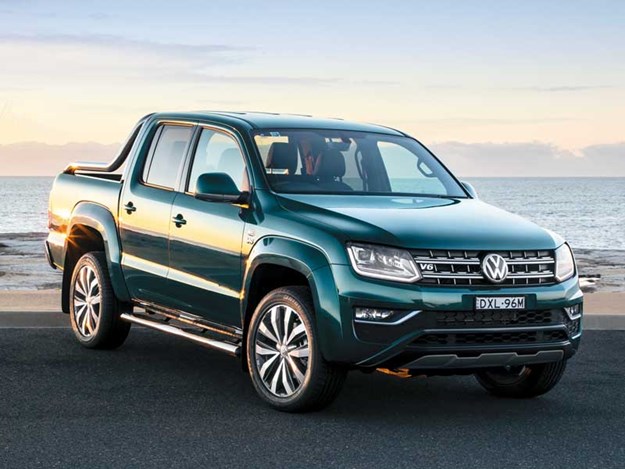 The $69,990 standard Amarok V6 and the $78,990 Amarok Highline boast an impressive 550Nm torque spread, but then there's the V6 Adventura – the range-topper with an eye-watering price tag ($89,900) but a 580Nm wallop of torque twist from as low as 1250rpm. It'll certainly pull the skin off a rice pudding.
So much for what's happening in the stratosphere. More down-to-earth options are available in the Amarok range, starting with the 4MOTION (four-wheel drive) single cab TDI. With so much good specification available in the mid-range though, the 4MOTION TDI Comfortline is a good place to start.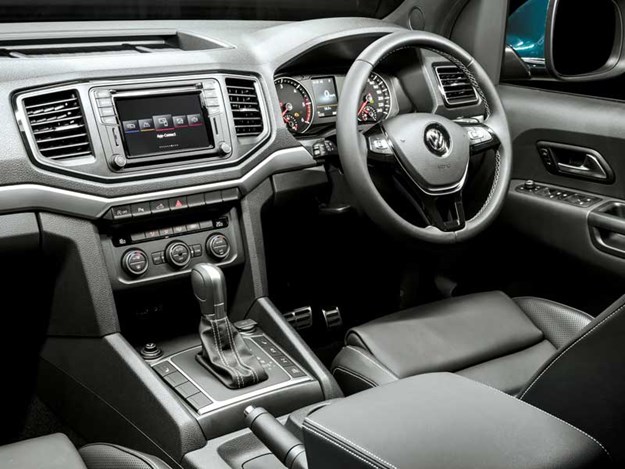 In addition to a 3000kg braked tow rating, reversing camera and an eight-speed automatic, the four-cylinder Amarok Comfortline also comes with alloy wheels and the largest tray in its class – the 2.52sqm load surface also incorporates a wide bed of 1222mm between the wheel arches.
Volkswagen Amarok specifications
| | |
| --- | --- |
| Engine | 2L 4-cylinder turbo diesel  |
| Transmission | 8-speed automatic |
| Power | 132kW |
| Torque | 420Nm |
| Fuel economy | 8.5L/100km |
| Price | $60,000 (Amarok 4MOTION TDI Double Cab Comfortline)  |
Mazda BT-50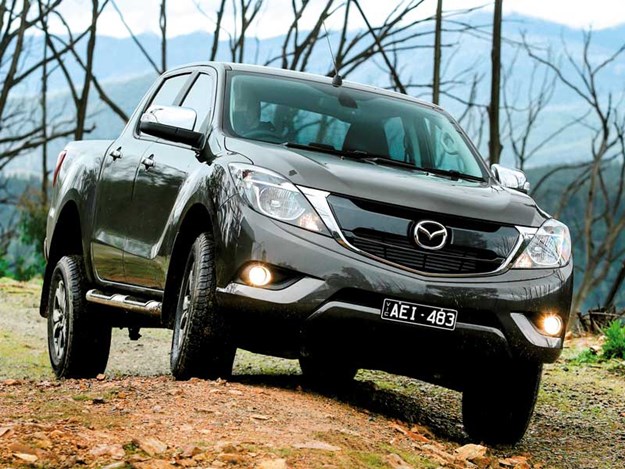 One of the comfiest trucks on the market, Mazda's BT-50 falls into that category of ute that doesn't seem to receive as much of the limelight as some of its contemporaries, yet it certainly deserves to.
There are plenty of body styles (single, Freestyle, and Double cab) spread across entry-level GLX and mid-range GSX grades.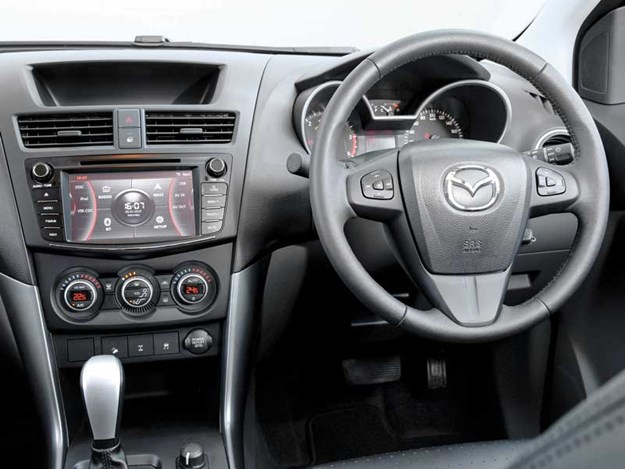 In top-trim Limited guise, the BT gives you running boards as standard, along with some nice alloys (although you'll want to watch for rocks off tarmac with so much smooth surface on show), dual-zone air conditioning, tie-down anchor points in the wellside tray and leather seats (electronically-adjustable for the driver too).
If the leather's a bit much, a sports cloth-clad 4WD GSX is probably the one you're after. Tray space and a 3.5-ton braked tow rating are on-par with rivals too.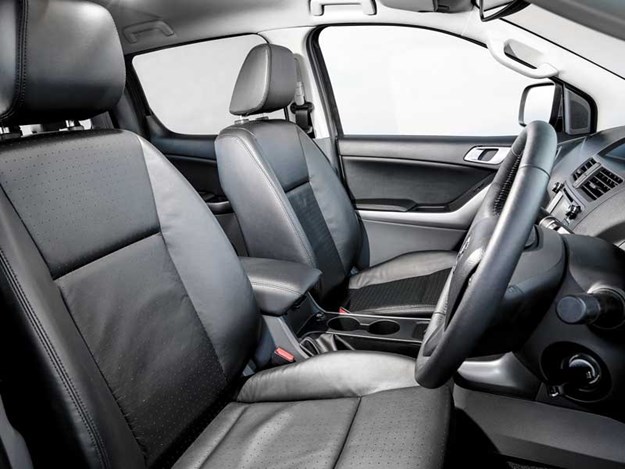 Interestingly, the BT currently on Kiwi roads is set to be the last. Well, the last one manufactured from the ground up by Mazda anyway. Their next-generation ute will still boast the nameplate, but it will be made by Isuzu.
Mazda will continue to provide the sheet metal (and their individualistic approach to design), but underneath, the next BT-50 will be D-Max all the way. This is probably a good thing; Isuzu is a truck maker and their light commercial ute has a reputation for ruggedness.
Mazda BT-50 specifications 
| | |
| --- | --- |
| Engine | 3.2L 5-cylinder turbo diesel |
| Transmission | 6-speed manual |
| Power | 147kW |
| Torque | 470Nm |
| Fuel economy | 9.7L/100km |
| Price | $55,795 (BT-50 GSX 4WD Double Cab) |
Toyota Land Cruiser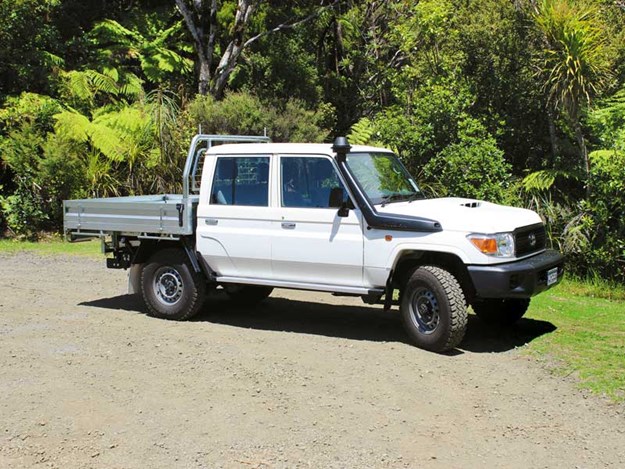 Yes, including Toyota's beefy 70 Series in a round-up of light commercial utes is possibly like comparing apples with well, an apple nailed to a plank of wood. But we just couldn't resist; after all, the Land Cruiser might not adhere to the idea of a modern work ute, but you'll find them in every corner of the country just getting on with the job. It felt churlish to ignore it.
This is a 4x4 like they used to make. But they still do. Everything is built and lined for hard-wearing longevity.
There are a handful of concessions to modernity (a touchscreen display system; the ability to pair your mobile phone via Bluetooth; a reversing camera for your choice of optional extra tray), but otherwise driving a 70 Series in this state of dress is like stepping back in time: wind-up windows, a steering wheel without a single button on it, external mirrors you need to adjust manually, a five-speed manual transmission and secondary 4WD system ratio lever.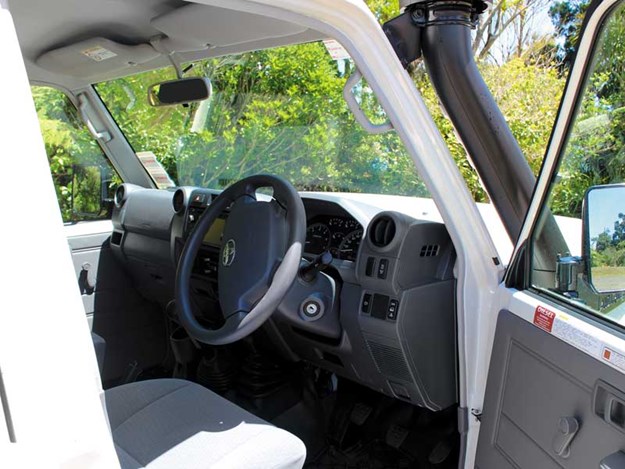 This thing isn't really about creature comforts like the other trucks in this section though. With a reputation for mud-plugging that remains up with the best of the best, the Land Cruiser 70 Series is about as sure-footed a wagon as you're likely to find. Often, it's at its best when crawling along across the tough stuff, tachometer needle barely moving. This is one tough truck. Possibly the toughest.
Toyota Land Cruiser 70 Series specifications
| | |
| --- | --- |
| Engine | 4.5L turbo diesel V8 |
| Power | 151kW |
| Torque | 430Nm |
| Fuel economy | 10.6L/100km |
| Price | $71,990 (Land Cruiser 70 Series LT Double Cab) |
Note that due to space considerations, our data boxes feature specification details for a particular model in the manufacturer's line-up. Pricing should be considered as indicative for the model quoted and doesn't include on-road costs. Similarly, the photos used for each of our star vehicles might not reflect the specific model being quoted in the data box.
Keep up to date in the industry by signing up to Farm Trader's free newsletter or liking us on Facebook