Farm advice: Planning for cool cows in the heat of summer 
---
All regions in New Zealand have summer days when weather conditions get uncomfortable for us and our cows
There have been a few hot days already, and temperatures are now starting to rise across the country.  
Hot days can be uncomfortable for all of us. Cows feel the heat, too, but they have a lower tolerance for hot weather than we do because they are ruminants and bigger than us.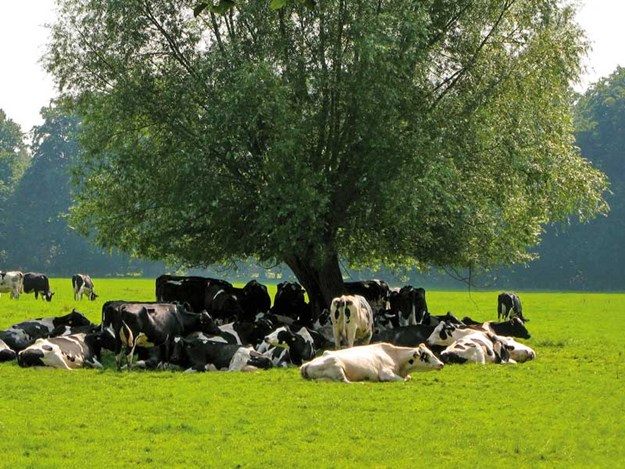 When the temperature gets above 21 degrees Celsius, Friesian and crossbred cows start to reduce their feed intake and produce less milk. Jerseys cope better with warmer temperatures and don't typically start to produce less milk until the temperature reaches 25 degrees Celsius.   
All regions in New Zealand have summer days when weather conditions get uncomfortable for us and our cows. The East Coast and the northern half of the North Island typically experience the warmest conditions, however, cows can benefit from shade or cooling in many regions on warmer days. Last summer, the estimated impact of heat stress on milk production ranged from two kilogramme milksolids per cow in Gore to 10kg milksolids per cow in Northland.  
To keep cool on hot days, Kiwis often head to the beach or their local river for a swim, find a shady spot to enjoy an ice cream, or sip a cool drink. Cows use the same strategies we use when temperatures start to rise. They will drink more, become less active, and use shade if it's available.  
Now is a good time to make plans to help your cows keep cool over the summer. Is your water supply in good working order and able to cope with the higher demand from cows on hot days? Are there troughs in races so cows can drink on the way to the paddock after milking? Can you make any adjustments to improve shade on your farm? For example, some farmers have installed shade sails in milking yards.  
Many farmers alter milking times to avoid cows having to walk in the heat of the day. Not only is it more pleasant for the cows but it's more comfortable for farm teams as well. 
It's helpful at this time of year to consider how the past few summers affected your cows and talk with your team about what approach you will be taking to reduce heat stress amongst your herd this summer.  
DairyNZ has a weekly email that goes out over summer to provide information on heat stress risk across different regions. You can sign up to receive it online at dairynz.co.nz/heatstress.   
While hotter temperatures can be stressful for cows, many farmers are successfully applying careful management strategies and good teamwork to keep their cows as comfortable as possible.
Find more farm machinery for sale in NZ
Keep up to date in the industry by signing up to Farm Trader's free newsletter or liking us on Facebook