Tractors of the future
---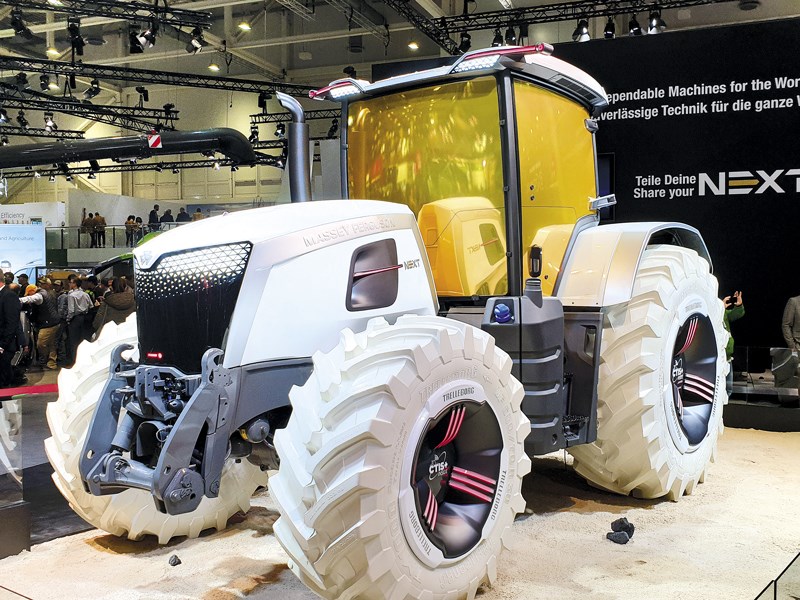 And now for something different – the Lunar Rover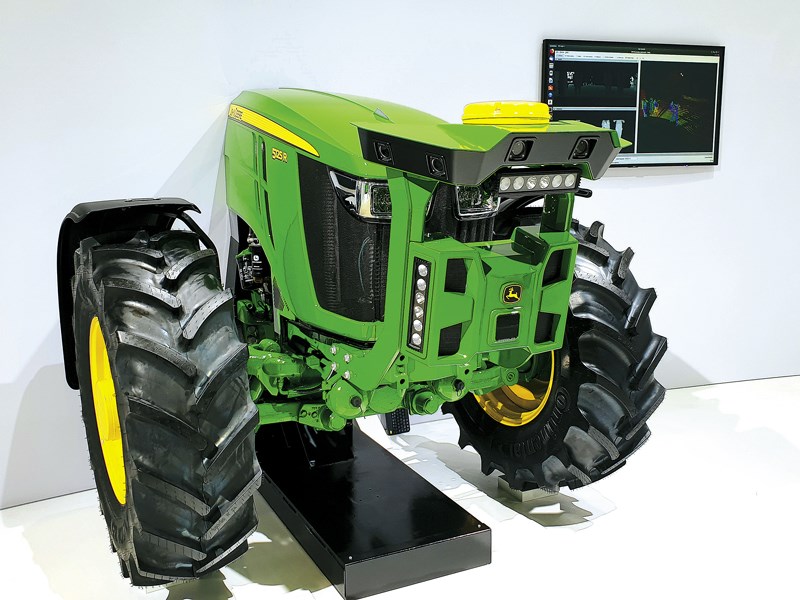 John Deere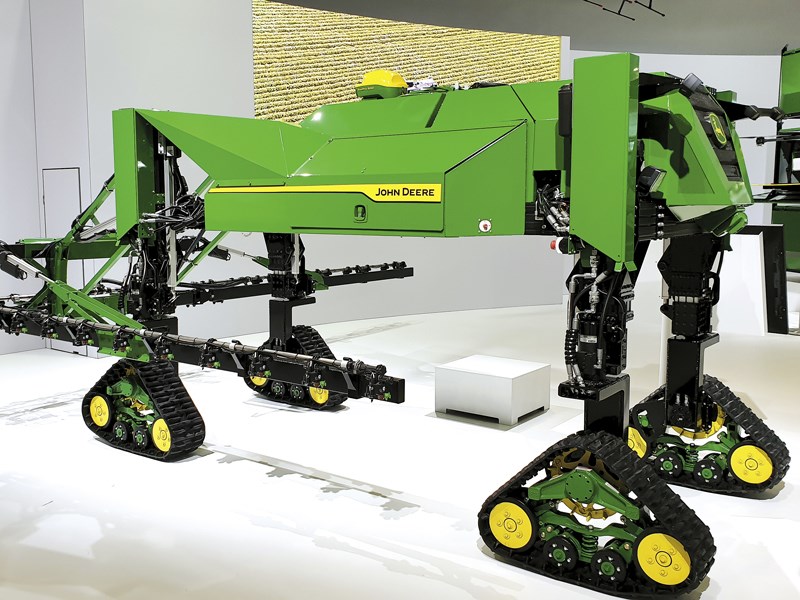 John Deere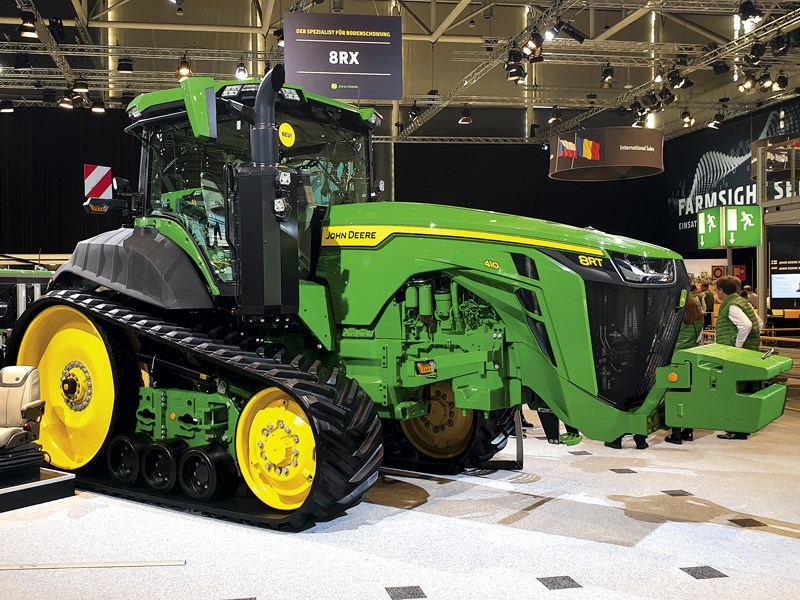 John Deere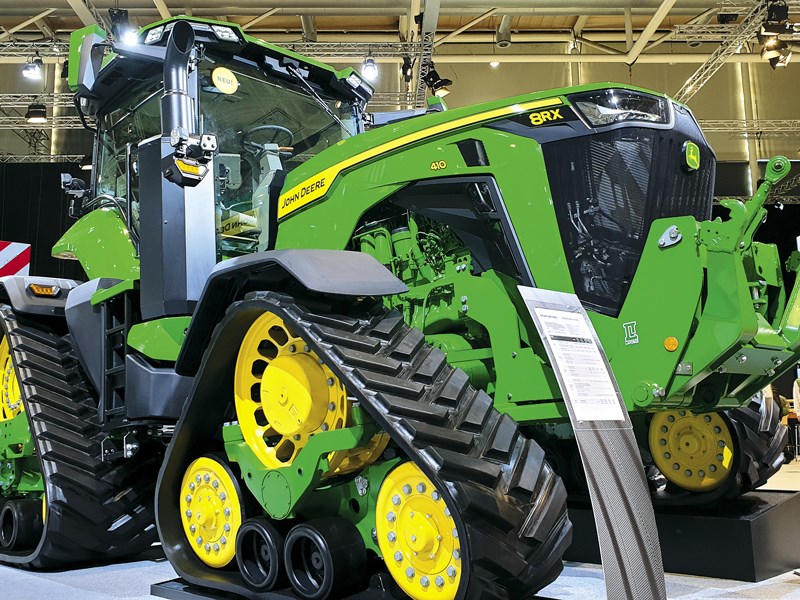 John Deere

Jaiden Drought heads to the cult mecca of ag machinery shows - Agritechnica in Germany, run by the local agricultural ministry DLG
Sustainability is a buzzword at the moment, with farmers increasingly feeling the spotlight of public pressure. Even German farmers and contractors are feeling the heat, and the biannual show's theme this year was 'where innovation matters'.
Agritechnica 2019 also included its first Sustainable Tractor of the Year (STOTY) category, in the long-running and prestigious Tractor of the Year awards announced on the show's first day. This year's inaugural STOTY winner was the New Holland methane powered T6.180 tractor (but more about that later).
Concept machines
Agritechnica featured a number of 'concept' machines, with some more advanced and complete than others, although – as the name suggests – concept is an abstract idea. While the futuristic tractor designs are inspiring, behind some of the flashy tinted windows was nothing more than a shell, and while the exterior design might indeed look cool, some are a long way from being launched as working models.
A case in point is the impressive-looking twin-track John Deere 'Joker' tractor – eye-catching and attention grabbing. But this machine ran off a long extension cord, so while it may look futuristic, the world's agricultural industry will grind to a screeching halt if that is the 'future' of tractors. Besides I can't even run the vacuum cleaner without getting the cords tangled, let alone try and cultivate a field.
In this two-part feature, I will first look at the machines that are in production today (or very close to it) as I feel this is the actual future of farming. In part two of the feature, I will take a closer look at the other, more left-field concept machines. First, let's start on the smaller model tractor.
Fendt e100 compact tractor
The Fendt e100 Vario is in production now and is the first battery-powered fully electric compact tractor with 50kW power output, which can operate for up to five hours in real world conditions. Now I know five hours is not going to cut the mustard in many operations running much larger machines, but the good news on the e100 front is that the battery can be recharged back to 80% in just 40 minutes, allowing you to just have a cheeky extended break while it charges.
The power itself comes from a 650-volt high-capacity lithium-ion battery (capacity sitting around 100kWh). As the Fendt looks and feels like a normal tractor, it's equipped with normal tractor hitch options. The last thing you want is to be cock-a-hoop about single-handedly saving the planet, only to find out you need a full kit of different implements to accompany your latest purchase.
The Fendt e100 is compatible with two electrified interfaces for electrified implements, while for conventional implements, a standard PTO shaft as well as normal hydraulic spools are available. Maintenance work and costs are reduced, as many components involved in conventional technology are no longer needed. Consumables such as engine oil, AdBlue, or diesel are a thing of the past with this.
New Holland T6.180
The innovative Sustainable Tractor of the Year becomes the world's first production T6 Methane Power Tractor and this year (2020) will see full-scale production. In my opinion, this is the first real step in an alternative fuel tractor becoming mainstream, as it will suit both farmers and contractors, and, more importantly, be practical. 
The first thing that strikes you about this machine is how ordinary it seems. It looks much like the other T6 series tractors on the stand, apart from the 'range extender' front tank, which could easily be dismissed as an oversized front weight.
Here are some impressive stats about the New Holland T6 Methane Power tractor:
Same power as diesel but with 30% lower running costs
99% less particulate matter from the exhaust over a diesel
Reduces CO2 emissions by 10% and overall emissions by 80%
Tier 5 FPT built six-cylinder 6.7-litre engine
Range Extender can be mounted on the front or rear linkage or as a trailer tank to refuel just like you would a diesel machine
At first, it may seem a little farfetched that this will work here in New Zealand, but this is something I really think will take off in European countries due to the huge biogas industry. Without going into the complexities of Biogas extraction, essentially farmers can grow energy crops (maize, sugar beet, etc.) and use agricultural waste to generate Biomethane.
Farmers can achieve a carbon-negative footprint (science-based not left-wing political). The growing of the crops extracts CO2 from the atmosphere, the methane produced will power the T6 methane tractor, and they can then use the by-products of bio digestion as natural fertilisers on their fields, resulting in a carbon-negative footprint.
John Deere 
The only Gold Medal innovation award for the entire show was for the new John Deere eAutoPower transmission. This is the first electro-mechanical power split transmission that makes tractor-implement electrification possible.
While stepless transmissions with a hydrostatic-mechanical power split are not new, the eAutoPower gearbox for the new 8R series is the first electro-mechanical gearbox. Without boring you to tears, technically, the hydro unit (pump/motor) is scrapped and instead, two electric motors are used as a continuously variable actuator.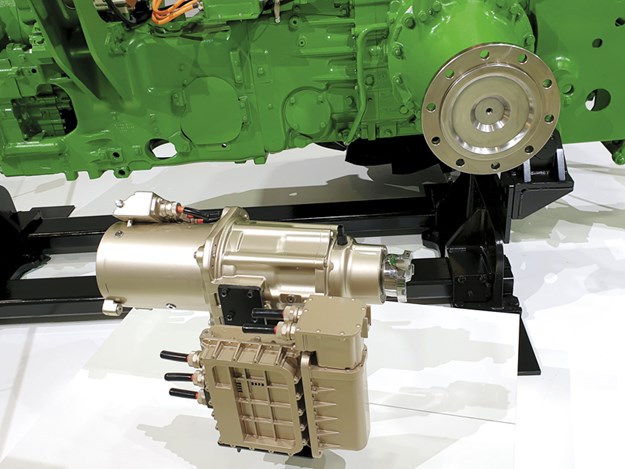 The electric motors not only supply the drive but also improve efficiencies while reducing maintenance costs and also provide up to 100kW of electric power for external implements. The tractor-implement electrification was designed in conjunction with Belgium manufacturer Joskin.
This was shown at Agritechnica with a manure spreader chassis where two axles on a tridem spreader were electrically driven (the big orange cord in the photos is the power lead). While drive axles on implements are not new, it has always been hard to get tractor and trailers to work harmoniously, given that most tractors don't have a ground speed PTO.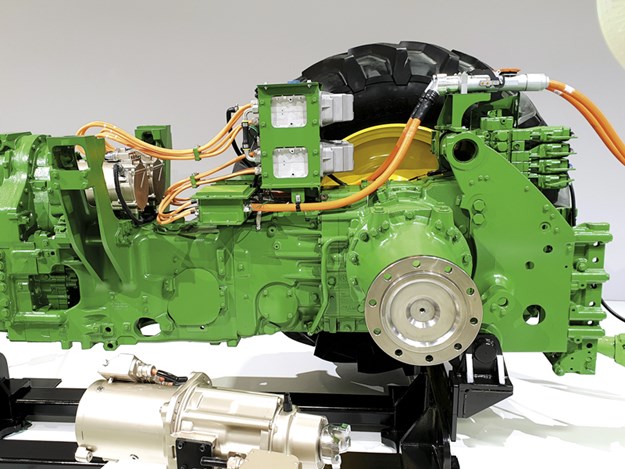 This eAutoPower transmission is the ideal solution as they talk to each other electronically, with power created from excess transmission energy. In wet conditions, this can be the difference between getting the job done or not. Benefits from drive axles include higher traction, reduced slip, and improved track guidance on side slopes.
Others worth a mention:
HAV S2 Hybrid
 Indian design and build
True four-wheel drive with motor on each wheel
Front, four-wheel and crab steer
Independent suspension on each wheel
10-year maintenance and service-free (apparently)
Rigi-Trac
This Swiss-designed and built machine is the evolution of 15 years work. The first concept of this machine was released at Agritechnica 2011 and since then has been further refined, much more aesthetically styled and featured as one of four finalists in this year's STOTY.
Rated power is 50kW (68hp) 
80kWh lithium-ion battery
Run for up to five hours on a single charge
Five electric motors. Each PTO (front and rear), front axle, and rear axle has its own dedicated motor. The fifth motor powers the hydraulic system.
Faresin 6.26 Full Electric telehandler
Italian company, Faresin Industries, after years of research, has developed this fully electric machine on the same chassis as the normal diesel-powered 6.26 telescopic handler. Zero CO2 emissions means it can be used indoors as well as normal ag/construction applications.
Features
2600kg of maximum capacity, up to a height of 5.9m
Battery life 6 hours
Recharge: on board 15 hours/fast 1.5 hours
Reduced noise, zero emissions
All wheel drive
100% electric
40% less operating costs compared to diesel equivalent
Conclusion
Technology is exciting! The show will blow your mind. More than 458,000 people attended Agritechnica from 128 countries, and the show attracted more than 2800 exhibitors from 52 countries. If you're into machinery and technology, this is the place to go.
Personally, I don't feel that electric tractors are the future (but I could be wrong and it remains to see some final working models in action). The methane concept seems more practical and mainstream to me, as productivity levels are similar to current conventional tractors.
Having said that, the eAutoPower transmission does really appeal to the masses. The smaller tractors and electric telehandler I mentioned will suit niche markets, but who knows what the future may hold. No doubt Agritechnica 2021 will provide more of an insight into this constantly evolving environment of reducing agricultural emissions. 
In part one of this two-part feature, we took a look at some of the concept tractors and alternative fuel concepts being developed. In this part two segment, the focus is on the futuristic design elements evolving.
I'm not taking about the usual reshape of a bonnet or roofline; these revolutionary designs were out of this world, featuring tractors with no cab, with white wheels, and even with the conventional two-axle design thrown out the window.
This was like Xzibit turning up with West Coast Customs for Pimp My Ride—the tractor edition! It seems like the nucleus for this was handing the designers a blank canvas on which to create their most outrageous doodles before handing them over to the R&D team and crossing fingers a successful outcome was achievable. These are the creations that most caught my eye. 
Case IH autonomous concept
Starting with the tractor I think just overall looks the coolest, with its deep red metallic paint job, duals all round, and a chrome stack sure to appease the magpie in all of us: the most notable thing here is the 'missing' cab. This autonomous Case IH was actually released in 2016, so is not as 'new' as some others on show, but to me, it's still the most likely to make it into full production.
Key features
Given the absence of the cab, the tractor is driven remotely. The operator can supervise and alter pathways via a desktop computer or tablet.
Remote monitoring of pre-programmed tasks.
The on-board system automatically accounts for implement widths and plots the most efficient paths depending on the terrain, obstructions, and other machines in use in the same field.
Radar, lidar (light imaging, detection, and ranging) video cameras, the vehicle can detect stationary or moving obstacles.
The tractor will stop on its own until the operator assigns a new path/task. The vehicle will also stop immediately if GPS signal is lost, or if the manual stop button is pushed. 
STEYR Konzept 
The STEYR Konzept was the tractor that looked so futuristic it almost looks to be made from plastic. I gave it the scientifically proven finger flick test and can assure you it's definitely not plastic. The Konzept (German for concept) is a diesel/electric hybrid creation. While this isn't new tech in the car world, it's something gaining traction in the ag space.
Key features
FPT four-cylinder diesel engine, a generator, and several electric motors, controlled individually, supply energy where it's needed.
An e-torque boost, from the central battery, supplies additional power (such as engine boost in a conventional tractor).
In purely electric mode, this enables zero-emissions driving in relation to both exhaust emissions and noise pollution.
The lower centre of gravity closer to the ground ensures better stability.
All wheel drive and individual wheel suspension improves traction and comfort.
Electric CVT trans. When descending downhill, it will send the energy back from the transmission to recharge the battery on the go – clever!
Hydraulics and PTO are electrically driven. This allows for variable PTO speeds as well as the ability to reverse the PTO. 700 V and 48 V connections are available for electrical implements.
A drone equipped with crop sensors will fly ahead of the tractor during field work will supply real-time crop and soil data.
The cab is essentially a tech hub. Touchscreen windows where information can be sent to the tractor so you can do some admin while the tractor drives itself. The heads-up display on the front windscreen gives key machine data while you aimlessly stare out the window as it literally does everything for you.
Lunar Rover
Forget people painting their rims black to make the tractors look cool. Massey Ferguson has gone for the white on white, on red… on black…. with gold tints! Massey said it was a tribute to the 50th anniversary of the first man on the moon – meet the NEXT edition.
If, like me, you are not sold on the white tyres, there's a reason behind this addition other than just being attention-grabbing. Trelleborg is getting on board with the NEXT 'movement' with new carbon-free tyres and inflation control, and automatically adjusting pressures for changing conditions.
Other features include:
No steering wheel, two armrest joysticks instead. The left-hand operates the steering, while the right armrest will be like multifunction right hand armrests in modern tractors controlling the transmission, spool valves, implements, PTO, etc.
The space void of a steering wheel is equipped with three screens for machine data or office admin while the large heads-up display on the windscreen gives machine parameters.
Integrated sensors and cameras view soil and crop conditions in real-time. Soil moisture and organic matter levels are monitored and for nutrient deficiencies will automatically adjust the application rates and implement settings to match real-time conditions.
Automatic tyre pressure control for unique carbon free tyres.
Still runs a diesel engine.
Nothing is mentioned about transmission or other key running gear other than "10% more power transferred to the ground than all other tractors" according to AGCO.
No wingmirrors for people to put reflective silver plates on, instead wide-angle HD night vision cameras, with the screens inside the cab displaying their images – no more sore neck.
All lights are futuristic red LED day light. 
The Joker
It was hard to miss the sprawling John Deere stand. However, on the first day, I have to admit I wasn't entirely exactly sure what was happening. A loudspeaker blasting out foreign German and some upbeat music with a swarm of John Deere employees walking around in metallic silver vests had me thinking I had unwittingly stumbled across a sci-fi convention.
Instead it was John Deere's 'Command Control Centre', their 'Future Technology Zone'. The exhibit included nine R&D prototypes focused on automation, electrification and artificial intelligence. The main attraction was the 'Joker': the two Zuidberg equipped tracked, electric prototype, which was connected to a folding set of speed discs.
The downside to this machine is the electric cord that it needs to work. This allows it to be pint size with a claimed 500kW (675hp) of power. Time will tell whether this is a goer. However, there was plenty of other good stuff on display to keep the tech savvy amused. The automation display section focused on ways machines could perform certain operations in the field with minimal human assistance.
A cab filled with screens as well as touchscreen window was something for the kids to get their sticky mits all over. The electrification portion focused on replacing mechanical and hydraulic components to make machines more efficient and productive. The eAutoPower 8R/Joskin colab was another crowd-pleaser in this section.
Artificial intelligence, or the concept of machines having the ability to act and behave like humans, was the third and final concept displayed with the main attraction: the grasshopper looking autonomous sprayer and the Joker.
Another tech innovation that's in production that will help people as of today is the 'Autotrac Vision'. This is a normal looking receiver with camera on the front to automatically detect and A-B line without you having to set one up manually.
Verdict
What is evident from Agritechnica is that the technology for many of the innovations under development is already there. Similar to the automotive space, driverless cars could go into full-scale production. The question remains, do people really want this? Do they trust it? And how much are they prepared to pay for it?
One thing is for sure, you will see autonomous tractors in paddocks in vast numbers before autonomous cars get mass uptake. Just like cars, getting the machines around the road from field to field will be the biggest head scratcher. I certainly wouldn't want a cabless, lunar rover-looking machine roaring towards me on the highway, and I guess, therein lies the problem.
Keep up to date in the industry by signing up to Farm Trader's free newsletter or liking us on Facebook