High tech dairy farms still require human touch
---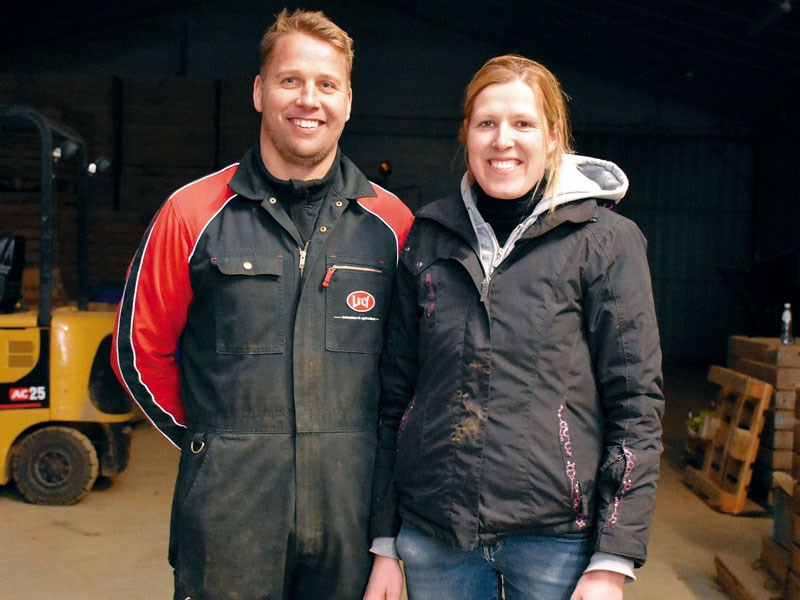 Bart Vanderstraeten and his wife Marijke d'Hertefelt run a herd of 130 Holstein Friesian cows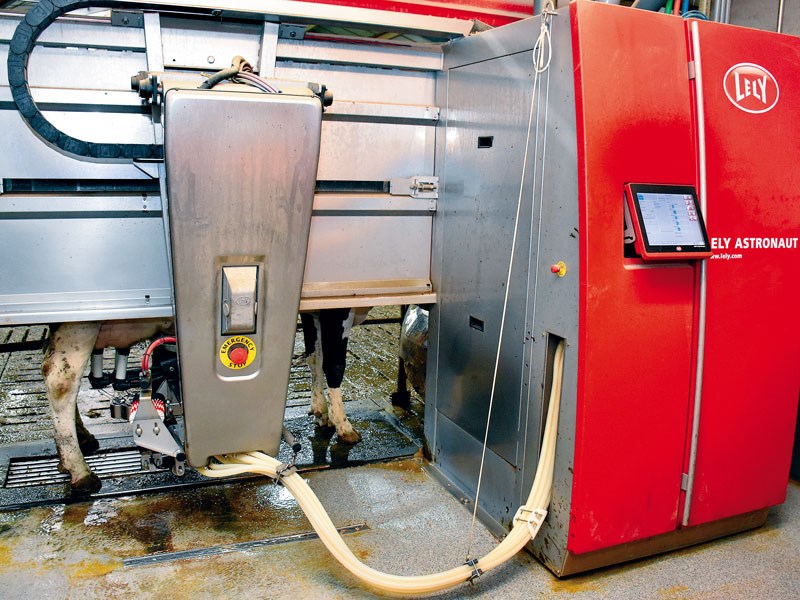 Milking is carried out by two Lely Astronaut robotic milking units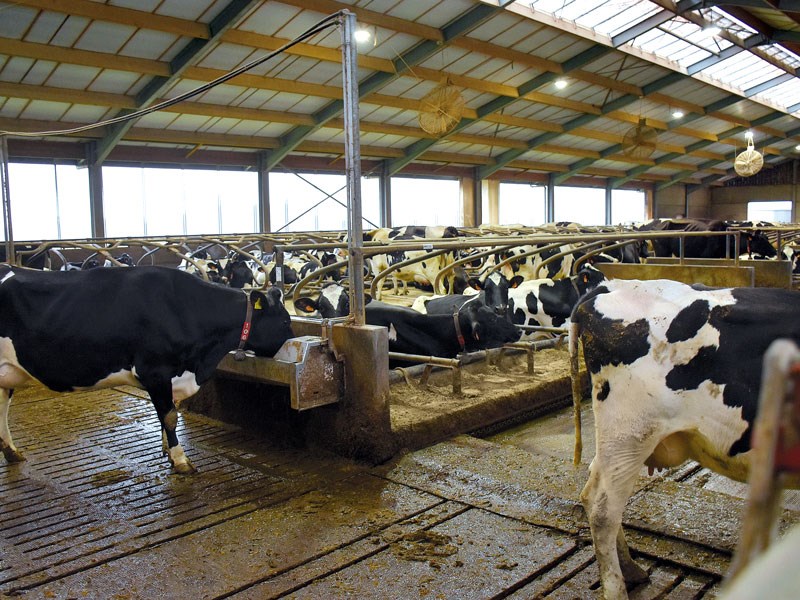 The herd is currently yielding around 11,000 litres per cow per year milked on average 2.8 times per day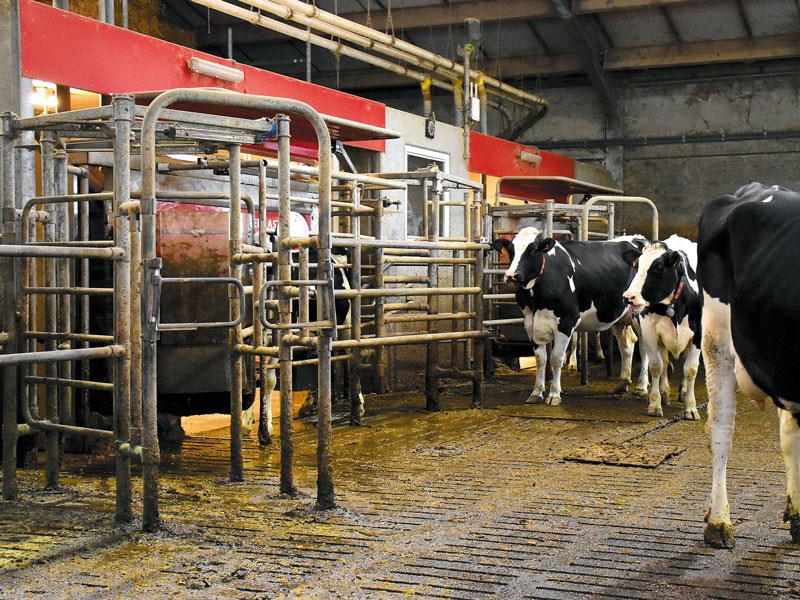 Cows await their turn for milking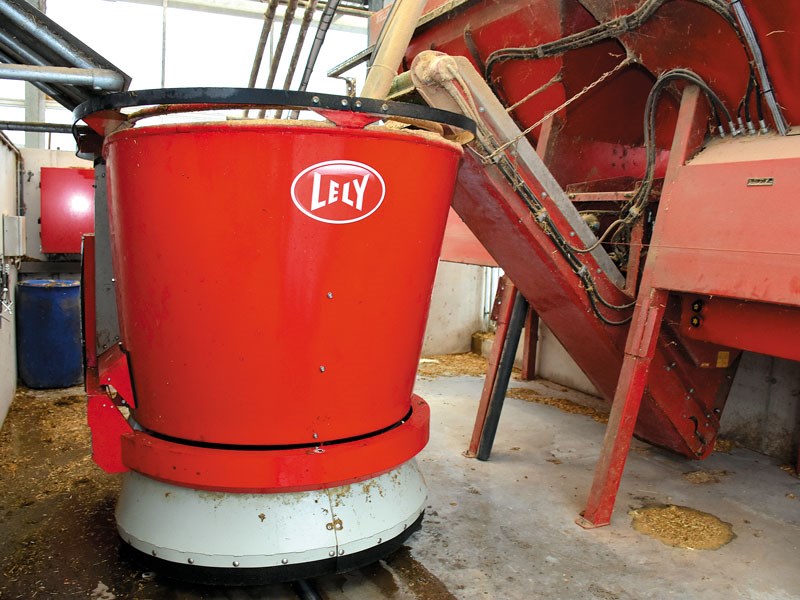 A Lely Vector robotic feeder is used to feed the dairy herd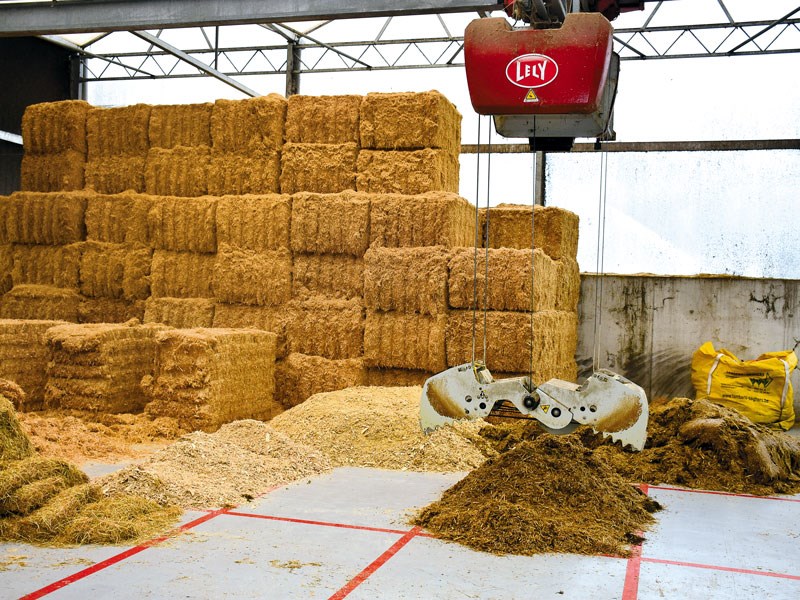 Bart refills his feeder ingredients shed about three times per week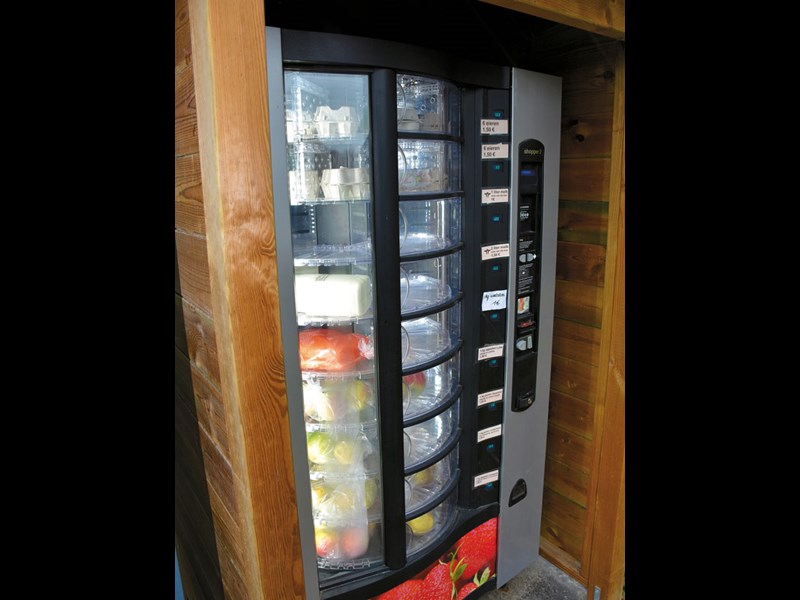 Two vending machines dispense milk, eggs, fruit, and veg at the entrance to the farm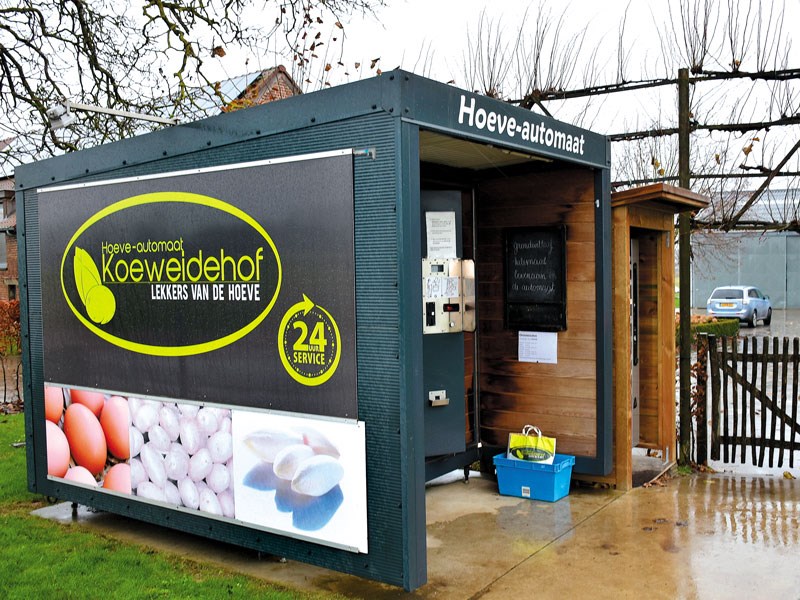 Customers simply purchase their milk, eggs, fruit, and veg whenever they want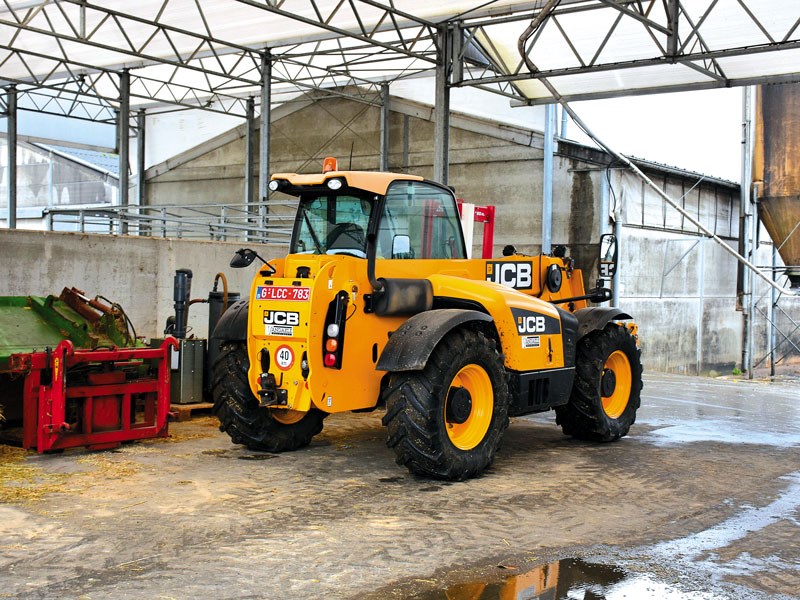 Just in case the Vector breaks down, the fresh JCB Lodall provides back-up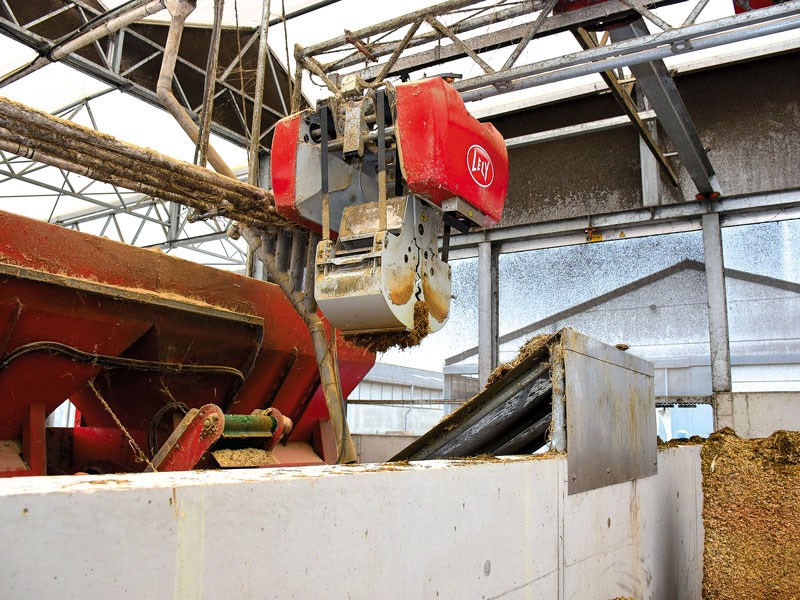 The Lely Vector loads the ingredients itself

Running a futuristic high-tech dairy farm where robots feed and milk the cows should mean that dairy farmers have a lot more free time, but it doesn't mean the human touch is not required at all.
Labour-saving robots milk the cows when the animals decide they want to get milked, not when the farmer's alarm clock tells him to get up and do it. The latest robotic technology can also fill a feed mixer and distribute the contents to the cows without complaining it's too cold to go outside and work.
They even push the silage closer to the cows in the feed passage and scrape the manure off the slats without a tea break. These robotic appliances collect endless streams of continuous data that can be used for a plethora of different management decisions but does using all these fancy gizmos mean the modern dairy farmer can relax, put their feet up, and drink tea?
Belgian dairy farmer Bart Vanderstraeten and his wife Marijke d'Hertefelt run a herd of 130 Holstein Friesian cows on their 165-hectare Koeweidehof dairy farm at Merchtem in the Flemish Brabant area of Belgium.
The herd is currently yielding around 11,000 litres per cow per year milked on average 2.8 times per day. Milk quality is 3.6% protein and 4.1% butterfat. The couple took over the family farm in 2012 when it was a mixed unit and decided to start milking cows there.
Since then, and thanks to Marijke's experience growing up on a dairy farm, they have revolutionised their unit into a high-tech dairy enterprise using two Lely Astronaut A4 robotic milking systems and more recently by adding a new Lely Vector feeding system to the farm.
"Our farm was traditionally a mixed unit with beef, pigs, and poultry," says Bart. "My wife grew up on a large dairy farm so we decided to milk cows here when we took over in 2012.
"Currently we're producing 1.4 million litres of milk per year and I'd like to increase that to 1.5 million in the near future. I feel this is possible by still keeping the same number of cows that we have now but by using technology to feed and milk the cows more efficiently," he says.
Not only do robots feed and milk Bart's cows, he also uses other innovative technology to sell some of his milk as well as eggs and vegetables. "We have spent a total of 24,000 euros on two automatic vending machines over the past seven years," says Bart.
"Customers pull up at the machines at the farm entrance and purchase milk for one euro per litre.
"Around 10,000 litres of milk is sold via the vending machine and the remainder we send to Milcobel who pay us 33.5 euro cents per litre for the milk."
Milcobel is the largest dairy cooperative in Belgium collecting milk directly from its 2600 dairy farmer members who are also shareholders. The co-op has almost 2000 employees and processes the milk into high-quality dairy products, including milk powder, cheese, ice cream, butter, cream, and milk drinks.
While recognising the importance of selling the milk to the co-op, Bart is also happy consumers also want to buy the milk straight from the farm. "Selling the milk to the co-op is an assured outlet for the majority of my milk," he says.
"We put the first vending machine in seven years ago at a cost of 17,000 euros and the smaller one we installed just three years ago costing 7000 euros. People stop from all around the local area and further afield to buy our milk.
"We also sell vegetables that we grow as well as our own farm produced eggs in the machines. It's a novelty for the consumers and we're glad they support it," he adds.
And the technology doesn't stop there as Bart harvests the slurry produced by the cows to convert to electricity, which he uses on the farm and sells to the national grid.
"We run a 22kW biogas plant that uses all the 11,500 litres of slurry that the cows produce daily. It's a good investment as we use around 90,000kW of the total 150,00kW produced on the farm itself," he adds.
Bart feeds his cows around 11.6kg of concentrates per 100kg of milk produced via the robotic milking machines. He also feeds a ration of about 40% dry matter with his Vector automated feeder.
Most of all the feed required for the herd is grown on the farm including wheat, maize and grass. "We feed a mix of 23kg maize, 11kg grass, 10kg sugar beet, 2.5kg barley, 2kg corn, 30kg straw, two litres of water, 150grams salt, and 2kg of protein to the cows," he says.
"At the moment, the cows are yielding around 35 litres per head per day. I try to run the herd with 385 days between calvings and have a goal of producing 1.5 million litres of milk per year."
All this technology costs money and even though Bart works part-time for Lely selling the Vector feed system, his investment in the farm and all its robotic labour force is high.
For example, the main cow barn with robotic milking system cost around 6500 euros per cow to construct.
If land is available to purchase, it can cost anywhere between three and 10 euros per square metre or 500 euros per hectare to rent. "If you take the 33.50 euro cents per litre I receive for the milk, around 16.50 euro cents per litre are variable costs, and a further 12 euro cents per litre are fixed costs leaving us with around five euro cents per litre as a margin.
"I feel investment in technology is the only way forward to ensure the herd is healthy, is being fed well and is being milked efficiently," he adds.
With such a high tech farm, it's interesting as to what technology the developers will introduce next. Perhaps a robotic farmer is in the making somewhere.
Keep up to date in the industry by signing up to Farm Trader's free newsletter or liking us on Facebook