Profile: Krone mobile pellet harvester
---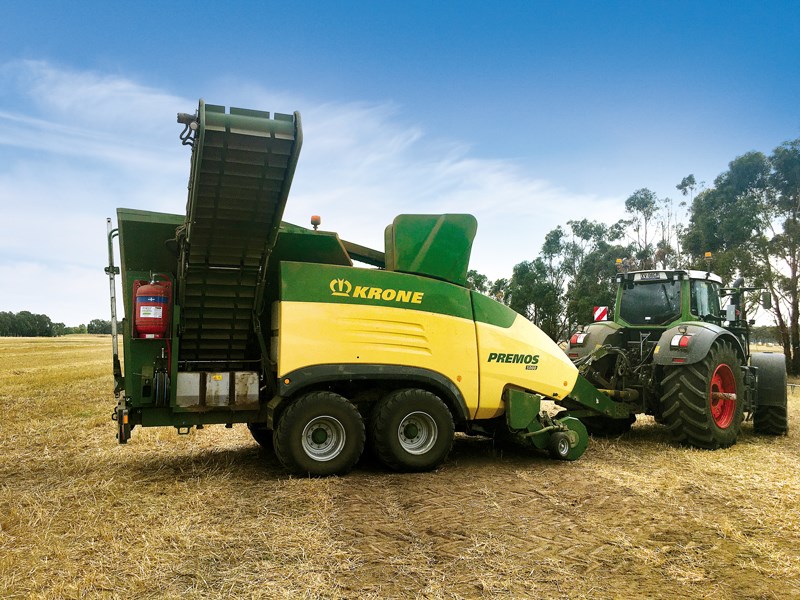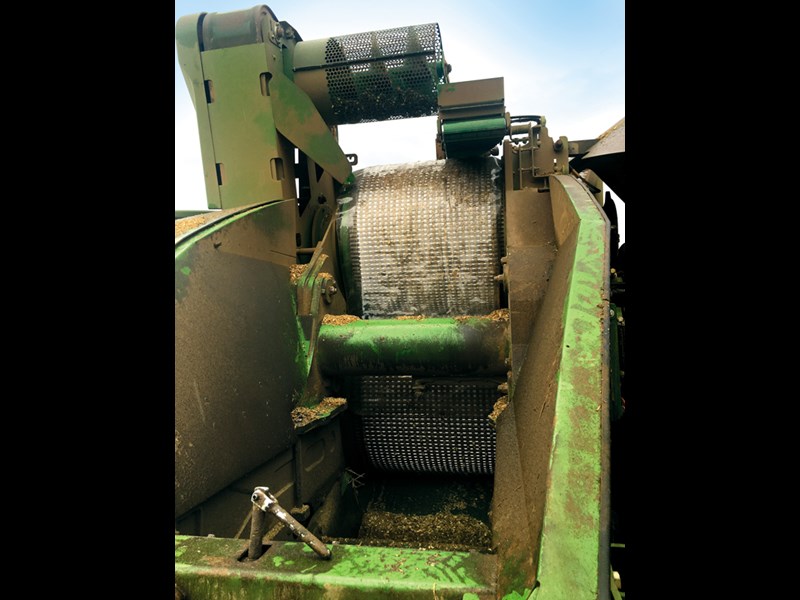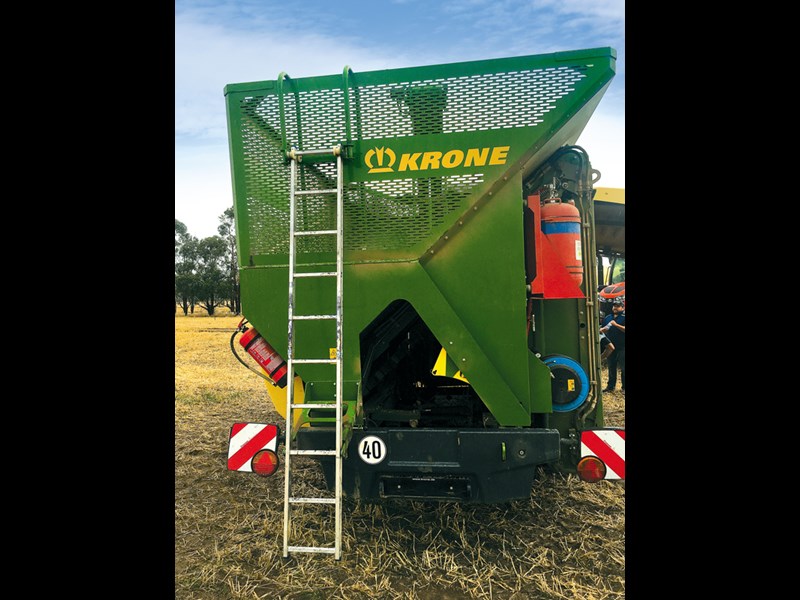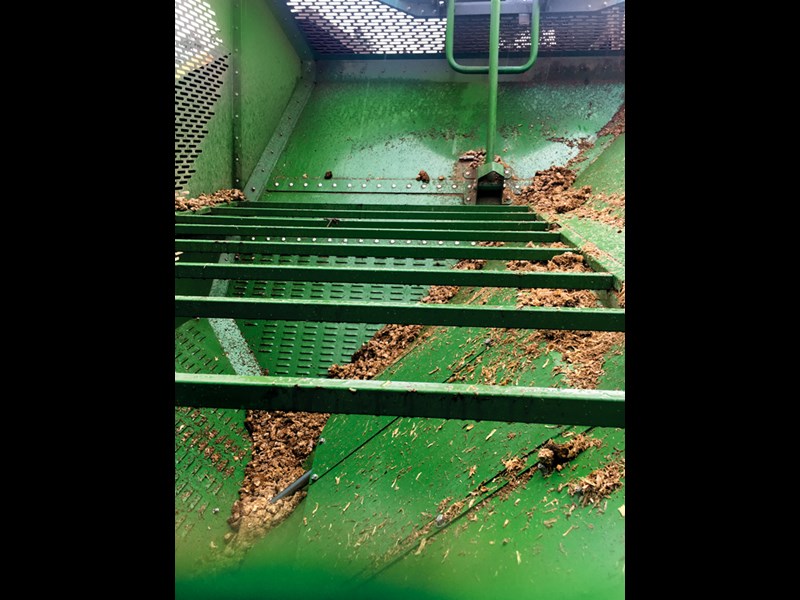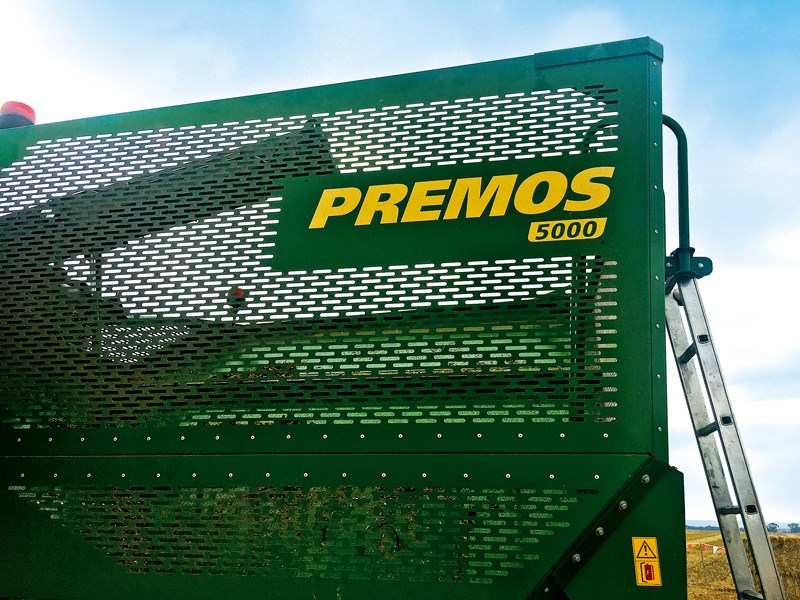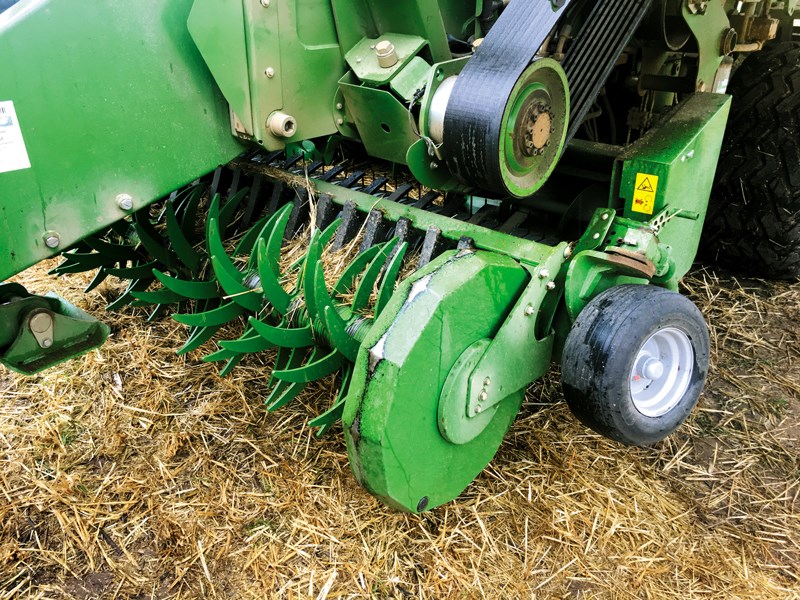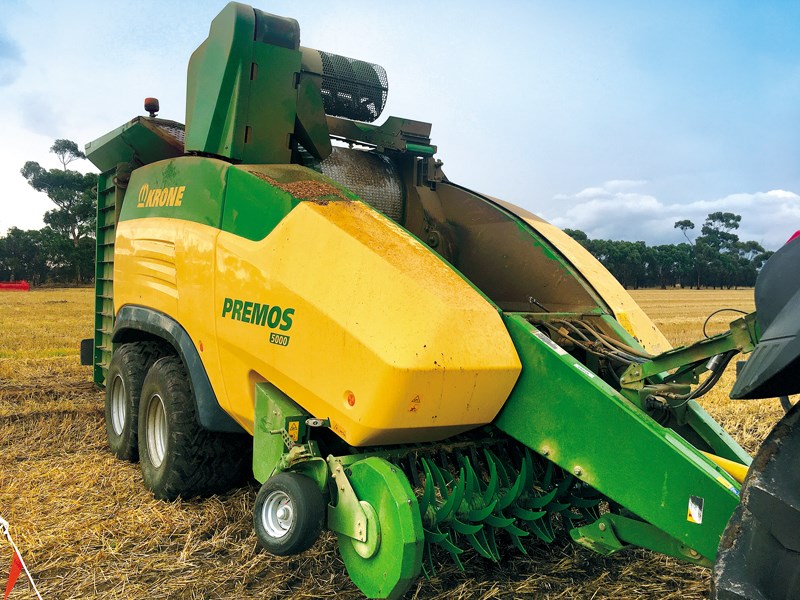 The Krone Premos 5000 requires a minimum of 350hp to operate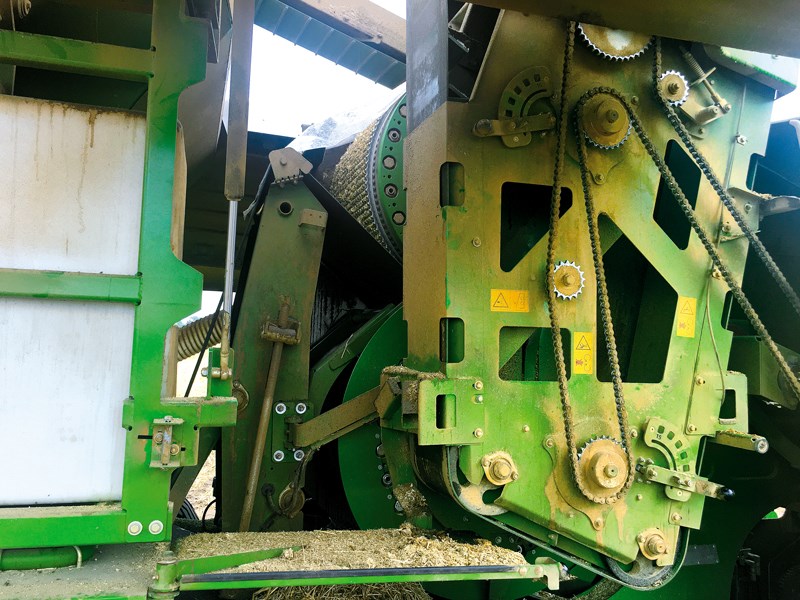 Krone has introduced its mobile pellet harvester to Australia, testing the market for a new form of fodder. We find out more.
A linkage machine that can turn straw, hay, or lucerne into pellets in the field has been launched in Australia after being available in Europe for many years, and fodder experts say it could be a gamechanger.
The Krone Premos 5000 collects cut fodder with less than 16% moisture, gathering the crop with a 2.35-metre camless pick-up before feeding it through an 800mm rotor to a feed conveyor.
From there, the fodder is conveyed through an 800mm wide rotor to a feed conveyor and then through two matrix rollers. The rollers compress the material and force it through 16mm diameter holes together with water or vegetable oil, to produce pellets of between 15mm and 40mm in length.
The finished pellets are then loaded into a five-tonne bin, where they are cooled before they can be unloaded into a chaser bin. An optional bale shredder and 7.5-metre feed table allows hay bales to be fed into the Premos 5000 while stationary, meaning it can operate outside the harvesting season, with Krone even winning a prize at Agritechnica last year for its bale twine removal technology.
Krone senior product manager Lars Pasedag said the company will be conducting trials of the harvester to better understand what it can do, with the aim of selling a few of this year.
"The Krone Premos 5000 could deliver real benefits for Australia's farmers over the long term while reducing environmental impact," he says.
The tightly compressed pellets produced by the Krone Premos 5000 can be used as an enriched food source for livestock, as well as animal bedding for cows, horses, and poultry.
"Their high liquid capacity keeps animals dry and their disinfectant qualities help to control the pathogens, which lead to fungal infections such as thrush," he says.
"They are also a high-fibre, high-density feed source, with fewer traces of pathogens and mould than straw."
For Australian Fodder Industry Association chief executive John McKew, the machine is a catalyst for a new fodder industry product, bringing new opportunities that will evolve over time.
"For a long time, many people thought of straw and stubble as being a nuisance by-product, whereas now it's a legitimate feed source for a whole variety of industry," he says.
"I see this as almost a next step evolution in the industry to have a machine like this available.
I think feedlots would be interested in pellets because of the efficiency, the movement, the storage the transportation of the product."
"And I have no proof or evidence of this but I just think grain growers will have the infrastructure to be able to utilise a pelletising machine like this one very quickly and very efficiently – if you have already got chaser bins and silos you are halfway there."
Top notch
But the Premos isn't the only new Krone product to arrive in Australia this summer, with the company's VariPack and VariPack Plus round baler range also arriving on the market.
Lars says the belt balers produce the highest density hay and straw bales with the highest productivity output on the market.
"The density can be adjusted from the cabin and is created from the combination of the rotor and W-arrangement of pickup tines feeding material into every corner of the bale chamber," he says.
"Farmers can rely on the Easyslide Net system to efficiently and easily insert netting and twine to ensure each bale is well-presented and compact, while storage space for spare net and twine rolls gives farmers peace of mind when out in the paddock."
In addition to this, the VariPack Plus models include a central lubrication system, a double belt drive and a load sensing baler automation system that can open and shut the bale chamber door automatically.
The VariPack Plus incorporates a cutting system that can be selected in groups of 0, 13, 13, or 26 to ensure the best results in all conditions. The ability to use the same number of blades in two different groups keeps the blades sharp through a long work day.
The VariPack Plus models include V165XC and V190XC with 26 knives as standard. VariPack non-cutters comprise V165 and V190 or the standard V165XC and V190XC with 17 knives.
Lars says the Varipacks also produce well-presented bales that are ideal for storage, thanks to their simple design, using only three drive chains, and an efficient net system.
"The high-density quality outputs coupled with its simple design and accessibility means the machine is easy to service and maintain, and likely to provide a return on investment," he says.
Find farming equipment for sale in NZ
Keep up to date in the industry by signing up to Farm Trader's free newsletter or liking us on Facebook