Contractor profile: Fryer Ag Contracting
---
Farm Trader chats with Matt Fryer from Fryer Ag about the challenges (and rewards) of growing an ag contracting business and supporting your local community at the same time
As the owner-operator of Fryer Ag Contracting, Matt's commitment to his customers and others who make up the rural community around him is pretty obvious. Matt was quick to publicly offer his time and skills during the stressful times of widespread drought and COVID-19 restrictions, after spotting a fellow farming colleague on television, who was going through a tough time.
That prompted Matt to post a video clip on Facebook offering his support of on-farm labour or just being available if someone wanted to have a chat. He was blown away by the response he received.
"I wanted to let others know we're all part of the big circle of farming and we're thinking of each other," he says.
"Many farmers are at the end of a long, lonely road and sometimes see very few people. It helps to have someone to talk, even for 10 minutes, about anything, just to break that monotony. In my work, I get to see so many people, and I know it's good for my mental health."
Rural business beginnings
Matt started his contracting business in 2019, having first spent 15 years working for other contractors. He's always been drawn to rural life, growing up around friends and family with farms. After leaving school, Matt went to work for Brownrigg Agriculture in Hastings.
"I was there for six years and enjoyed every minute. However, my 10-year goal was always to be where I am now – a sole operator."
Following his stint at Brownrigg, he worked on a sheep, beef, and dairy grazing property in Patoka.
"The farm owner, Callum Thomsen, is a former Young Farmer of the Year. He was a good chap to learn from and influential for me. I was there for six years, and we still work in with each other from time to time."
Sole operator
Through his business, Matt aims to offer farmers a service that was both personal and consistent – "to have the same face turn up to their gate and have them know what they are going to get every time."
He's quick to point out that "there's a place for the bigger guys, but there's also a place for us smaller individuals, too."
Matt likes the challenge of working on his own because there's no one to fall back on. "It's all down to me," he says.
"I enjoy knowing what's at stake and with only myself to answer to and no passing the buck. It keeps me honest and keeps my passion for my work alive."
Matt has lived in Hawke's Bay all his life and loves every aspect of it – the different terrain and the folks he meets along the way.
"My working window is anywhere in Hawke's Bay, on flats and hill country. I've gained clients through networking and meeting people. It takes years to get your foot in the door and gain a reputation, and it's vital to hold onto that and offer the best service you can."
Direct drilling
The bulk of Fryer Ag's work through spring and autumn is direct drilling – he is a keen exponent of the benefits of it – and maize planting.
"Over the years, we've done a lot of cultivating and breaking in paddocks to smooth them out and get them to where we want them to be.
Many of these cultivation methods are not necessary or desirable anymore. In comparison, the direct drill offers the same yield and quality at a better cost.
"The goal is to minimise soil erosion from water and wind. It's important to use sustainable practices and not be short-sighted, to look after the ground for future generations."
Matt says direct drilling is a time-efficient practice, allowing him to rotate around a few clients at a time, with his Taege drill eliminating the need to do multiple passes on the same paddock. The one-pass machine is designed to achieve the optimum result in less time.
The feedback he receives from farmers about direct drilling is positive. Using his Taege drill, Matt sows "everything and anything, from cereals to small seeds, brassicas, and all types of grasses." He enjoys seeing the end results, too.
"I spend lots of time going back and visiting my clients to follow-up and ensure everything is going to plan, checking, and comparing the results against past seasons. Farmers like to see that level of interest; it shows you've got a passion, a drive, and that you care for what you're doing."
Taege drill
Matt purchased his Taege Air Seeder Direct Drill in 2019 from Taege Engineering in Christchurch.
"I've been using this type of drill for five years. It does a great job across all soil types and regions. From an environmental point of view, it's unique; it doesn't disturb the soil too much and is low maintenance. I can't fault it."
He adds, "More farmers like this type of drill now, so I'm keen to offer what they want. Besides this, it's a good Kiwi-built machine and the guys that sell them are good Kiwi blokes. They make the entire process easy. I'd like to mention, in particular, Trevor Goodeve, sales manager at Taege Engineering."
Power Farming in Hastings, the local service centre for the Taege drill, have also been helpful. "They go above and beyond to make sure everything is running smoothly. If you have a problem, they're quick to come and fix it and that's really important when you're in the business of contracting."
Tractor time
Matt's tractor is a John Deere 7920, which he swears by, even though it's a 2005 model.
"I reckon it's one of the best John Deere tractors they ever made. It just doesn't give any trouble. One of the strongest features is its large 8.1-litre engine.
"I've spent a bit of money installing an updated John Deere GPS and fully automatic steering, but the good thing is that even though it's an older model, it's still capable of having modern technology installed into it.
"The problem now is the emission controls on vehicles, which tend to cause a lot more headaches than machines in the past. Pre-2005, the machines were a lot simpler and more reliable."
"My goal is to run the JD 7920 as long as possible and look after it the whole way through. Once it's knackered, I'll fully restore it, park it up in the shed, and try and get another one from the US. They are unique, and there's not many in New Zealand.
"The guy I bought it from looked after it well. It's a good solid, reliable stead. Getting on that tractor every day is one of the favourite parts of my job. I never get tired of it."
Matt also owns a John Deere 1750 six-row maize planter. Maize planting is a passion that's followed on from his time working with Brownrigg Ag.
"I did a lot of planting for them, so I always wanted to carry on. I enjoyed planting maize and watching it grow. Every year, I plant around 200 hectares on a few different farms."
In the future, Matt plans to purchase a disc drill to add to his toolkit. "It's a more effective tool for bulky trash in the paddock."
Bulldozer work
When he can fit it in, Matt drives a 12-tonne Komatsu bulldozer owned by fellow contractor and close friend, Jock Nicholls, who owns Triple A in Wairoa.
"This is another huge passion of mine. It's a chance to get off the tractor and do something different. I mostly do farm track maintenance, fence lines, and bulldoze new tracks.
"The terrain in this region provides a challenge and keeps me on my toes. In this line of work, you can't take anything for granted or get complacent. It keeps me out of my comfort zone, and I'm always learning. I enjoy that. Every day is a challenge." 
Challenging times
Despite his years of experience, 2020 has thrown up some fresh challenges for Matt and those working in the businesses of farming and contracting. Widespread drought throughout the North Island and parts of the South Island, combined with the COVID-19 lockdown, have made life extremely hard for a sector trying to produce food for the country and for export.
Fortunately, for most of the time, Matt has been able to carry on with much of his day-to-day business throughout most of lockdown.
"Once I got the all-clear from the Ministry for Primary Industries to carry on during lockdown, I was busy. I was surprised at how much work there was.
"Obviously, we had to follow the correct procedures regarding travelling to and from different farms and not being close to farmers or workers, getting them to leave seed and fertiliser in the paddock."
While his busy season would kick off mid-February, because it was so dry, Matt's clients held out until the first week of March.
"Then, Alert Level 4 began, and I was flat out for six weeks until the end of April. May was a quieter month, but the guys are still working in the hope they'll get through the spring a bit easier. The ground is still warm, and we've had some rain, and hopefully, we'll get more. You go out and do your best for them and cross your fingers and toes as well."
The future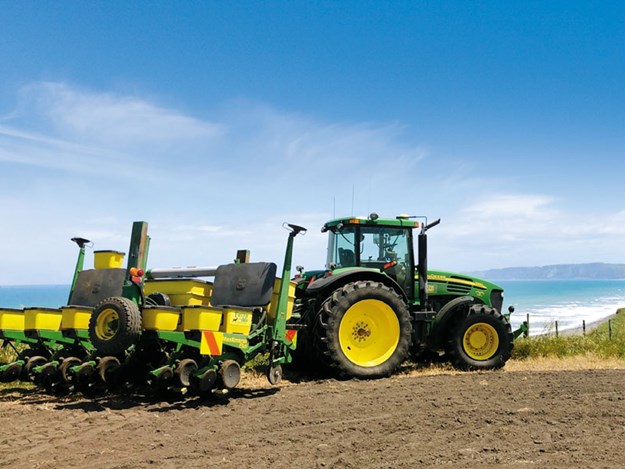 In his spare time, the 34-year-old enjoys, "a bit of all the usual Kiwi bloke stuff – four-wheel driving, motocross, and hunting". Matt reckons where he lives in Puketapu, near Napier, is an ideal location.
"It's central, with family not far away, and has a supportive community. I hope to buy my own home eventually. I can see myself doing ag contracting for the rest of my life, making a living from it, and returning to the same clients year after year.
Find farm machinery for sale in NZ
Keep up to date in the industry by signing up to Farm Trader's free newsletter or liking us on Facebook