New Massey Ferguson series launched
---
With much fanfare, the new range of Massey Ferguson 8S tractors has been launched – via an online global release event
It's fair to say that Massey Ferguson has taken a bit of a gamble, with the launch of a completely new 8S range of tractors, with classic-era looks and modern connectivity.
With the new models unveiled, diehard Massey Ferguson enthusiasts took to social media to voice their approval of the new look, as well as their disdain – there's nothing like a new tractor release to generate an onslaught of opinion.
Massey Ferguson, a member of the Agco family, says the new 8S Series "introduces a new era of straightforward and dependable tractors that are delivering new levels of comfort and efficiency for fully connected smart and sustainable farming".
Consisting of four models, MF 8S.205, MF 8S.225, MF 8S.245 and MF 8S.265, the 8S Series tractors are built on a 3.05-metre wheelbase and feature the unique Protect-U cab/engine installation and a radical neo-retro design.
Using Agco Power Stage V six-cylinder 7.4-litre engines, the maximum power of the 8S Series ranges from 205hp to 265hp, each with an extra 20hp from Engine Power Management (EPM).
The numbering of the models is simple. For example, on the MF 8S.265 model, the 8 stands for the Series, the S stands for the specification level, and the last three digits are the maximum power.
"Our MF Next visionary concept, shown for the first time at Agritechnica in 2019, is now reality," said Thierry Lhotte, vice president and managing director Massey Ferguson, Europe and Middle East.
"This completely new design delivers the next level of straightforward and dependable tractors that operators asked for.
"They told us they need a tractor that's comfortable, with unrivalled visibility, efficient, easy to use, and smart. Massey Ferguson has responded straight to the point with the MF 8S and the associated services."
New cab
With its 24cm gap separating the cab from the engine, the Protect-U concept completely insulates the cab from noise, heat, and vibrations. Noise levels of just 68dB means it's one of the quietest in the market and, with an interior volume of 3.4 cubic metres, it's also one of the most spacious.
With 6.6 square metre glass area, it's a light and airy workplace boasting unrivalled space and visibility. Replacing the dashboard with the new digital MF vDisplay terminal fitted to the right pillar leaves just the steering wheel and Power Control lever in front of the driver, providing exceptional forward visibility over the slim, super wasp-waisted bonnet.
The new Control Centre armrest fitted with the latest easy-to-use MultiPad lever provides complete fingertip control. This Isobus compatible lever operates all the tractor functions and includes an integral micro-joystick to control two spool valves.
High-performance engine
Latest Stage V Agco Power six-cylinder 7.4-litre engines deliver more power, torque, and performance at low rpm reducing operating costs. Massey Ferguson's straightforward all-in-one after treatment technology along with hydraulic tappet adjustment, which are both maintenance-free, help reduce running costs.
These robust engines develop 205hp to 265hp, with Engine Power Management (EPM) providing an extra 20hp for transport, PTO, and hydraulic applications. Maximum power is generated already at 1000rpm and it's constant up to 1500rpm, providing high performance at low engine speeds that cuts fuel consumption by 10% and noise by up to 6dB.
All-in-one integrated Selected Catalytic Reduction (SCR) with a Soot Catalyst (SC) is a fully integrated system that does not require the use of a Diesel Particulate Filter (DPF) or complex Variable Geometry Turbocharger.
New Dyna E-Power transmissions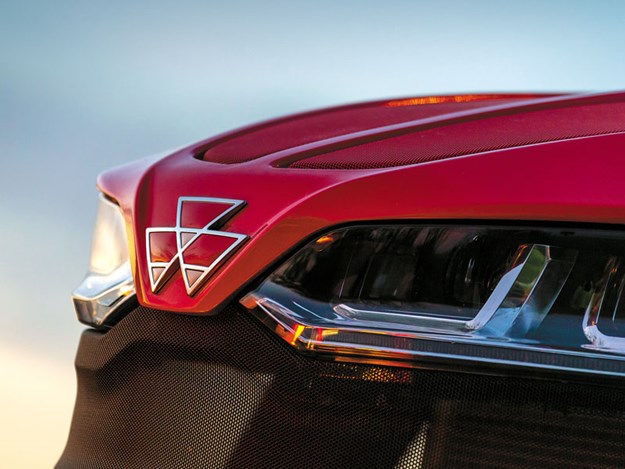 Designed and developed by its in-house experts, the Dyna E-Power dual-clutch gearbox combines the advantages of a continuously variable transmission (CVT) with the ability to transmit power as efficiently as a mechanical transmission. This new unit even further reduces power losses versus previous MF 7700 S Dyna-6, by up to 26% at higher speeds, delivering fuel savings up to 10%.
Dyna E-Power offers four ranges with seven gears, with semi-overlaps ideally designed for maximising in field and on-road performance. Operating fully automatically or manually using buttons on the MultiPad or Power Control lever, it's also possible to adjust how aggressively and quickly fully automatic changes are made to match work and conditions.
Gears change seamlessly, smoothly, and efficiently, with only a nine percent gear ratio difference between each speed in fieldwork applications from 5km/hr to 20km/hr.
Alternatively, users can choose the new Dyna-7, semi powershift gearbox, which is the latest development of the renowned and reliable Dyna-6, with the same straightforward operation.
This provides not only one extra powershift gear and smoother shifting but it is also 10% more efficient than the Dyna-6 for the same engine horsepower in field application.
Dyna-7 offers easy and efficient operation of a total of 28 forward and reverse speeds in four ranges and seven seamless gears. This cost-effective transmission delivers smooth and intuitive operation in manual mode or can even be operated fully automatically.
High performance
Massey Ferguson MF 8S Series tractors are built on a 3.05-metre wheelbase that provides stability and improves traction when working with wide, demanding implements, offering up to nearly 10% more traction power.
Power is efficiently transferred to the ground through a new, immensely strong rear axle, with a choice of flanged, short, or long bar axles, to suit all operations. New wheel specifications now include the ability to fit up to 2.05-metre diameter rear tyres, including the brand-new option of VF650/75 R42 Trelleborg TM1000 PT.
The tractors retain the well-proven standard suspended front axle offering a tight, 5.7-metre turning radius. Now equipped with suspension lock, it's also equipped with brakes for tractors fitted with all 50km/hr transmissions.
Three-point linkage capacity is increased by seven percent to 10,000kg and, with powerful new hydraulics, these tractors handle and operate large, wider implements. A 150-litre per minute closed-centre, load-sensing hydraulic system is standard, providing 36% more flow compared with the previous system.
A 205-litre per minute flow is an option, which can also be supplied as an ECO version, generating the flow at 1650rpm (230 litres per minute at max at rated engine speed). Up to five electronic rear spool valves can be specified.
All models come with a four-speed PTO as standard, providing a choice of 540, 540ECO, 1,000 or 1,000ECO, which means operators can always select the right speed for power or economy. A new 4800kg capacity front linkage option, fully integrated into the tractor, comes with the option of an Isobus socket.
Fully connected
Connectivity is the standard on the MF 8S Series, which comes with MF Connect Telemetry, including a three-year subscription license. This uses mobile data to transfer information to the MF Connect Cloud, providing easy access to useful management information on machines.
Availability
The Massey Ferguson 8S Series with Dyna 7 and Dyna E-Power transmissions is set to appear in New Zealand in early 2021.
Keep up to date in the industry by signing up to Farm Trader's free newsletter or liking us on Facebook