Feature: Fencing
---
It's been a turbulent year so far with a pandemic sweeping the globe, and the fencing industry has had to reinvent itself to get through the tough time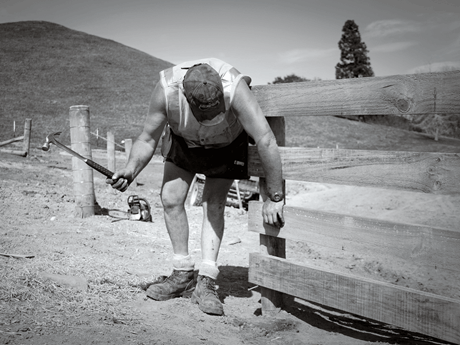 Not classed as an essential service during lockdown, fencing contractors across the country had to down tools for the most part and ride it out, with the exception of essential fencing relating to animal welfare.
But Phil Cornelius, board member of Fencing Contractors NZ, says the industry seemed to be coming through it well, with many contractors busier than they'd ever been.
Undoubtedly, there will be flow-on effects that will last a long time but having the work ahead for the most part is positive.
"The industry recovered (following lockdown) if not stabilised. Depending how long this latest resurgence lasts and how many future lockdowns we encounter will be the test," says Phil.
"Everyone's still busy and almost got busier once lockdown ended. It hasn't necessarily been the disaster people thought it was going to be."
Support from services such as banks, product suppliers, and accountants had helped to get businesses through, adds Phil's wife, Donna, who owns Northland-based CPC Fencing with Phil.
"You've just got to keep the lines of communication open, really. You've got to stack up down the track but as long as they know and you know there's work, it's fine. If things get tough financially, the best thing you can do is be on your game with your professionals and have a plan in place to enable quick decisions either way."
The Government wage subsidy had also helped to tide contractors over.
Through it all, fencing contractors have had to adapt to the 'new normal'. In particular, health and safety protocols have needed to be adapted to include COVID-19, including providing adequate sanitation, masks, and gloves.
Many fencing businesses have had to make changes to the way they operate to take their business forward into the future. In the latest outbreak in August, CPC Fencing had staff moving in and out of the Auckland region and have had to secure Government documentation for travel to be able to continue.
But adapting to the situation rather than fighting against it can ensure a way through it all, Donna says.
"A lot of contractors will be really looking at their business going forward in a proactive light, [such as] new innovation they can introduce rather than being reactive," says Donna.
The re-emergence of COVID-19 in the community has added an element of uncertainty to many of the industry's key events.
Planning is underway for the rescheduled Fencing Contractors NZ Annual General Meeting, to be held in Wellington in September, as well as regional events and Trade Days to be held at Tapanui, South Canterbury, and Nelson in October. A further series of Trade Days are also being planned for the North Island in November.
Fencing Contractors NZ Trade Days showcase the fencing industry and are open to the public to attend. With practical fencing best-practice demonstrations from well-known and respected Certified Fencers, hands-on product testing and demonstrations, and the opportunity to meet and connect with fencing contractors and product manufacturers from across New Zealand, Fencing Trade Days are the highlight of the Fencing Contractors NZ calendar.
Fencing Contractors NZ are also hopeful that the 2021 Conference, postponed from August this year, will go ahead in the Bay of Islands next year.
Although it has been a challenging time, there have been positives to come out of the COVID experience for the fencing industry, one being the free access to primary industry training introduced by the Government. This includes the Level 3 Certificate in Fencing.
The qualification is for anyone keen on entering the fencing industry and wanting to develop skills and knowledge for fencing and includes a mixture of online learning, applied work experience, and block course learning that takes place at locations across the country.
Interest in the qualification has soared as a result of the initiative, with the 2020 Waikato and Christchurch intakes, which were postponed from April, full. Expressions of interest for further courses in Northland and Marlborough being considered for October 2020 and February 2021 respectively show that there may be a waiting list.
CPC Fencing is putting the majority of their team through the Level 3 Certificate in Fencing at NorthTec as a result of the Government initiative, some who had never been fencing before coming to work for the company, pre- and post-COVID.
There are many benefits to having a start-up qualification to back the fencing industry, Phil says. It gives employers assurance that staff would be up to standard and have the skill set required for the job and gives staff the chance to gain more qualifications and experience.
"Having it sitting there ready to go and having the courses in place, we can only build on it," Phil says.
The Government's $100 million riparian fencing and planting initiative, announced in May 2020 as part of the Provincial Growth Fund, has also highlighted the importance of the fencing industry and the need for quality fencing contractors.
It will result in hundreds of kilometres of riparian fencing being undertaken, with the Government keen for projects to commence in 2020. With their proven standards of workmanship and professionalism and a high regard for health and safety, Fencing Contractors NZ Certified Fencing Contractors have all been promoted to the six regional councils targeted in the initiative, as well as several environmental agencies that have applied for funding.
Despite the challenges of 2020, the fencing industry is charging on with a quiet optimism and is in good stead moving into 2021.  
To find out more about Fencing Contractors NZ visit fcanz.co.nz or call 0508 432 269.
 
Find new and used tractors for sale in NZ
Keep up to date in the industry by signing up to Farm Trader's free newsletter or liking us on Facebook