RCNZ feature: Hinton Contracting Ltd
---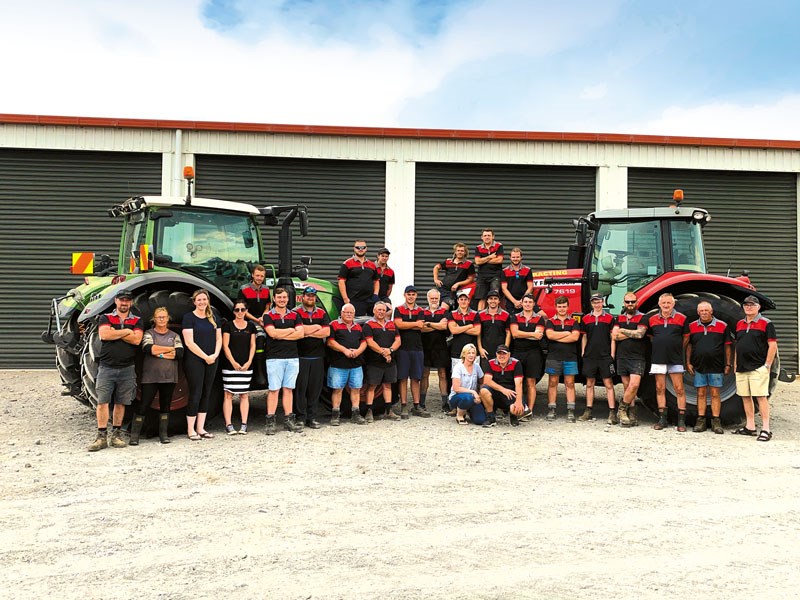 The Hinton Contracting team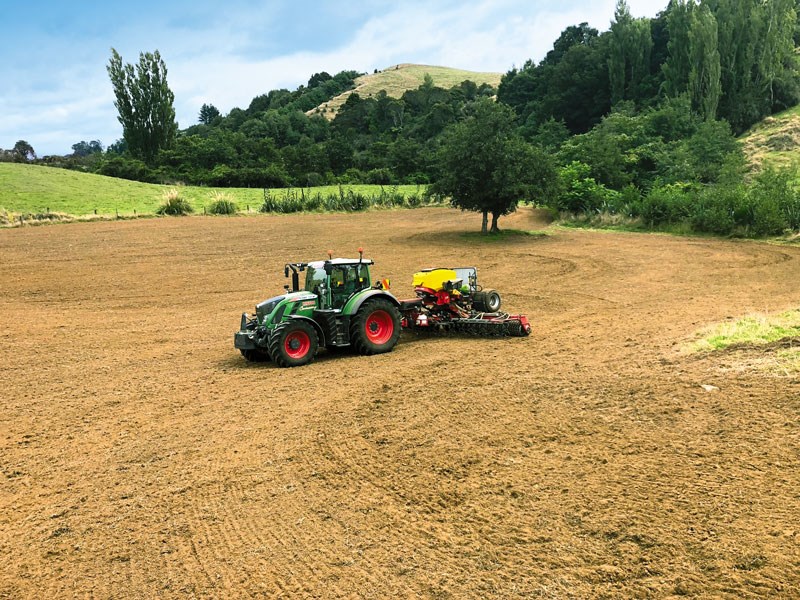 The Fendt 818 and Titan roller drill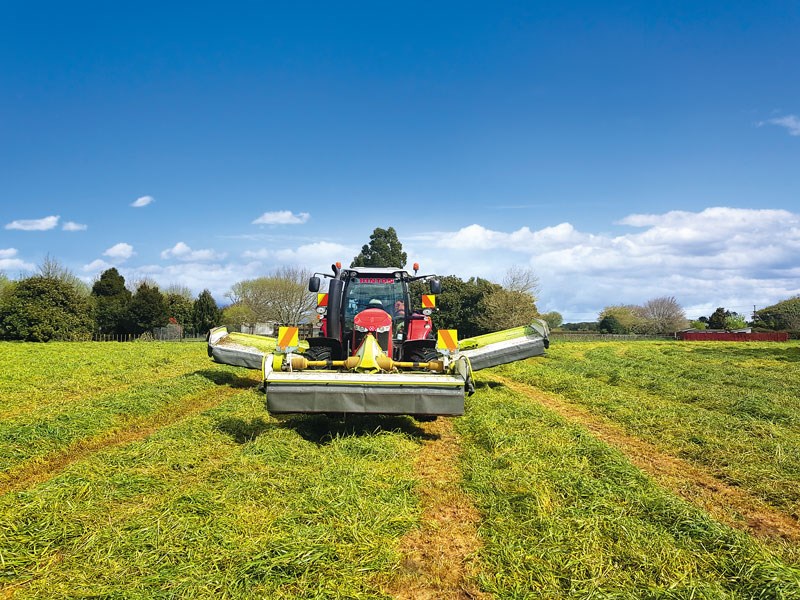 Mowing with the Claas MF7722 triple mower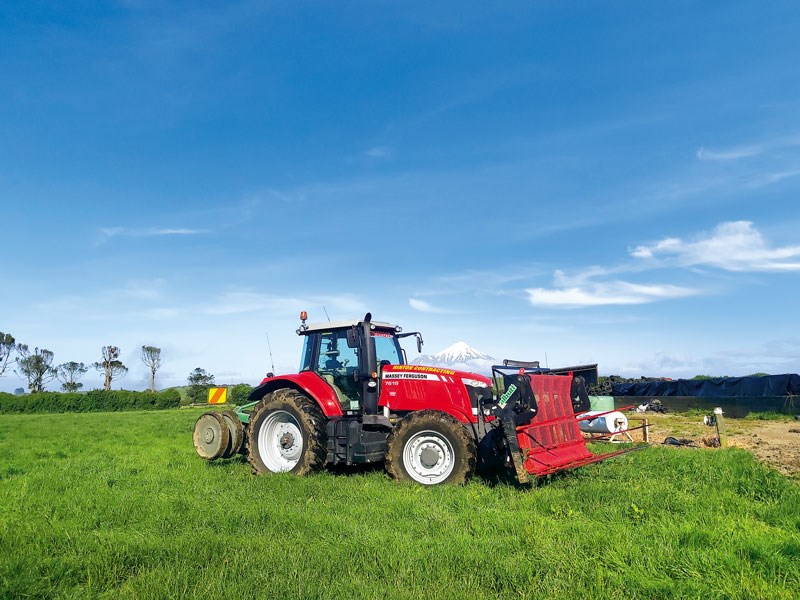 An impressive Mt Taranki backdrop for the Massey Ferguson 7619 with pit gear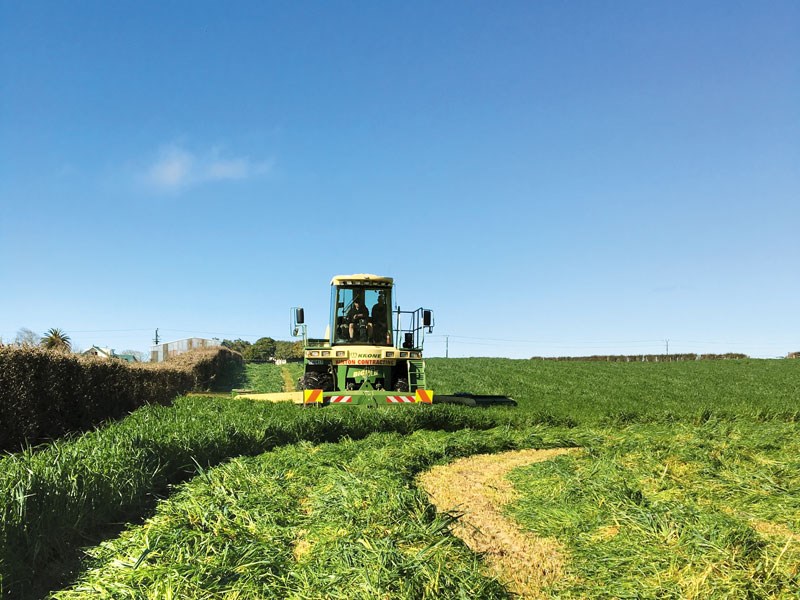 The Krone Big M mower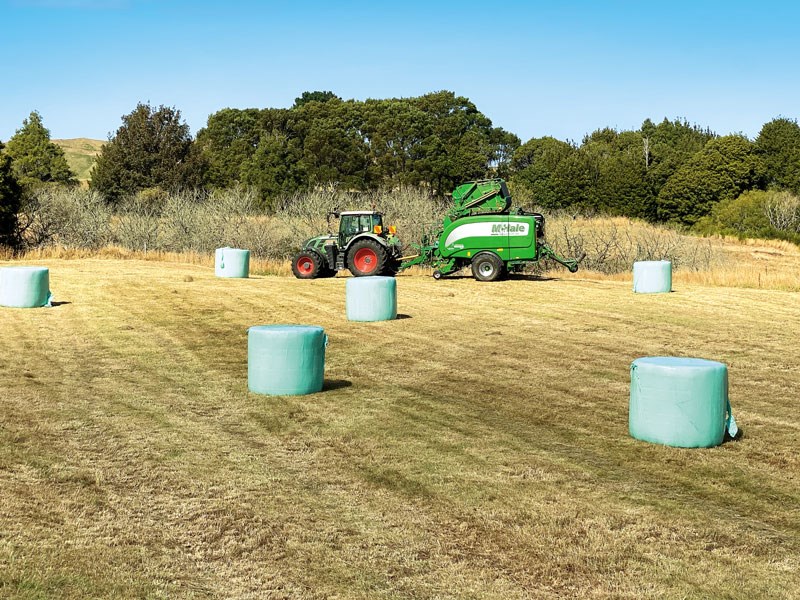 The finished result

It's full steam ahead for the next generation of the Hinton family, who run the agricultural contracting business of Hinton Contracting Ltd in Stratford, Taranaki
Daniel Hinton and his partner Sheridan Standen took over ownership of Hinton Contracting Ltd from Daniel's parents Mark and Wendy Hinton last year. The business serves a large part of the Taranaki region and has built up a solid reputation for delivering a high-quality service. Continuing the theme of a family legacy, Mark had bought the business from his brother David 17 years ago, after working in partnership with him as an owner-driver.
Since taking over, Mark and Wendy doubled the size of the operation, adding a broader range of agricultural services to include roller drilling, disc drilling, rotary hoeing, hedge mulching, effluent pond pumping, haymaking, silage, trailer work, and drain cleaning. The Hinton family have been involved in agricultural contracting since the 1930s (see full history on p64), so it's something the whole family live and breathe.
A busy team
Hinton Contracting employs 10 full-time staff, which swells to a team of 25–30 over the busy season.
"We have a highly skilled team made up of local people: ex-farmers, school leavers plus seasonal workers from here and overseas," says Daniel.
"They come with good skills and are prepared to do long hours at the height of the season."
Owner-drivers Ian and Jill Smith handle much of the Hinton's cultivation work, such as power harrowing, rotary hoeing, and discing. They also operate the drain cleaner and do raking during harvest time.
"Smith is awesome; he makes sure each job is 100% perfect, and we support him with our gear. He takes ownership of the job in hand, so it's one less thing for us to worry about."
Taking care of the drain cleaning side of business, Ian and Jill also run a tractor-operated, high volume, low-pressure drain cleaner to clear tile drains, Novaflo, effluent lines and plastic pipe.
Variety of work
As a grass-based business, hay and silage make up the most significant portion of the Hinton Contracting workload. "From October through until Christmas, we do lots of loader wagon work and baled silage, then we focus on hay as well as more baled silage," says Daniel.
Using Strautmann and Pottinger loader wagons, two crews are run to get through the workload. At full speed, the teams can handle three or sometimes even four silage pits a day. A SilaPress roller behind a Massey Ferguson pit tractor is used to compact silage in the pit and take out any excess air.
"The SilaPress is an awesome piece of machinery," says Daniel. McHale and Krone balers are used to produce large round bales, and last year, a Massey Fergusson 1840 conventional baler was added to the fleet to cater for lifestyle block farmers and large-scale farmers wanting smaller bales for feeding out to calves, etc.
With hedges forming a big part of the Taranaki landscape, hedge mulching is another service offered by Hinton Contracting. With four McConnell hedge trimmers, they are well set up for the demand to trim farm and town hedges.
Another side of the business that has grown and continues to grow is around effluent irrigation. With a push toward 100% of dairy effluent being discharged over the land rather than into streams and waterways, there's an almost constant demand for this service.
"Previously, we spent lots of time cleaning out ponds, but now that compliance regulations have changed and as more effluent is dispersed onto the land, we spend less time cleaning ponds and more time handling 100% of our client's effluent for them,"says Daniel.
With a large pump that sits at the pond, the Hinton team then use flat hoses to pump the effluent from the pond to a tractor. Effluent is then placed onto the paddock with a dribble bar using a flow meter and GPS to ensure accuracy and correct spreading. A 16,000-litre tank is also used for paddocks further afield.
Hinton Contracting also work on large- scale pumping projects such as lakes or reservoirs, using high volume pumps (Doda and Ferrari) that can move up to 250 cubic metres per hour.
Machinery fleet
With approximately 25 tractors, 12 balers, nine loader wagons, eight rakes, as well as wrappers, mowers, trailers, tanks and more, Hinton Contracting's impressive line-up of machinery gives them the ability to cover pretty much any job that comes in.
During winter, the workshop is a buzz of activity as intensive maintenance is carried out (in addition to everyday maintenance all year round). "It takes all winter to get through the amount of gear we have and make sure it's ready for the season.
When we get busy, we need lots of back-up in case of a breakdown. We also have a breakdown vehicle and employ a diesel mechanic and an engineer; the rest of the guys are skilled in the workshop, too," says Daniel.
Massey Ferguson and Fendt are the tractors of choice for Hinton Contracting and the line-up numbers around 20 of these tractors, with models ranging through the spectrum of size and horsepower.  
"We've always favoured these brands because they are high quality and reliable. The FieldTorque dealership here in Stratford (incidentally owned and run by Daniel's cousin Carl Hinton and uncle David Hinton) are our service agents."
Plasbak recycling scheme
With an awareness around sustainability, Hinton Contracting is a drop-off and supply agent for plastic recycling company Plasbak. "We fund this service for all our clients. It's satisfying to know the wraps we generate can be recycled," says Daniel.
Rural Contractors New Zealand
Hinton Contracting has been a member of Rural Contractors New Zealand for the past four years. "We have found it to be an awesome organisation to be a part of," says Daniel.
"It is especially useful with help and advice around bringing in overseas workers.
"It's also really good to know you have a large organisation acting on your behalf. In an ever-changing landscape, it's great to have new information summarised and delivered to your inbox."
Lockdown challenges
As for many businesses, the COVID-19 lockdown dished up some fresh challenges, but Daniel reckons his contracting team came through it okay. "It was a mucky time. Because agricultural contracting was classed as an essential service, we were trying to get the last of our seeding and get drilling done.
We had to shut down other things such as our workshop, though, we were on call if necessary," he says. "Overall, we were lucky we had something to carry on with, and we came through it well. I'm proud of how our staff handled the situation.
"With the likelihood that our international staff may not be able to make it this season, we're now trying to fill roles locally. Other staff will step up into higher roles, and hopefully, we will bridge that gap.
"You can only have so many trainees before it gets too much. It takes time to train new staff to a point where they are competent and can operate safely. It's a balancing act trying to get the right mix. But we're lucky we have good support."
Future plans
Prior to taking over Hinton Contracting, Daniel farmed for six years on various dairy farms around Taranaki. He says the experience has given him an important understanding of farmers' needs.
"I know what it's like to be feeding out bales, too; it helps me see things through our customer's eyes," he says. Daniel's focus is now on administration and logistics, though, he still likes to get his hands on the wheel when time allows.
With a background in environmental science, Sheridan brings a unique set of skills to Hinton Contracting. Before joining the team, Sheridan worked as an environmental scientist.
"As well as carrying on with our core business, we're looking to develop services and support around environmental legislation." Given Sheridan's expertise and the businesses practical experience and knowledge, Hinton Contracting is well placed to meet these demands.
"With changing regulation and expectations around compliance and environmental plans, it's an area we're placed well to move into. As time goes on and more is thrown on farmers plates, the more we can help them, the better," says Daniel.
Hinton Contracting history
Hinton Contracting has been operating in the Stratford area since the 1930s. It all began with Jack Hinton, who started doing his neighbours haystacks with horse-drawn gear. In 1948, the new owner, Lewis Hinton, purchased the first tractor, which he would contract out to local farmers.  
In the 1960s, Fergus and Nola Hinton purchased the business and started forage harvesting, mowing, and conventional hay baling. They continued to play a major role until Fergus passed away in 2011. 
In the 1980s, Fergus and Nola's son, David Hinton, joined Fergus to do conventional baling and hedge cutting. David and his wife Kathryn formed Hinton Contracting Limited Company in 1996 and continued to grow the business until they sold it to David's brother Mark in 2002. 
In 2002, Mark and Wendy Hinton purchased Hinton Contracting and developed the business into the company it is today. In 2019, Daniel and Sheridan purchased Hinton Contracting. So far, they have reintroduced conventional baling to their list of services and are excited to continue to develop the business.
Find new and used farm machinery for sale in NZ
Keep up to date in the industry by signing up to Farm Trader's free newsletter or liking us on Facebook