Farm Advice: Planning and communicating are key to wintering
---
Dairy NZ experts share advice around planning ahead for successful wintering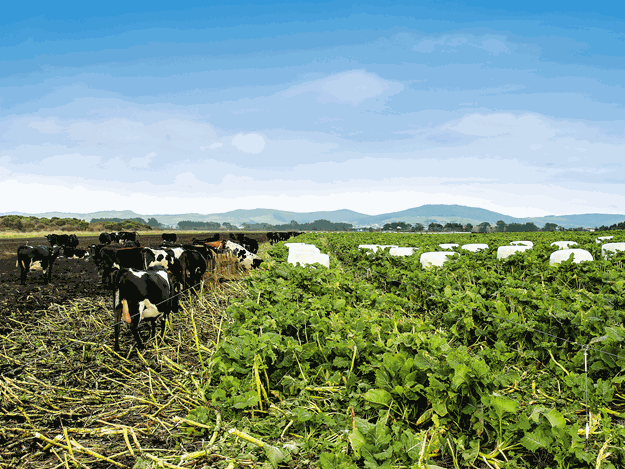 Since starting with DairyNZ last year, I've spent a lot of my time discussing wintering. Those discussions have shown me how farmers, rural professionals, and contractors all play an important role in achieving successful wintering outcomes.
As part of my role, I've been looking at how we can strengthen those key relationships. Contractors and farmers have a long history of working together on-farm. By building on that relationship, we can set ourselves up for a successful winter in 2021.
New wintering regulations come into effect in May 2021. This means there are some changes in the way we cultivate paddocks.
With these changes in mind, completing and sharing cultivation plans with your contractor and setting aside time to confirm your plans with them when they arrive, will help ensure a successful outcome.
Contractors have told me that having a cultivation plan on-hand when they arrive saves time and ensures they meet farmer expectations. Plans can be completed electronically, printed, or written – the key thing is they are clear for everyone.
Cultivation plans should include:
correctly identified paddock/s 
waterways, within or alongside the paddock 
critical source areas to avoid 
sloping areas within the paddock 
buffer zones around critical source areas, next to waterways and at the bottom of a slope 
the preferred direction of cultivation 
contact details of the client.
Management strategies such as buffers are crucial to reduce the risk of soil loss while crops establish. Cultivation removes vegetation and exposes soil to the weather, increasing the risk of soil runoff during bad weather.
Nitrogen, phosphorus, soil, and E. coli losses from winter forage crops are much higher than losses from pastoral grazing at other times of year. A small area of winter crop can contribute a significant proportion of a farm's nitrogen losses.
DairyNZ has developed a webpage specifically for contractors with information on how to plan cultivation this year to meet new wintering regulations next year – see dairynz.co.nz/wintering-contractors
Now is a good time to get in touch with your contractor and have a chat about your future plans.
Tips from farmers and contractors on cultivation plans
Contractor tip: "Receiving detailed plans from my client before cultivation starts, means that when we are 'under the pump,' whoever the operator is on the day, can complete the job efficiently." 
Farmer tip: "I always add the specific buffer width into my plans, it saves the operator having to interpret my amateur map drawings!"
Contractor tip: "My operators are confident about what is expected due to the detailed plans from our clients and information for contractors on the DairyNZ website, saving me time stuck on the phone!"
Farmer tip: "Completing cultivation plans just sounded like more paperwork, but the time it saved me during that busy period was worth it."
Find farm machinery for sale in NZ
Keep up to date in the industry by signing up to Farm Trader's free newsletter or liking us on Facebook