New release: Pottinger unveils new Terria stubble cultivator
---
Pottinger has launched a new range of trailed stubble cultivators that can handle both shallow stubble cultivation and full depth tillage situations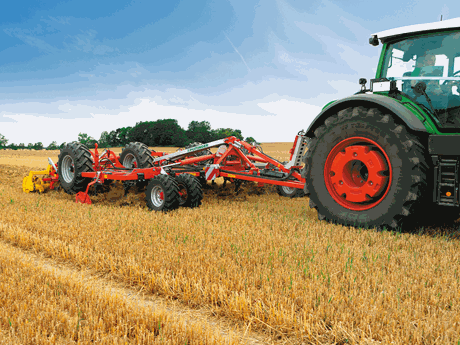 Available from November 2020, the new range of Terria stubble cultivators have working widths of four to six metres and as three- and four-row models (the models are Terria 4030, 5030, 6030, and Terria 4040, 5040, 6040.)
The Terria trailed stubble cultivator's tools are arranged symmetrically along the drag line to ensure reliable penetration even in difficult conditions, as well as driving stability, thorough loosening, and perfect mixing.
In order to guarantee a steady soil flow even where there are large quantities of straw and harvest residues, the trailed Terria stubble cultivator has a generous frame height, with tilling depths of 5cm to 35cm possible.
Pottinger has improved its Nonstop stone protection system, which the company says is vital for uninterrupted operation. Besides a mechanical Nova element (600kg triggering force), an adjustable hydraulic version (650kg triggering force) has been added to the range. Both systems guarantee maximum trip clearance and reduce wear and tear on both frame and equipment.
Two settings allow leg adjustment. Tilling intensity varies according to the position selected: flat or steep. The screws also function as shear bolt protection.
Flexibility is also provided by two wing positions for shallow cutting through or generous mixing. The wear parts supplied by Pottinger comprise the well-known lines Classic, Durastar, and Durastar Plus. A 40-mm wide Durastar narrow share is also available for deep loosening.
To guarantee a turning circle that's as tight as possible, the wheels have been integrated into the work area, resulting in a more compact total length. The machine is equipped with either a two-wheel chassis or, as an option, a four-wheel chassis, depending on the working width.
With the latter, the machine is in contact with a larger area of ground, which results in ideal weight distribution and perfect ground protection.
For fast and precise adaptation to all kinds of soil conditions, Pottinger fits the Terria trailed stubble cultivator with fully hydraulic depth adjustment as standard.
The large jockey wheels and rear roller ensure that the machine does not deviate from the selected working depth. The drawbar is fitted with a hydraulic cylinder for precise contouring in the direction of travel.
Additionally, the drawbar cylinder can improve traction with the aid of swing clips and transfer the weight of the stubble cultivator onto the tractor's rear axle.
For reliable levelling, Pottinger supplies maintenance-free concave discs arranged in pairs which are guided in the soil by the rear roller. Repeated adjustment of the working depth is therefore unnecessary.
The wide range of rear rollers, consisting of a pack ring, rubber packer, and the Tandem Conoroll rollers ensure perfect compaction.
Find farm machinery for sale in NZ
Keep up to date in the industry by signing up to Farm Trader's free newsletter or liking us on Facebook