Feature: Krone Big M 450 self-propelled mower
---
Farm Trader takes a look at the Krone Big M 450 self-propelled mower that was restored by a couple of Southland farmers
Ben Walling and his partner Sarah Flintoft are Southland farmers and directors of Walling Contracting Southland Ltd. They farm bull beef and do baling, silage, and cultivation on contract.
Good mowers are crucial to their business. After much research, Ben bought a set of triple mowers at the end of the 2018 harvest, ready for delivery at the beginning of the next season. Then out of the blue, last July, someone asked him to tender on a Krone Big M 450 self-propelled mower.
The Big M had been written off, and the insurance company was looking for a return.
It only had 370 hours on it.
So, Ben and mechanic Tim McFarlane assessed it and decided it was worth fixing, and Ben and Sarah were the proud owners of a self-propelled mower.
Thanks to having excellent mechanics in Tim and Andrew Winter, and with parts arriving quickly through dealer FarmChief and Krone importer Tulloch Farm Machines, the Big M was back on its wheels sooner than expected.
It has since worked all of last season (September 2019 to March 2020), while the new triple mower has yet to cut a blade of grass.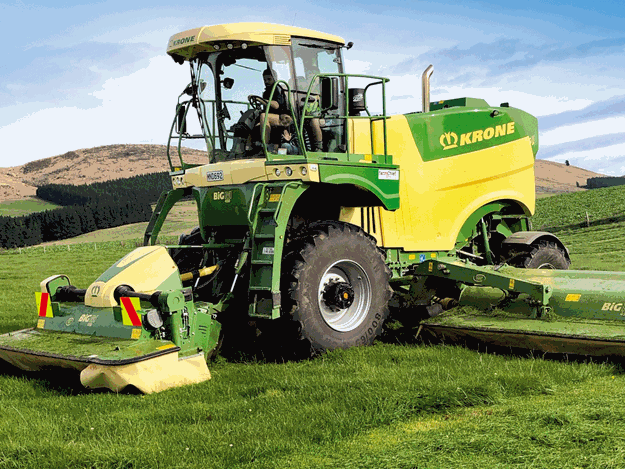 Tim told Ben he may as well sell the triples because, if he has a choice, he will always take the Big M.
"It's a pretty impressive machine – quiet and comfortable and with beautiful visibility. There is plenty of power and it's a very nice machine to use," Tim says.
"It's quieter than any tractor I have ever driven. You could whisper to a passenger."
Ben says the Big M is a brilliant machine with a brilliant motor.
"We've been right inside it, taking the pistons out and it's rock solid. It works at 1700–1800rpm and hardly uses any fuel."
The Big M has a six-cylinder 449hp Liebherr engine. Ben says you can never run out of horsepower and also why you need a good operator behind the wheel.
"You can cut so fast that you could damage the mowers. You would be an idiot to put a cowboy on a $600,000 plus machine anyway."
With its three mowers, the Big M has a working width of 10 metres. It also has V-tine conditioners, which can be used at 700 or 1000rpm.
"In wetter and more difficult crops, we speed the conditioner up to 1000rpm," Ben says.
The operator can change the cutting height using pre-set buttons on the joystick. This feature also makes it easy to get back to a pre-set height when lifting over rougher areas.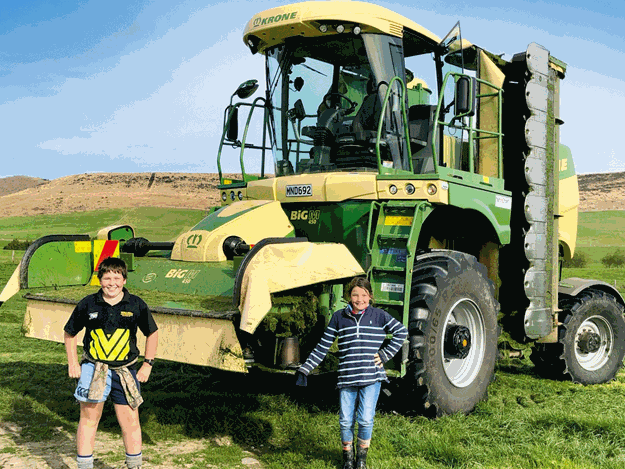 Ground pressure is hydraulically controlled and changeable.
"It follows contours well. All slopes affect the accumulated pressure on the hydraulic rams, so if it drops or rises on one mower it puts more or less oil in it, to keep the same weight on the ground," Tim says.
Tim has used the Big M on grass, whole crop, tick beans, and oats. It has cut and windrowed a five-foot triticale crop.
Among the Big M's other great features is its transport mode. The mowers fold up and the axle height lowers to keep the whole machine within the legal height on roads.
It has traction control buttons. TC1 is for flat and easy paddocks and TC2 is for hills.
"TC1 is more aggressive and snappy. If you turn traction control off, it's like a racing car, but with no traction. TC2 makes it more lethargic, but you don't get wheel slippage."
One of Tim's favourite features is the automatic side shifting on the front mower.
"It knows from the angle of the wheels when I turn a corner, how much to shift the mower to avoid leaving an unmown strip."
The engine holds 45 litres of oil compared to the more usual 20, which pushes the service interval out to 1500 hours. This combined with auto-lubrication makes for minimal maintenance.
Tim says it's more stable than he first realised.
"I can push it further than I first thought. It's a lot more stable than it feels, although, it would be better with wider wheels."
Ben became a self-propelled mower owner by happy accident, but he is now sold on the Big M and wouldn't go back.
Find new and used mowers on Farm Trader NZ 
Keep up to date in the industry by signing up to Farm Trader's free newsletter or liking us on Facebook