Feature: New Holland CH7.70
---
Released to the European market earlier this year, New Holland touts that its new CH Crossover Harvesting collection of mid-range combines sets new standards of capacity and versatility
New Holland says the new separation technology in its CH7.70 combine harvester will help deliver 25% more throughput than a conventional combine in the same segment.
New Holland combine and header marketing manager for Europe Lionel Gleyroux says the new combine sits between the company's mid-range conventional and flagship rotary models.
"The new Crossover Harvesting concept takes the best of our harvesting expertise to create the opportunity for every farmer and contractor to be more productive, versatile and effective," he says.
"It offers the best of both worlds – New Holland's best Twin Rotor and conventional technologies – to deliver segment-leading throughput."
The harvester's conventional two-drum threshing system features a reinforced 600mm diameter drum with a sectional concave, which can move away from the drum in less than 20 minutes to provide a gentler rubbing action for different crop conditions.
New Holland says this works well with its 53cm, 3.45-metre TwinRotor system, which has the largest separation area in the industry. The system requires minimal changes to the settings when switching between crops, resulting in outstanding crop-to-crop versatility.
The CH7.70 can also be equipped with a range of header of up to 9.15 metres, including the new 8.53-metre Varifeed version, which New Holland says was specifically developed for this range.
The new harvester, released in Europe last month (but with no immediate plans for an Australasian release), also has an extra cascade in the centre of the grain pan and a double flight cross auger, boosting cleaning capacity and driving grain to the elevator faster.
New Holland's global head of crop harvesting product management Lars Skjoldager Sørensen says the combine is designed for arable farmers looking for strong performance and low ownership costs. 
"The new CH7.70 combine brings to our customers all the benefits of 45 years of Twin Rotor separation excellence combined with our best threshing technology – best-in-class productivity, top grain and straw quality, crop-to-crop versatility, and reliability with low operating costs," he says.
Its SmartSieve system maintains sieve balance for uniform cleaning, even on side slopes of up to 25%, calibrating sieve action based on fan speed and kernel size.
At the same time, its Opti-Fan system compensated for fluctuating grain speeds across the cleaning shoe, reducing fan speed when travelling uphill so no grain is lost out the back of the combine.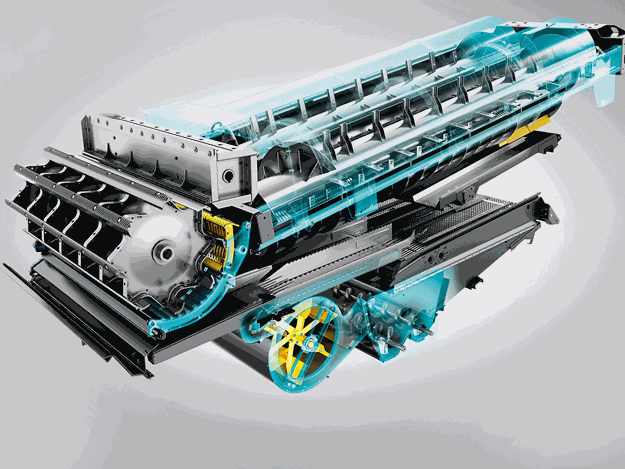 The optional Laterale system uses an automatic levelling system to provide transversal slope correction of up to 18% on both sides.
Featuring the 374hp Cursor 9 engine, the CH7.70 has been designed with easy maintenance in mind, with a large service door and only four greasing points.
It comes with a standard three-year extended warranty (1200 engine hours) covering the engine, driveline, and after-treatment system, together with 600-hour service intervals.
Find new and used harvesters on Farm Trader NZ
Keep up to date in the industry by signing up to Farm Trader's free newsletter or liking us on Facebook