Claas launches new tractors and machinery
---
A new range of tractors and updates to silage wagons were launched at an online event in Germany
Virtual launches are the new norm for machinery companies such as Claas in the absence of public trade events and more companies are noting the benefits.
Claas says most of the new equipment will be available on the market by 2021 No doubt the company will have more innovations ready to launch at Agritechnica in November 2021; fingers crossed the show will happen.
Axion 900 tractor series relaunched with technology upgrades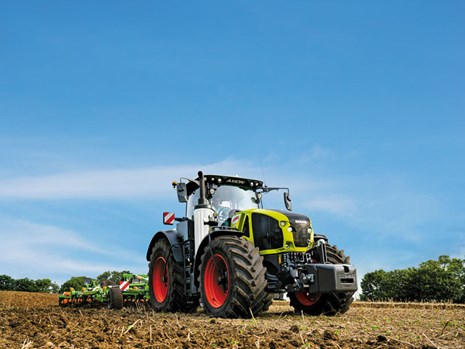 The new series of Claas Axion 900 tractors* comes complete with technology upgrades, including Stage V exhaust emission standard. It also combines Cemos, the first interactive assistance system, with the factory-fitted Ctic tyre pressure control system.
The Stage V models of the Axion 900 and Axion 900 Terra Trac use the proven 8.7-litre Cursor 9 six-cylinder engine from FPT. Emission control is handled by a SCRoF system with AdBlue injection and enlarged filter and reaction surfaces.
Exhaust gas recirculation is still not necessary. At 1800rpm, the power unit delivers a maximum of 325 to 445hp, depending on the model.
With the low-speed concept, the peak torque of 1600 to 1860Nm is already available at just 1400rpm. As there's no boost system, full power is available for every task, if required.
The Cmatic continuously variable transmission also ensures that the full torque can be called up at all speeds, from 0.05 to 50km/h. Four automatically selected mechanical ranges allow high overall efficiency to be achieved.
The top speed of 50 or 40km/h can be reached with diesel-saving 1470 to 1400rpm. The idling speed is a low 650rpm and the driver can choose from three virtual ranges for the task in hand.
Maximum traction
The Axion 900 series has been able to operate with wheels up to 44 inches on the rear axle since 2017. Together with the long wheelbase of 3.15m, this has always resulted in excellent power transmission to the ground.
The front and rear axles are approved for operation with twin wheels as standard. A new feature is the factory-fitted pre-equipment for Ctic tyre pressure control systems from Claas.
By means of the Ctic 2800 auxiliary compressor with an air delivery rate of 2800 litres per minute, the internal tyre pressure can be quickly adjusted to suit the tractor and a trailed implement. Operation is fully Isobus-capable and therefore integrated into the Cebis terminal of the Axion 900. If desired, Isobus implements can be controlled and monitored via the S10 terminal. The function keys can be assigned freely and individually to tractor and implement functions.
As a result of a static weight distribution of 50/50 and an unladen weight of 12.5 tonnes, additional ballasting is still only necessary for heavy towing work. The maximum permissible weight is 18 tonnes.
Latest tech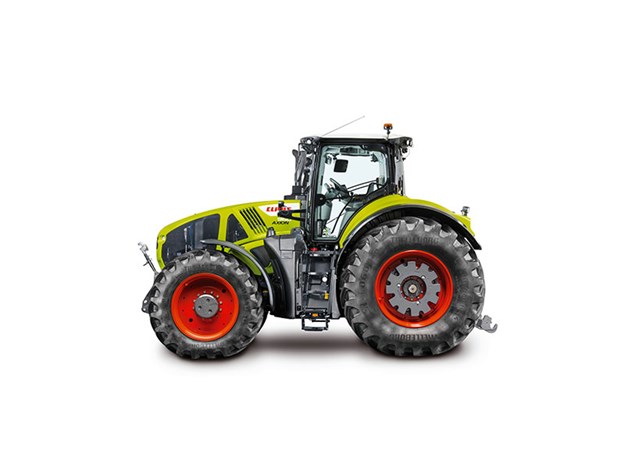 The Axion 900 series tractors can be equipped optionally with Cemos, which was introduced in 2018 and is also an option in the Arion 500, Arion 600, and Axion 800 series. This is also available as an optional extra for all Axion 900 wheeled tractors equipped with Cebis.
Cemos takes into account not only tractor-specific parameters such as ballast and engine pressure but also equipment data such as traction boosters. It's also possible to optimise the settings for numerous plough types, thanks to data stored in the plough assistant.
The Axion 900 wheeled tractors with Stage V are also the first tractors to combine Cemos with the factory-fitted Ctic tyre pressure control system. This makes it possible for the first time ever to adjust the internal tyre pressure intelligently and dynamically during work.
The standard Cebis equipment includes the 12-inch Isobus-capable Cebis terminal with high colour contrast and operation via rotary/push switch or touchscreen.
The S10 terminal can be added to support GPS Pilot, variable application rate, and Section Control functionality. Together with Cebis, up to six cameras can then be displayed simultaneously.
In simple CIS+ configuration without Cebis and Cmotion multifunction lever, the S10 Terminal also allows Isobus applications and section-specific work to be carried out.
Lifting power
Axion 900 tractors have a one-tonne lifting capacity at the rear and a choice of five- or 6.5-tonne lifting capacity at the front. The 220 litres per minute flow rate available as an option in addition to the standard 150 litres per minute flow rate is now supplemented by an LS booster.
New features for Claas CTIC and CTIC 2800 tyre inflation systems
Claas has revised its CTIC and CTIC 2800 tyre inflation systems, which are now also available ex-works for the Axion 900 and can be retrofitted on Arion 500 and Arion 600 as well as Axion 800 and Axion 900 tractors.
Operation and display are via the Cebis touch terminal or Isobus universal terminals such as the Claas S10 or the new Claas Cemis 700. If programmed accordingly, it's possible to switch between field or meadow and road at the touch of a button on the function keys in the operating armrest or on the Cmotion control lever.
For trailed implements such as field sprayers and for trailers, there's now an integrated regulation of the internal tyre pressure which uniformly controls all axles and wheels.
Large tractors of the Axion 800 and Axion 900 series with Cemos can integrate the CTIC control directly into the Cemos machine optimisation. This makes it possible to achieve intelligent dynamic internal tyre pressure adjustment in interaction with other parameters such as ballast and by taking into account data recorded by sensors on the tractor.
This reduces wheel slip, harmful effects on the ground, and diesel consumption and increases area performance.
The CTIC systems have a delivery rate of up to 2800 litres per minute air flow rate in the most powerful model CTIC 2800. For tyres (600/70 R28 & 710/70 R38), a time of just one minute and 20 seconds is required to build up pressure from 0.8 to 1.8 bar.
The seals of the rotary unions and the lines are still only loaded during pressure changes. A priority control for trailers is also stored and several attachment profiles can be stored.
The new generation CTIC remains compliant with the road traffic licensing regulations thanks to optimised plug-in couplings on the rotary unions. The piping can be easily telescoped using quick release clamps and locked in place by means of a parking position on the mudguards.
New ranges added to the Disco mower portfolio
Two new ranges of rear mowers, the Disco 10 and Disco 100**, comprising seven brand-new models with working widths from 3.4 down to 2.2 metres have been introduced.
Replacing the Disco Inline and Disco 50 series, these new mowers incorporate the proven Max Cut mowing bed, which was previously only available on wider working width models. 
A new feature for all side-mounted Disco disc mowers is a centre-of-gravity hitching system, which ensures that the mower bed, much like mowers with centre pivoting, has a uniform contact pressure over the entire working width. The large suspension spring engages in the middle of the machine frame in this case. Furthermore, the line of force of the spring runs exactly through the centre of gravity of the mower unit. The force is evenly distributed to the mower bed by the inner and outer support, resulting in clean forage and an undamaged sward.
Disco 10
Three new Disco 10 models – the 32, 28, and 24 side-mounted mowers – have working widths of 3, 2.6, and 2.2 metres.
Claas says Disco 10 series mowers have the usual sturdy design despite their low operating weight, achieved by using a very similar headstock and frame design to the previous higher specification Disco 50 series.
They can work on slopes up to an angle of 45 degrees. The mechanical anti-collision mechanism of the mower bed immediately responds to collisions and releases the mower bed to the rear. It automatically re-engages when reset.
A drive with a double gearbox comes as standard, allowing an extremely narrow transport position and a new folding angle of 95 degrees. The powerful belt drive attenuates load peaks and can be tensioned without tools using a rotary knob.
As is the case with previous models, the power flow is directly fed into the inner mowing disc from above, which means that inner shoe is not required and efficiency is increased. The PTO shaft speed can be reduced from 540rpm to 460rpm in light crops or when topping, which significantly reduces diesel consumption.
The mower bed is freely accessible over the entire working width, thanks to the wide opening of the protective curtain from both the front or the rear. The blades are bolted onto the cutting discs allowing easy removal when required.
Disco 100
The Disco 360 and 320 are straight mowers that have a working width of 3.4 and three metres respectively and replace the outgoing Disco 3150 and 3450. Both models have the new mechanical centre of gravity and suspension springs that are adjustable without tools to ensure the mower can accurately follow ground contours.
The Disco 100 series also features a double gearbox, integrated anti-collision device, and quick blade change.
The new double-acting hydraulic ram ensures a reliable and safe folding process even on hilly ground. It also has a cushioned end stop so that when folding for transport it sits at its final 105-degree position slowly and gently.
In addition, two new mower conditioner versions are available. The Disco 320C and 280C have a working width of three and 2.6 metres respectively and are fitted with a full-width steel tine conditioner, and fold to 95 degrees for transport.
The optional parking frame allows space-saving and at the same time safe storage in the transport position for the Disco 360, 320, and 280. All new Disco 100 and 120 series mowers will also have road lights as standard.
New features for the Claas Cargos 8000
Along with other new features for the Cargos 8000, Claas has included the Isobus-compatible Cemis 700 universal terminal, which can be fitted to models with the Business equipment configuration.
This replaces the Communicator II control terminal with a seven-inch high-contrast colour display with touchscreen functionality and automatic day or night switch.
Further equipment features include a camera input for real-time images from up to two cameras and ISO 11783 compatibility, along with Aux-O and Aux-N and UT1 and UT2 functions.
Another new feature is the optional side extensions for the Cargos 8400 dual-purpose wagon boosting the DIN loading volume by 2.5 cubic metres to 38 cubic metres.
*Model variants may apply
**NZ will offer the Disco 10 series in 24 and 28 only (2.2- to 2.6-meter working width with bolted or fast fit knifes).  The Disco 100 series will be offered in 320 and 360 as straight mowers only. NZ will not offer the conditioner version or the option of the lighting package as it's not NZ compliant.
Find new and used tractors for sale on Farm Trader NZ 
Keep up to date in the industry by signing up to Farm Trader's free newsletter or liking us on Facebook