Feature: Energreen Robo range
---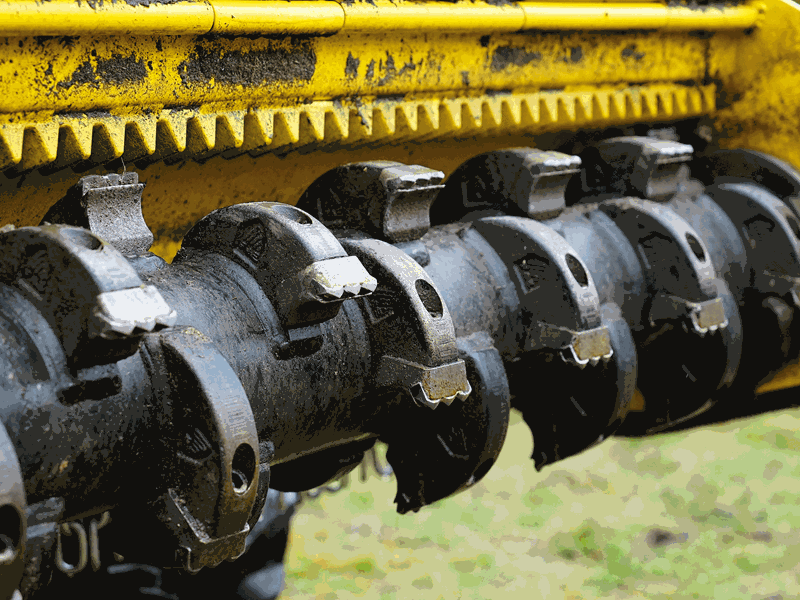 Replaceable tungsten carbide mulching teeth easily chew through six-inch material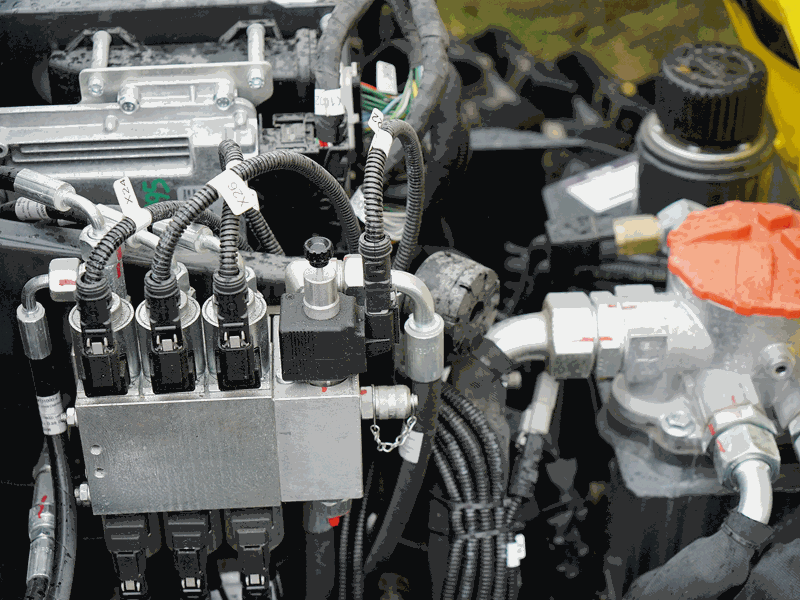 Easily accessible service points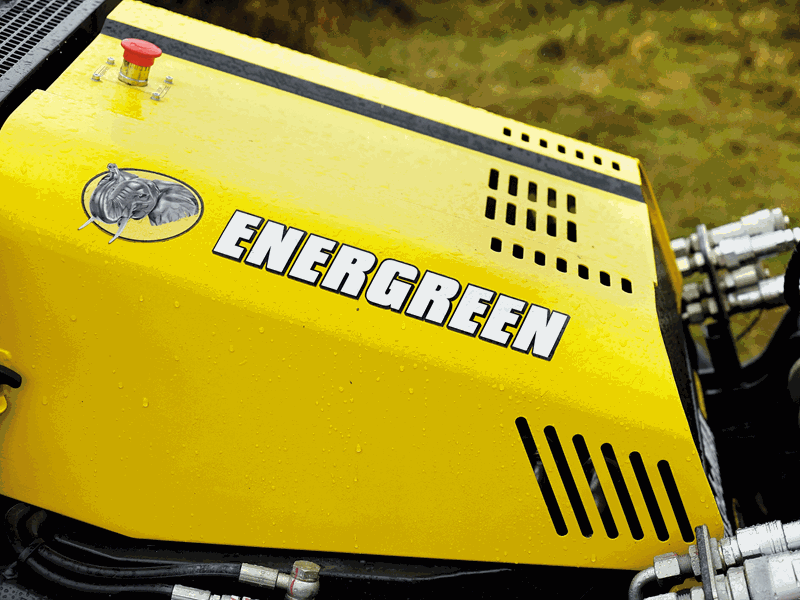 Service panels can be easily removed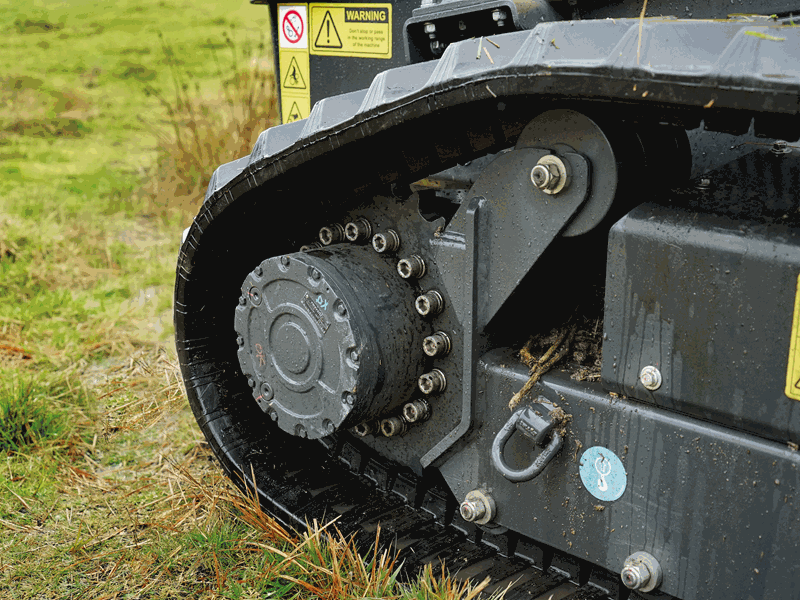 Optional rubber or steel tracks are available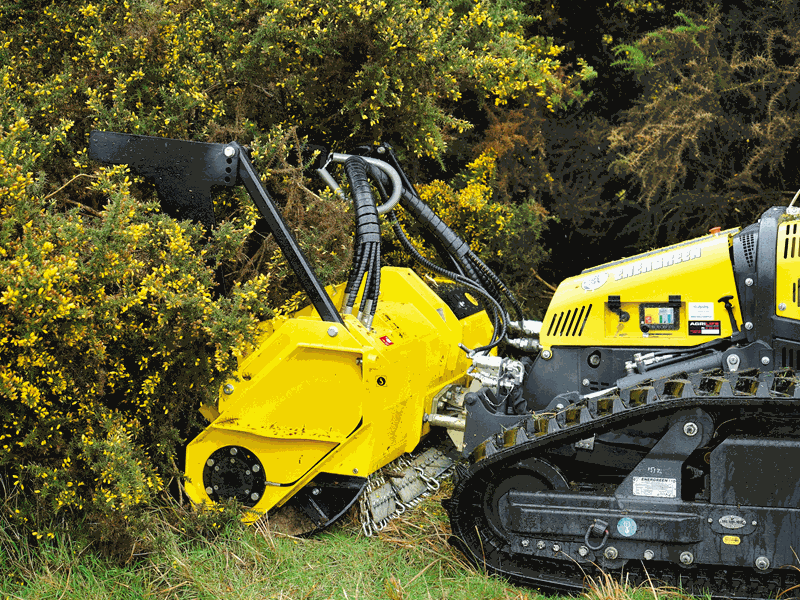 Mulching head pushbars control the fall of tall gorse


Farm Trader takes a look at the latest technology from Energreen, with its robotic tool carrier machines boasting an impressive variety of attachments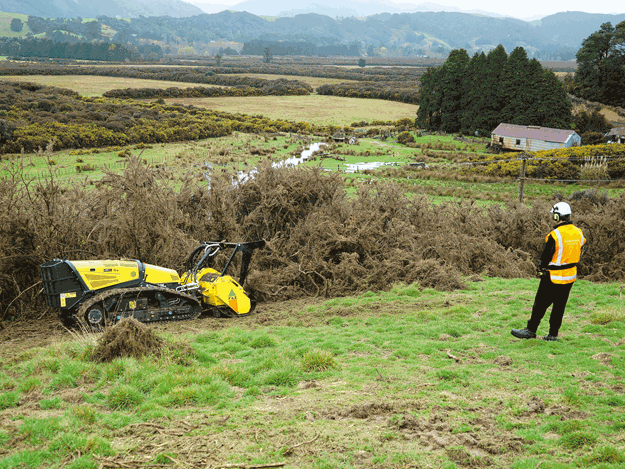 It wasn't long ago that clearing gorse and bush was backbreaking labour-intensive work, usually fuelled by an army of hard-working men. These days, however, thanks to robotic and machinery innovations, the Energreen Robo range is taking the time and pain out of such tasks. 
The impressive remote control operated RoboMax machine is one of four tool carrier machines in the Energreen range and is fast making waves in New Zealand (where it is imported and distributed by Agrilife) for its abilities to operate on slopes of up to 55 degrees and in areas where access is traditionally difficult for a larger machine, or on equipment that carries high risk for the driver.
In many ways, this robust and versatile machine is the ultimate robot – and perhaps the way of the future for a solution to the many demanding machinery roles modern farms require. The range of attachments available is impressive and means the machine can be used for everything from vegetation clearing, stump grinding and spraying, or trenching on steep conditions to hedge trimming and road sweeping or even snow blowing if required. There's also the option of a bucket grab or front-end loader for a truly multifunctional machine.
Safety first
Eliminating risk for the driver, by allowing the machine to be operated completely by remote control form a distance of 150 metres, is a hugely relevant and important safety feature. Health and safety are key components of all working situations now and elevate the necessity of a machine like this to the next level, particularly when working on rugged and sloping terrain or low height clearance confined areas.
The special track design and various track options allows for traction in any direction, and the low centre of gravity keeps the machine squarely planted, even in the most unlikely of situations. 
Shawn Perkins, owner and operator of Perkins Contracting and Mowing, specialises in mowing steep and tricky terrain and is a long-time fan of the Energreen RoboGreen machine. He also recently trialled the RoboMax machine on a site thick with grandaddy gorse and was equally impressed at the results of this larger machine.
Based in Wellington, Shawn operates New Zealand-wide and says one of the key reasons behind purchasing the RoboGreen was around the safety benefits the machine offers.
"As well as farmland, we also do a lot of council work and clearing lifestyle blocks. Because we're operating the RoboGreen remotely and not sitting on the machine on dangerous slopes, we can get into areas where traditional machines just can't access."
Being able to work it remotely from 150 metres not only removes the element of personal risk for the driver but also any potential risks around noise, vibration, and being sprayed with debris.
"It's also really easy to operate and I can show someone in pretty much five minutes how to operate it. We often get calls from other contractors who just can't get into the areas they need to, and the RoboGreen can. It goes far beyond what a digger or tractor can do and without risking the operator's safety."
Control centre
The lightweight remote control is intuitive, smooth, and responsive to use, with two large joysticks providing precise control of movement, steering, and attachment height where appropriate. Speed and steering control can be easily adjusted to personalise the comfort of the operator. Clearly labelled, the simple control layout means it's a relatively straightforward process to train new operators. The rechargeable battery has an 18-hour life so is well designed to cope with more than a full day's work.
There's also an emergency stop button on the remote control.
Tooling up
A key selling point of the Energreen Robo range is the fact the units power a series of attachments for the front of the machine, making them highly versatile and cost-effective. For the purpose of our recent on-site demo blazing through thick gorse and scrub, the RoboMax was fitted with an FAE forestry mulching head – ideal for pulverising the thick woody gorse trunks and roots and leaving clear land in its wake, clearing land far quicker and more efficiently than a 20-tonne digger.
Also popular in the accessory range are the rotary hammer forestry mulching heads that give a cleaner cut finish to grassier undergrowth. For everyday farm tasks, the dual blade hedge trimmer is a definite asset, allowing property owners and farmers to tackle rapidly growing hedges at their convenience, rather than the more traditional once-a-year marathon trimming session. This also makes it easier to clean up afterwards and disperse of the leftover vegetation before it gets too big to become unwieldy.
The stump grinder and chipper shredder attachment enable complete section clean-ups, and for larger jobs, there's even a forestry winch option.
Back to farm life, though, the trencher attachment and 400-litre sprayer are also solid additions to the attachment collection.
Quality build
Made in Italy, the Energreen range is widely recognised worldwide for its quality build and componentry. To cope with extreme conditions and ensure longevity of life, the Energreen Robo range is built with high-grade tensile steel chassis and includes an inbuilt double roll-bar for added protection.
The RoboMax flat underbody sump guard is cleverly designed to protect engine and transmission parts and prevent the mechanical components from the risk of intrusion of cut material, etc.
The Yanmar turbo engine ensures plenty of power for steep slopes, with the engine crankcase designed to ensure lubrication, even on steep slopes. The independent cooling system of the hydraulic system helps optimise performance and minimise potential maintenance and repair.
The Robo revolution
Ed Tarry, owner and operator of Agrilife in Hamilton is a huge fan of the Energreen Robo range. His business imports and sells the Energreen RoboMini, RoboGreen Evo, and RoboMax, and he says it just takes seeing one in action to convince a buyer.
"They're an amazing piece of gear and the fact they can be customised with various attachments makes them a really good investment, which is important for farmers and contractors today. The machine can be used for a lot of different uses where traditional equipment can't reach proving them to be hugely popular around the world.
"The most popular Robo machine sold in New Zealand is the 40hp model, the RoboGreen Evo, as this is a good size to be transported on our Brian James 3.5-tonne digger trailer from job to job, whether it be vegetation clearance to trenching and property maintenance on farms, lifestyle blocks, or for municipal bodies, the applications are endless.
"We're seeing increasing demand and the selection of attachments really adds value and versatility."
Energreen Robo range

RoboMini
Compact model, grass/light vegetation clearing robot, which can be fitted with various attachments
23hp petrol engine c/w self-cleaning reversible fan, low fuel consumption
Low centre of gravity for slopes up to 50 degrees; manoeuvrable in confined spaces, oscillating tracks for rough steep areas; ideal for green and lifestyle property maintenance

RoboGreen Evo
40hp diesel engine c/w self-cleaning reversible fan, two double-acting hydraulic services to carry various attachments, special oil pan, and lubrication system for steep gradients
Extremely low centre of gravity, ideal for working on slopes up to 55 degrees in any direction along streets, highways, embankments, parks, swampland, etc.

RoboMax
Four-cylinder 75hp turbo diesel Yanmar engine, c/w reversible self-cleaning fan and crankcase designed to ensure lubrication, even on the steepest slopes. Special high-grade high tensile steel frame c/w double roll-bar inbuilt for total machine protection.
Designed for extreme 55-degree slopes considering power range. Conceived to provide power to areas other machines can't reach for forestry, municipal work along roads and highways, lifestyle, and agricultural applications
Find new and used farming machinery on Farm Trader NZ 
Keep up to date in the industry by signing up to Farm Trader's free newsletter or liking us on Facebook