Feature: John Deere R310R Mower Conditioner
---
John Deere has launched its new R310R Mower Conditioner (MoCo) to the New Zealand market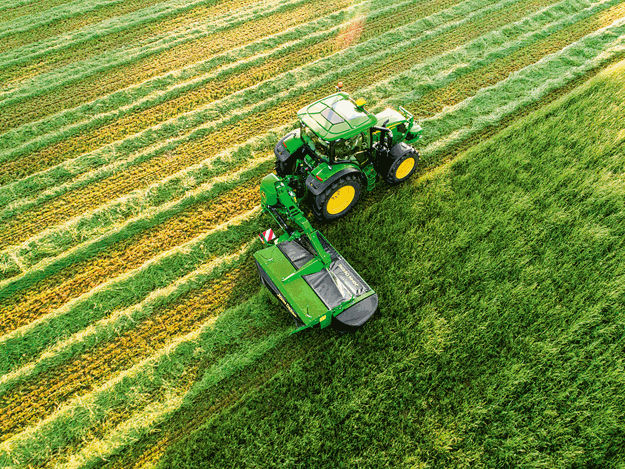 With its new launch, the brand is aiming to deliver efficiency to contractors and farmers who want to mow and condition more hectares at higher speeds, while producing better quality hay and forage.
Built for speed and performance (while continuing to offer manoeuvrability), the R310R is a 3.1-metre, vertical fold, rear-mounted MoCo, ideally suited to operations where paddock size suits nimble 100hp tractors.
John Deere tactical marketing manager Fraser Scott says the R310R will deliver better-quality forage at a lower cost, to grow profitability in an increasingly competitive and challenging production environment.
"Over recent years, both contractor and farming customers have told us they need a MoCo that can perform in tight paddocks and manoeuvre through narrow gateways and lanes. As a vertical fold machine, the R310R meets both of those requirements," he says.
Oblique folding at 126 degrees and a pivoting point close to the tractor also results in better weight balance and enhances stability, including when the MoCo is being road transported. The machine can cover long transport distances at speeds of up to 50 kilometres per hour, where local laws permit.
"The R310R has been designed to cut cleanly and prevent chopping, and we're excited to see it in action across New Zealand paddocks."
Another highlight feature of the new MoCo is quick-change knives to minimise service times and give operators more hours cutting hay.
"Further to this, John Deere has also included bolted-on, as opposed to welded-on, skid plates on the bottom of the cutterbar as another means to increase ease and speed of maintenance to have a direct impact on on-farm efficiency," says Fraser.
The travel range of the new R310R hugs ground contours even in extreme topographies, with knives and the cutterbar lifting to both avoid rises and ensure hay quality is not affected by the addition of dirt or stones to the windrow. Adjustable hydraulic suspension also lowers ground pressure to protect plant cover while keeping fuel consumption down and impurities out.
The R310R can be specified with a tine impeller conditioner or rubber conditioning rollers to make it suited to a broad range of applications, from high-density crops to those that need to be handled more gently.
"Safety is also something that has been prioritised through inclusion of a 'breakaway' function whereby if a foreign object such as a fence post is struck, the MoCo will break away before automatically returning to the normal position.
"Effective overload protection of moving parts on the cutterbar in case of impact with foreign objects is also a feature."
Find new and used farming machinery on Farm Trader NZ 
Keep up to date in the industry by signing up to Farm Trader's free newsletter or liking us on Facebook