SlurryKat's all-new Premium Plus Super Tanker range
---
All-new Premium Plus Super Tanker range from SlurryKat ups the ante. Farm Trader takes a look at what you can expect.
North​​ern Ireland agricultural machinery manufacturer SlurryKat has introduced an all-new range of its Premium Plus Super Tankers.
Based on the original range, the new tankers now come with a host of new features included in the standard specification.
SlurryKat's Premium Plus Super Tanker range includes models with capacities right through from 7250 litres (1600 gallons) to 25,000 litres (5500 gallons).
As SlurryKat CEO Garth Cairns explains, the new range of Super Tankers combines all the latest features introduced over the past 12 months together in the latest machines.
"During the past 12 months, you may have seen some new novel features on our tankers that we have been slowly introducing since the autumn of 2019.
"Having been encouraged by the customer response to these new features, we've now unveiled the new range of Premium Plus Super Tankers that incorporate all the new features.
"These features have all been refined to the exact requirements our customers are demanding and we're rolling them out as standard base specification on all SlurryKat Premium Plus Tankers from December 2020," he says. In addition to lighter booms, new braking system and new drawbar the new features also include a new pump.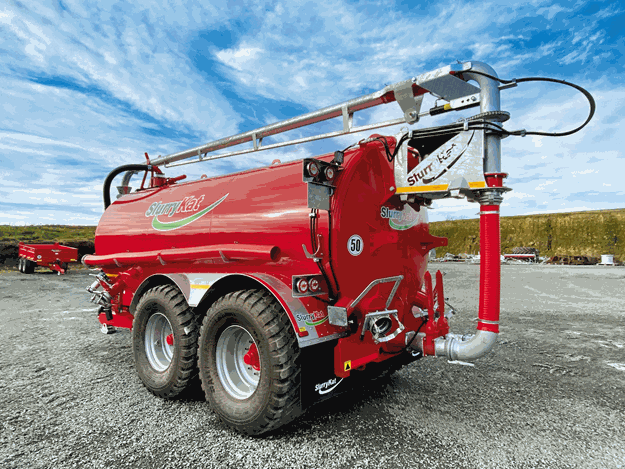 Features of the new range include:
New five-point rear linkage system for all dribble bars and trailing shoes to be fitted to all models without any alterations·        
New high-speed vacuum pumps c/w crash protection system and auto vein lubrication.
New 150mm HD square beam axles 420x180 S Cam brakes on all models
New automatic slack adjustment brakes on all models as standard
New over hedge boom (46% lighter)
New design laser press formed chassis
New internal anti-surge smooth ride
baffle system
New increased size overflow valve system for more airflow and faster filling
New load-sensing braking system as standard
New paint coat system for even longer
life and high gloss shine
New fill points connections for high-speed filling
New auto-fill system for 10 cubic metres
per minute filling speed
New dribble discharge system at rear for faster, maintenance-free application
New rear three- and four-point linkage for
all spreading equipment
New flushable sight tube level indicator
c/w tap as standard on all models
New spring drawbar for an even smoother ride
New double ellipse fully galvanised bolt-on mudguards
New neon lights and light holders  ​ ​
Find new and used farming machinery on Farm Trader NZ 
Keep up to date in the industry by signing up to Farm Trader's free newsletter or liking us on Facebook