Women in Ag: Barbie Cassidy
---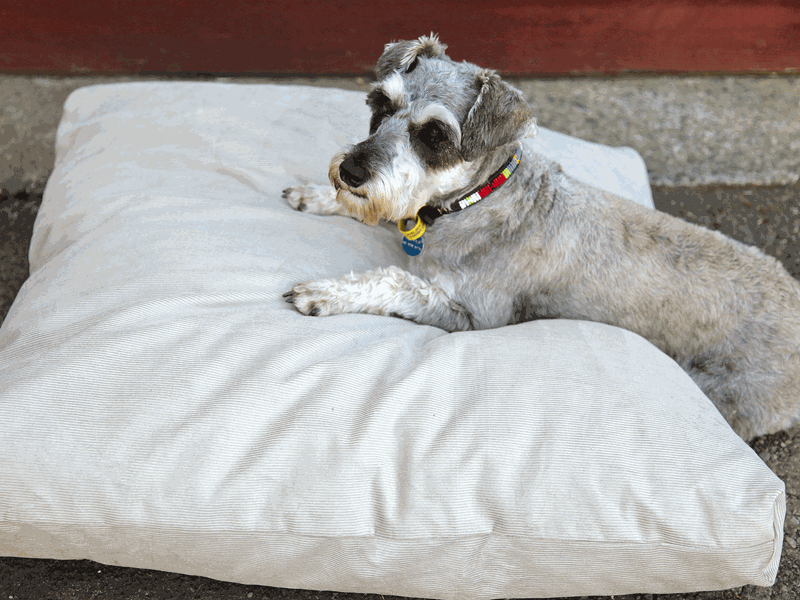 A soft corduroy covering matches this pet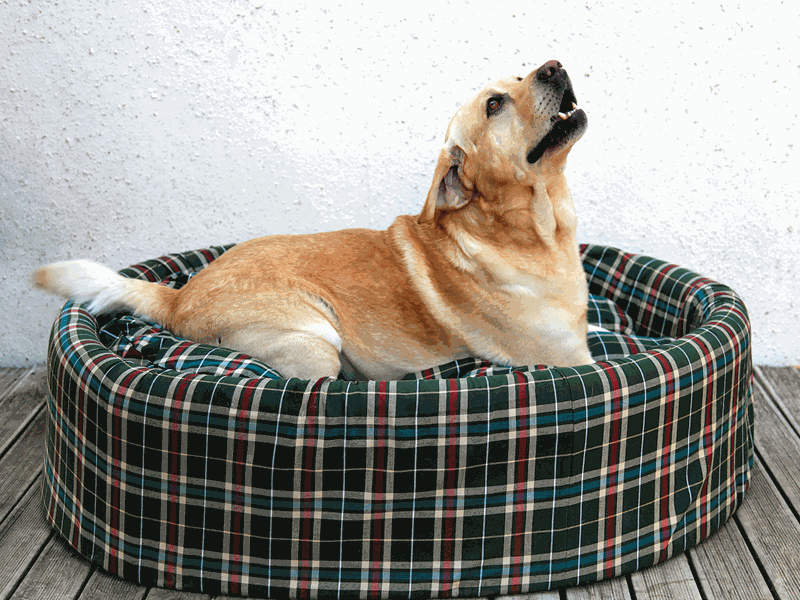 Henry is so happy with his oval nest bed, he's spreading the word with a doggy yodel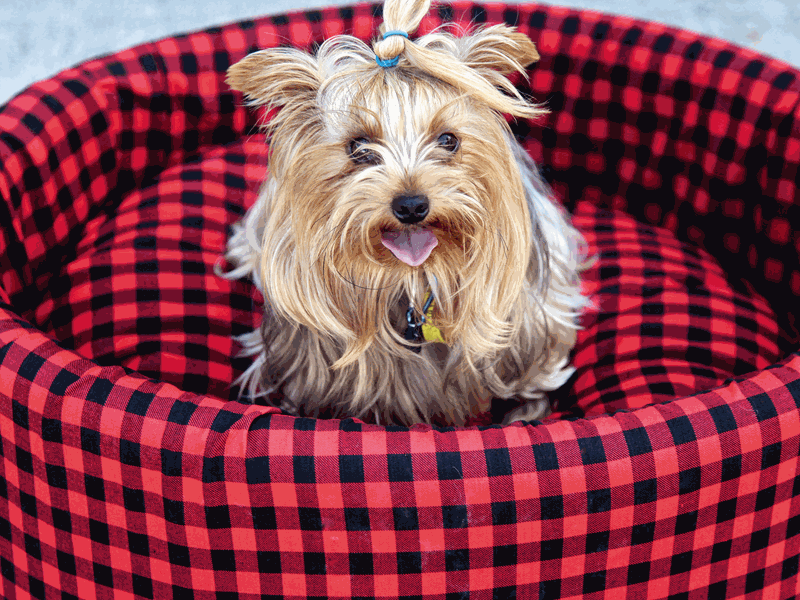 Luxurious bedding for one small pooch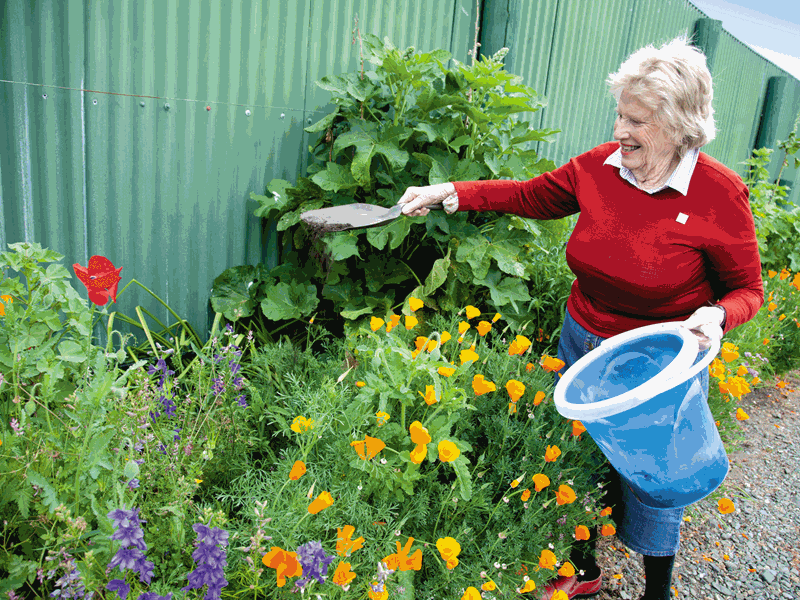 Barbie sprinkles composted fleece over her garden beds

Central Hawke's Bay woman Barbie Cassidy has been providing dogs with comfortable wool-filled beds for three decades
Barbie's business, VIP Dog Beds, is the perfect combination of her love for pets (she's a former veterinary nurse) and her love of wool. If she had to choose the greater of two passions, what would she choose? No, don't ask her. It wouldn't be fair. She's equally passionate about both.
Barbie had the inspiration for her business almost 30 years ago, and she's still going strong. I won't ask her age; that's irrelevant. She has the power of a steam train coming down the track at full speed. Each week she makes dozens of pet beds. From her workshop in Waipukurau, she fills each pre-sewn pet bed with knops of wool. But even before that, she sorts the knopped wool by hand to make sure only the highest quality wool goes in.
A bag of wool
Like many good things, the beginning of Barbie's business was due to a couple of fortunate events. She heard about a man called Stewart Tucker who had made a machine for knopping strong micron fleece. The machine transformed the wool into tiny ball shapes to maintain their shape and buoyancy. Stewart then sold this to Apco Wool Services, a wool insulation business in Otane, owned by Philip Collins .
"I thought this was fantastic, so I phoned to congratulate Philip. He was so thrilled that someone even cared, he hopped into his car came and delivered two big bags of knopped wool to me. I had no idea what to do with it."
Around the same time, Barbie went to stay in Wellington with John Falloon, who was the then minister of agriculture.
"His wife Phillipa had been given a dog bed from Harrods in London. I thought, 'what a good idea it was to keep a dog out of the draughts'. I could see the possibility of making a dog bed using the wool I'd been given. I sat up one night and sketched an idea for a bed with a woollen inner."
Barbie wasted no time going to see her local saddler, Sloan's saddlery. She and owner Neil Sloan came up with two dog beds: one for a Jack Russell and the other for a Labrador. She then found a seamstress to make up the covers.
How it developed
Finding customers, even in those pre-internet days, was no problem.
"It was like a chain letter; word caught on," says Barbie.
The first range of beds she made were the VIP beds. Having developed this design early on, they're still her best-seller and are for the more domesticated pooch.
"A saddler makes the base from the best New Zealand wool carpet. He then glues layers of foam to make a rounded top for dogs to rest their heads on. They last more than one dog's life-time; several customers have had them for nearly 20 years."
Mutt Mattresses is another pet bed Barbie produces. These square- or oblong-shaped ones are for inside dogs and are also filled with knopped wool – perfect for your pooch to lounge about on. Barbie gifts many of these to sight impaired people for their guide dogs to use.
Customers buy a different type of bedding for their working dogs. These are known as Tough Stuff and are a sack filled with long fleece that's been scoured and fluffed. Each bed comes with a handwritten name on the sack, which is double layered for lasting value.
Barbie explains how Tough Stuff beds came about.
"I was putting reject wool into an old sack one day, and my Labrador came and sat on it. I thought that was interesting. I began making them with a single sack, but we found they quickly wore out, so I double sacked them to make them stronger. I also send an extra empty sack with the order so when the first one wears out you can pull on a new one.
Being an ex-veterinary nurse, Barbie has a few tricks up her sleeve when it comes to solving problems such as working dogs destroying their beds.
"I send owners of dogs who are likely to chew their beds a little bag of cayenne pepper and advise clients to mix it with some wet mustard to hold it onto the corners. It puts them off.
"Another tip she has is for farm dogs who pull their bed out into the yard; I get farmers to place a piece of wood across the front of the kennel and then they can't lever it up and over the entrance. Beds need regular airing; I recommend farmers put them out on top of the kennel on a sunny day."
Barbie says the Tough Stuff sacks can be used in kennels, garages, on utes, and the verandah.
The beauty of wool
Barbie extolls the qualities of wool for making pets comfortable and keeping them warm and dry.
"Wool is very therapeutic for any pet; it massages their joints and helps relieve and combat arthritis. The knopped wool keeps moving, doesn't flatten, and fluffs up again."
Although the working dog beds get filthy and damp, the wool absorbs up to 30% of its weight in water and give it up to the atmosphere.
Every single bed and pillow (she also makes small travel pillows) has Barbie's touch.
"I hand sort every shred of wool over a white tray."
Her clients rave about the beds that also come in a variety of different sizes. "I get gorgeous letters every day," she says.
Some of the comments on the VIP Pet website attest to this:
"Our eight-year-old Labrador with its right hip partially displaced is much happier."
"We've been trialling your mat with our farm dog and are delighted with it. Please send two more."
"My fiancée loves it too because the dog has stopped sleeping on our bed."
Barbie, who lives at Pourerere Beach, makes the 40-minute drive into Waipukurau twice a week to her workshop to process her orders. She's equally as passionate about her business as when she started and doesn't intend to slow down anytime soon.
When I mention how impressive her work ethic is, she responds, saying, "I know life is short and you have to use every day. I love what I do, and before I die, I want to see wool working well in New Zealand. Why waste such a valuable resource?"
For more details, visit vipbeds.co.nz.
Find new and used farming machinery on Farm Trader NZ  
Keep up to date in the industry by signing up to Farm Trader's free newsletter or liking us on Facebook