Irrigation improvements benefit environment and production
---
Supporting farmers around the country to help reduce nitrogen losses and focus on careful water management is paying off for Dairy NZ and farmers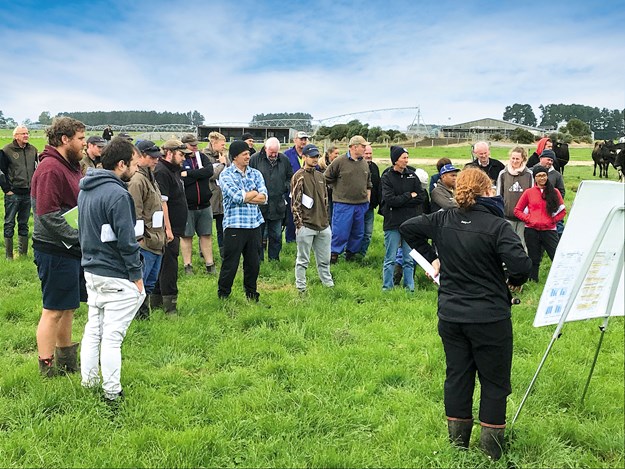 A focus on careful water management through irrigation improvements has enabled a Selwyn farming family to significantly reduce their nitrogen losses and improve their production.
Marv and Jane Pangborn started at Alderbrook farm near Rakaia as a 50/50 sharemilking partnership in 1987. Today, the couple own the farm. Their daughter and son-in-law Lauren and Liam Kelly are sharemilkers there while also contract milking for the family's dairy farm Karetu. The two dairy farms milk 1200 cows on 338 effective hectares and use three support blocks of 184 hectares.
Alderbrook farm is one of more than 40 partner farms in Selwyn and Hinds, which DairyNZ is supporting to reduce their nitrogen losses to meet Environment Canterbury requirements.
Joining the project was a natural progression for the Pangborns who began making environmental improvements more than 20 years ago, starting with fencing off waterways from stock and then installing soil moisture meters and flow meters.
"We used to start watering when we saw the neighbours start," Marv explains. "But now we look at soil moisture levels to make a decision."
They have replaced border dyke irrigation with pivots and fixed grids and installed storage ponds to draw water from the nearby Rakaia River in times of higher flow for use when it's needed.
They have also installed effluent storage with the capacity to store effluent for over 20 days. Although, where they used to apply effluent every day, now they only spread it when the conditions are right to avoid nutrient losses.
"Most Canterbury dairy farms were developed using what was considered best practice at the time and our rural communities prospered from the boost this provided to our economy," Marv explains.
He says that today farmers have a better understanding of the environmental impacts farming can have, and they are now working to reduce these impacts.
"We are constantly looking for ways to reduce our environmental footprint while maintaining a profitable business."
The Pangborns have spent around $1.7 million to date on installing modern irrigation and effluent storage systems. Improvements in irrigation mean the farm can produce more pasture and water applications are timed to when they are needed, saving on power costs.
As a result of changes, the family has reduced their nitrogen losses by more than 30% – beyond the Environment Canterbury target of 30% by 2022.
Marv says that being part of DairyNZ's project provides farmers with an opportunity to get together to learn more about the science and solutions.
"We always walk away with a few ideas from farmers or DairyNZ staff, which we then incorporate into our farming system."
Marv says his son-in-law Liam is a brilliant farmer and they discuss the ideas each of them brings to the table and how they will affect farm operation, and then talk through any changes with trusted advisors and other farmers.
"No major decisions are made unless the science is good and it has been reviewed by our advisors," says Marv.
The family isn't afraid to explore more radical solutions. DairyNZ worked with their farm team and their consultants Agrimagic to model how installing a composting barn would affect their farm system. This found a barn system would be less profitable, so they aren't currently planned to develop one, but the family found it valuable to explore this option. n
More information on the project is available at dairynz.co.nz/selwynhinds.
Find new and used farm machinery for sale in NZ 
Keep up to date in the industry by signing up to Farm Trader's free newsletter or liking us on Facebook