Kiwi Made: Fieldmaster
---
Here at Farm Trader, we love to champion Kiwi businesses, which showcase Kiwi innovation and have a deep understanding of the New Zealand agricultural market. Fieldmaster is a long time player in the field.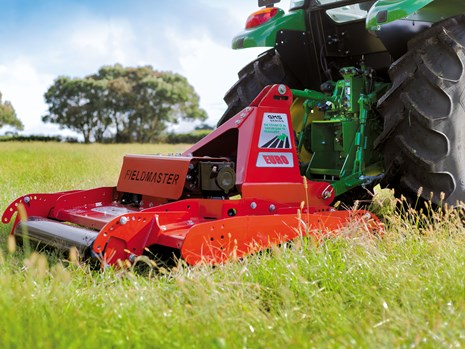 Pukekohe-headquartered mower and cultivation manufacturer and importer, Fieldmaster, has been serving the needs of a multitude of clients up and down the country since 1955. While the events of the last 12 months have certainly been one for the books, the expertise and adaptability this engineering entity is able to bring to any field has been proven over decades and is designed to last for many years ahead.
While the modern-day range of mowers, ​​mulchers, harrows, rippers, rotary hoes, and other cultivation equipment that Fieldmaster sells and supports is extensive, general manager Glenn Wilson tells me it's actually the multifaceted manufacturer and distributor's ability to adopt new solutions for customers that has stood them in good stead for more than six decades.
"We've been manufacturing and importing mowing and cultivation gear for over half a century, so during that time we've grown and adapted alongside customers from all sorts of disciplines and sectors," he says.
"Our ability to customise products for specific customers has always been a big point of difference for us. Working closely with our customers means we can adapt our equipment to suit their needs. If they need a standard-sized mower made 100mm wider or narrower to suit crop rows, we can do that for them. You can't always get that from off-the-shelf imported machinery."
Understanding the Kiwi market has been an indelible aspect of Fieldmaster's success since 1955.
Built for New Zealand
The majority of Fieldmaster's products have been designed specifically for the New Zealand market and, says Glenn, are built using the highest quality materials and stringent testing regimes in order to make them fit-for-purpose in Kiwi conditions.
Today, robust and reliable models such as the Fieldmaster GMM series of multipurpose two- and three-rotor mulcher/slasher/topper mowers and the Fieldmaster GMS side-discharge mowers for vineyard applications are examples of products that have evolved through the years to meet the needs of clients and work efficiently behind modern tractor technology.
"There are other manufacturers out there who have mowers as one aspect of what they do, but it's not their chief product," Glenn continues.
"We are different though. In fact, I like to say Fieldmaster is an engineering firm first, mower fabricator second. We understand the market and so we engineer products to suit. And we don't compromise on the heavy-duty aspects of the equipment."
Or the variability, it would seem.
The Fieldmaster GMF Series of hydraulically folding mowers, for example, are available in five different widths. The GMS Series? Nine different widths.
Understanding that no two farmers, orchardists, or contractors are the same, Fieldmaster's mower and cultivation equipment is adaptable enough to suit either wheel or roller configurations as well as front or rear mountings.
And at first glance, Fieldmaster's list of optional extras is endless – multiple gearbox, headstock and deck upgrades, rubberised safety skirts, rear chain guards, anti-scalp saucers, gold-tip cutting blade or tungsten blade sets, rear-wheel kits, and so on.
The end result is that any operator can get exactly what they need.
Tough stuff
Fieldmaster, along with its trusted imported brands Cosmo and Glaber, are designed from the outset to provide hard-wearing service for many years.
Glenn says the average lifespan of the company's mower and cultivation equipment varies depending upon the application ("River rock in a vineyard, for example, will absolutely hammer a machine," he says). Generally, though, with disciplined servicing, it isn't uncommon for many customers to still be using 20-year-old Fieldmaster equipment behind their tractors.
The mower decks are fabricated by a well-known New Zealand fabricator, while gearboxes are sourced from Italy and China. Glenn says that gear-driven machines ensure a more robust driveline than belt-driven examples, delivering 100% drive to the cutting head without any power loss.
"We pride our GM and GMT ranges on being fully gearbox-driven," says Glenn.
"The market difference for us is that we don't just build belt-driven machines. This design change, which occurred around 10 years ago, was steered by customer feedback. Our customers were finding there was too much slip and too many adjustments required with the belts in certain applications, which, of course, eats into productivity over the course of a working day. We added a gearbox drive set-up as a result."
Even the final touches are unique to the engineering firm. Powder-coating mower decks occurs just two hours after they are media blasted, for example, to mitigate any chance of degradation to the metal in between the two steps of the process and is done in-house.
Adding to the portfolio
The desire to cover a variety of client preferences has led Fieldmaster to partner with international brands in recent years. As a result, the Pukekohe-based manufacturer also imports Cosmo flail mulchers, rotary hoes, power harrows, and spreaders, along with the Glaber brand of blades and rakes.
"Overall, we simply want to provide our customers with the best option for the application," says Glenn.
"So, one side the business is based around rotary set-ups, the other around flail. If you want to appeal to a broad audience, you can't pigeonhole the end-user. We'd rather spend the time ensuring the customer has the right machine for the job, instead of trying to convince them that one specific machine will work best regardless."
In addition to five different models of Cosmo rotary hoe, Fieldmaster also sells and supports four Cosmo mulcher model series. These include the versatile and popular light-duty Cosmos FLS series flail mulchers designed for compact tractors rated between 15hp and 35hp and ideal for parkland or lifestyle block maintenance, right up to the Cosmo BPF Series, manufactured for vineyards and orchards and designed for use behind tractors from 60hp to 100hp.
Challenging times
As with many Kiwi manufacturers, the unprecedented challenges of 2020 – and
the uncertainty that still lies ahead – have created a few roadblocks for Glenn and his team of 11.
"There's no denying that the lockdowns and logistical issues stemming from them have caused us headaches. During the Level 4 lockdown last year, we could still supply parts, but we couldn't manufacture. And that hurt us; we provide machinery for seasonal use, so if we miss those pre-season windows, it's going to have a knock-on effect," Glenn concedes.
"So yes, 2020 was hard graft. We're making up for lost time now, though, and we have a lot of orders on the books to get through. But during the last 12 months – with all those challenges in mind – the one thing we didn't want to compromise on was quality."
Quality wins
"The beauty of having a local manufacturing team – and the company pedigree that Fieldmaster enjoys – is that there is solid engineering skill behind everything we build," he continues.
"Many of our engineers have come from farms or from an agricultural background. This means that not only do they understand the environments our gear will be used in and the way it'll be used, but they also have mechanical sympathy. They want to build it better so it lasts longer."
Whether Fieldmaster is supplying to a small block holder, large-scale dairy farmer, viticulturalist, or council-appointed parks maintenance provider, there's something to suit pretty much any application.
"Buying locally has become all the more important in recent times and pretty much every tractor dealer in the country works with us, so we have an extensive customer support network," concludes Glenn.
"The idea of looking local has been thrown into sharp contrast recently, and we're proud to say we've been doing that for many, many years."
Find new and used farm machinery for sale in NZ 
Keep up to date in the industry by signing up to Farm Trader's free newsletter or liking us on Facebook