Product feature: Herron trailers
---
The popularity of Herron trailers on Kiwi farms is a case in point of the strong partnership between Ireland and New Zealand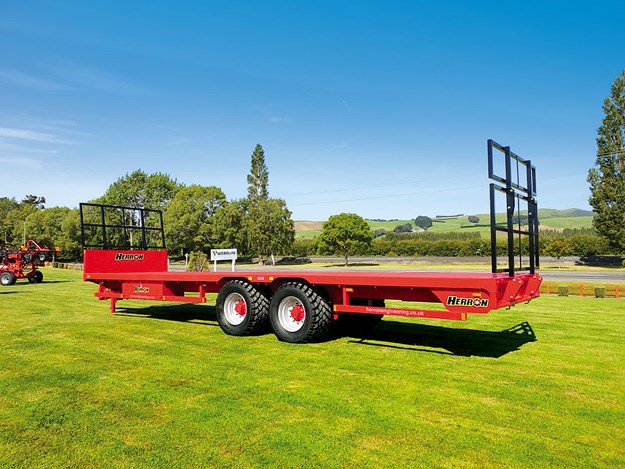 Ask any farmer or contractor and they'll agree that not all trailers are created equal. Covering a range of applications in farming, contracting, and construction situations, Herron trailers have proven themselves in a wide variety of situations across New Zealand.
Manufactured by Herron Engineering in Northern Ireland and distributed in New Zealand by Webbline Agriculture Ltd, Herron trailers have a legacy that dates back more than three decades and come with a reputation for a heavy-duty design backed by strong, robust construction.
Trailer features
All Herron models have a sprung drawbar for reducing shock while travelling, brakes on all four wheels (load-sensitive braking as an option) as well as LED lights and sidelights.
For silage applications, Herron's H2 series is available as a gravel/silage combination or a grain/silage combination sitting on either a 60/40 single bogie or 26-tonne, 10-leaf parabolic spring suspension.
Both options are fitted with a 31.5 or 35.2 cubic metre silage body, depending on the model, with a large single-ram hoist for rapid discharging.
Extra options include a mesh side-load wall for increased visibility and a folding front wall for improving back shooting during silage harvest.
Dumping and tipping
For dumping applications, the Herron range of agricultural and industrial dump trailers range from a 15-tonne to a 20-tonne payload and are shaped as either a wide bottom trailer or a heavy-duty rock dump trailer. The single hoist on the wide bottom dump trailers makes for fast turnarounds and high productivity while the heavy-duty range has a twin underbody hoist as standard to handle payload capacities of either 18- or 10-tonne.
Heavy-duty Dropside Tipping trailers are a multi-use product and, like those in the dumping series, are designed and manufactured to a high specification with a wide variety of options. This range of trailers is highly versatile and has options of a 1.2-metre hay extension, a silage crate, or a grain side kit.
All tipping options have a conical body for easy load discharge, with a sealed watertight tail door on the silage trailers.
Transport
For heavy-duty transportation jobs, the Herron Low Loader is highly suited to the farmer or contractor who needs to move heavy machinery around quickly and easily, whether that's from farm to farm or directly to a worksite.
The Herron Low Loader sits on heavy-duty spring suspension and either a tandem 10-stud axle or a tridem eight-stud axle.
New additions
With such a large variety of trailers available, each design is tweaked to suit its specific applications.
The newest addition to the Herron range in New Zealand is the Bale Trailer. With a large 10-metre deck and a 20-tonne payload capacity, it's ideal for moving large numbers of bales off the paddock.
The heavy-duty piece of equipment has a 3.5mm steel Duraplate deck for strength and durability and is fitted with LED lights as standard for visibility.
Large flotation tyres improve stability as well as reducing paddock damage by distributing the load evenly. The trailer has commercial spring suspension and is fitted with hydraulic brakes, while a sprung drawbar takes the shock out of any rough surfaces and improves towability by smoothing out the ride.
For improved functionality, the trailer is also fitted with a lockable front toolbox to complete the package.
Whether for construction, farming, or contracting, the Herron range is renowned for its versatility and hard-wearing, well-designed features.
Find new and used farm machinery for sale in NZ 
Keep up to date in the industry by signing up to Farm Trader's free newsletter or liking us on Facebook