Book Corner: The Slow Cook
---
Kick off your week with a delicious slow cooked Beef Cheek Chill from The Slow Cook by Justine Schofield. Plus, two copies of this tasty new cookbook up for grabs.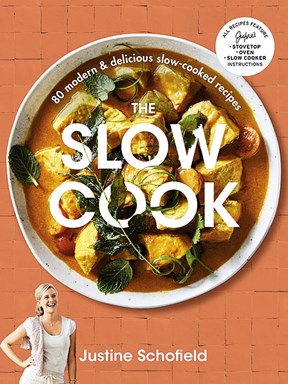 By Justine Schofield
$39.99
When it comes to life on the farm, slow cooking has never lost its popularity, thanks to the benefits of minimal prep and maximum convenience (and of course the delight of coming home after a long day at work to a warm meal bubbling on the stove). Now thanks to Justine Schofield, there's a swag of delicious new recipes and exciting flavour punches to add to some of the more traditional one-pot meals.
If you thought slow cooking was limited to basting meat, think again. Recipes include slow-cooked honey mustard salmon, spiced ginger beer ham hocks, lamb shank pies, beef pho, sticky date pudding, and eggplant and mushroom cottage pie. The emphasis is on mouth-watering flavour combinations (try the miso and marmalade carrots).
Treat yourself to this gem of a book and enjoy adding some fresh tastes to your mealtimes, while still being able to enjoy hearty and wholesome meals (don't worry, there are still plenty of pot roasts to choose from). The recipes are suitable for crock pots and conventional ovens and stovetops. Slow down and enjoy.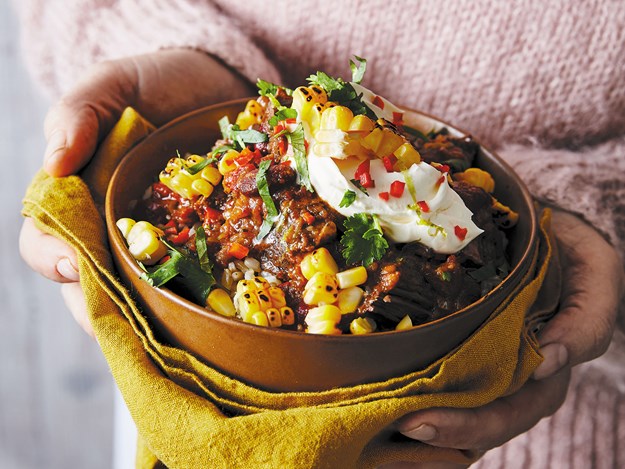 BEEF CHEEK CHILLI
SERVES 4
This is not your average chilli con carne made with minced meat and a packet of spice mix. This version is next-level delicious and uses beef cheeks, which are now readily available, and a tasty blend of spices. Beef cheeks are the ultimate cut of meat for slow cooking as they stay incredibly moist and gelatinous. They're also a great carrier of flavour, so are perfect for the spices I use in the sauce.
2 tablespoons olive oil
3 beef cheeks (about 1 kg), sinew removed, halved
salt flakes and freshly ground black pepper
1 onion, diced
1 red capsicum, deseeded and diced
3 garlic cloves, chopped
3 coriander sprigs, stalks and roots finely chopped, leaves roughly chopped
1 tablespoon ground cumin
1 tablespoon ground coriander
1 tablespoon smoked paprika
½ teaspoon ground cinnamon
1 teaspoon dried oregano
1 chipotle chilli in adobo sauce, finely chopped, plus 2 tablespoons sauce
2 tomatoes, chopped
400 g can kidney beans, drained and rinsed
1 teaspoon red wine vinegar
plain yoghurt or sour cream, to serve
steamed brown rice, to serve
SALSA
2 corn cobs, husks and silks removed
zest and juice of 1 lime
1 long red chilli, finely chopped
a pinch of salt flakes
Preheat the oven to 160°C.
Heat half the olive oil in a flameproof casserole dish over medium–high heat. Season the beef cheeks with salt and pepper and sear for 1–2 minutes on each side until browned. Remove from the dish. Add another tablespoon of oil, then add the onion, capsicum, garlic, finely chopped coriander stalks and roots and season with salt. Turn the heat down to medium and cook, stirring regularly, for 8–10 minutes until the vegetables are softened and lightly caramelised. Add the spices and oregano and cook for a further 1 minute before adding the chipotle and adobo sauce. Stir in the tomato and cook for 5 minutes until it breaks down.
Return the beef cheeks to the pan and add the kidney beans and 500 ml (2 cups) of water. Place a cartouche (a piece of baking paper cut to fit the dish) on top, then cover with the lid. Transfer to the oven and braise for 2–2½ hours until the beef cheeks are tender.
Remove the dish from the oven and shred the beef cheeks with two forks before returning them to the sauce along with a splash of vinegar.
To make the salsa, preheat the oven grill. Brush the remaining oil over the corn and cook, turning regularly, for 15–20 minutes until lightly charred all over. Set aside until cool enough to handle. Alternatively, if you have a gas stove, cook directly on the gas hob, turning regularly until charred all over. Cut the kernels off the cobs and place in a bowl, then mix in the remaining salsa ingredients and the roughly chopped coriander leaves.
Serve the beef cheek chilli with a dollop of yoghurt or sour cream and the salsa, with steamed brown rice alongside.
Slow Cooker Method
Follow step 2, then transfer the vegetable mixture to the slow cooker. Add the beef cheeks and kidney beans and 1 cup (250 ml) of water. Cover and cook on high for 5 hours or on low for 8 hours, or until the beef is tender and the sauce is thick and rich.
Follow steps 4, 5 and 6.
Win one of two copies.
Competition closes 5pm 25th May 2021
Find new and used farm machinery for sale in NZ 
Keep up to date in the industry by signing up to Farm Trader's free newsletter or liking us on Facebook