Women in Ag: Ruth Connolly
---
Barely out of her teens, Ruth Connolly's passion for learning and for the industry has seen her already notch up some prestigious awards
With the passion, skills, and drive to succeed in the dairy industry, Ruth Connolly is one young farmer to watch. Barely out of her teens, she doesn't shy away from hard work, and her recent achievements are a testament to this.
After being crowned NZDIA Waikato Dairy Trainee of the Year, Ruth went on to represent the region at the National Awards evening in May and came away with another title: New Zealand Dairy Trainee of the Year. While she says she's honoured and humbled to have won such prestigious titles, the prizes are only a small part of it for her.
Oto to Ohaupo
Ruth grew up on a small farm in Otorohanga with her parents, five siblings, and 150 Jersey cows. She says farming is in her blood and she wouldn't have it any other way. She helped out every day as a youngster and by age 14 was balancing student life at Otorohanga College with full-time milking on the family farm.
Ruth says she loved school and still loves learning – her greatest interest is in physics, but she enjoys all the sciences as well as statistics, calculus, and English. In year 13, she took up a relief milking position in Ohaupo on the Rukuhia Holdings Ltd 259-hectare property and never looked back. Today, she still cares for the same 800 cows as a senior farm assistant and enjoys every responsibility that holding such a title brings. One of her proudest achievements to date is the 59% conception rate in bulling cows she selected for AI.
Caring for the cows
Ruth believes her upbringing on the family farm naturally progressed into a career in dairy because it ties all the aspects of a job that she wants into one.
"I like to be outside, and I love working with animals. I also love the maths and science of it and how it teaches you really good attributes."
She says that, above all else, her passion for dairy comes from the cows, which hold a central part in her heart. For that reason, milking is one of her favourite things to do.
"I could spend all day just milking – I love seeing all the cows each morning and I love the routine and repetition. It gives me the chance to really hone my skills."
At this time of the year, Ruth also spends a large part of her days feeding out maize silage and says it's one of the tasks she enjoys doing most. She names the SAM 10m3 side-feed wagon as her favourite piece of farm machinery. Ruth adds that when she finally owns some land and a small herd of cows, a 110hp New Holland tractor is at the top of her list of things to buy.
Future thinking
Technology designed for herd managers to track the activity, movement, and rumination of their cows strongly interests Ruth. In the future, she thinks having tags in her cows' ear with information linked to the computer would be a great addition to her farm. She is also an advocate for regenerative farming.
"I think it's really important for us as farmers to live up to our responsibilities and look after the environment for future generations."
To Ruth, positive dairy farming means having "genuine love and respect for the cows, the land and other people."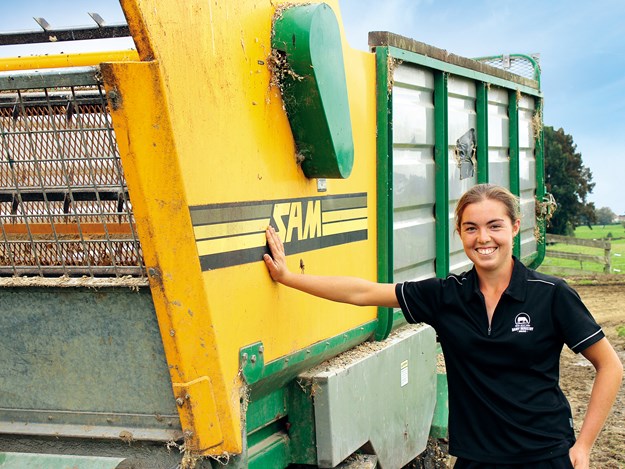 Always on the move
If there's one thing Ruth struggles to do, it's sitting still for too long. She says learning how to take time off to rest and reset has been one of the biggest challenges she's faced since becoming a full-time farmer. However, she recognises how essential it is to maintain peak performance each day and continue to be the best farmer she can be. On the rare occasion that she sleeps in past 4.23am, she likes to explore a new area or work on her running fitness before the next competitive event in her calendar. The Tough Guy/Gal Challenge is one of her favourites.
Catching up with family and friends is also something she makes time for, as well as regularly attending church services in Hamilton on Sunday mornings. Baking cakes is another of Ruth's most beloved hobbies – every farmer knows how comforting a sweet treat in the afternoon can be!
New beginnings in Taranaki
Next season, Ruth is taking on a new challenge in Taranaki, stepping into a 2IC role on a 530 cow farm. She's looking forward to the change of scenery, gaining exposure to different farming practices, and learning from new people.
"I think it will dramatically increase my knowledge and skills, which is something I'm always striving to do."
Ruth is also keeping an eye on the number of share-milking opportunities available further south, which she believes will put her in better stead to achieve her future goals. Within 10 years, she hopes to own a cross-bred herd of 150 cows with a breeding worth in the top 10% and to have a daughter proven bull in the LIC team. When she sets herself a challenge, she has to see it through.
"I always want to do the best that I can and put in 100% effort!"
Hard work rewarded
Ruth says she was encouraged by her twin sister to enter the Awards after her positive experience finishing runner-up in the Dairy Trainee category last year. Ruth saw participating in the programme as a great opportunity for professional and self-growth.
She says the last few months have been a big learning curve, having been tested on her general farming knowledge, completing practical tasks, and identifying certain products to a panel of judges. While the hard work continues, she says that the programme has been a valuable experience.
"There's been a massive amount of confidence gained, and I've done a lot of networking and associated with like-minded individuals. There's something in the Awards for everyone, whether you're just starting out or are a seasoned sharemilker."
As the winning Waikato Dairy Trainee, Ruth went on to fly the regional flag at the National Dairy Industry Awards evening. After months of hard work, her dedication was rewarded, and Ruth was deservedly named New Zealand Dairy Trainee of the Year 2021. She says her journey with the Awards was an overwhelmingly positive one.
"To win the National title was of course satisfying, and I feel humbled and honoured to hold it. It's my goal to promote our dairy industry in a positive light, and I feel very thankful for everyone around me, especially my amazing employers Mark and Annemiek, who have taught me so much and given me the motivation and determination to turn my dreams into reality. The knowledge I have gained and the networking I have done mean more to me than any physical accolades ever could."  
Find new and used farm machinery for sale in NZ 
Keep up to date in the industry by signing up to Farm Trader's free newsletter or liking us on Facebook