Contractor profile: Gilchrist Brothers
---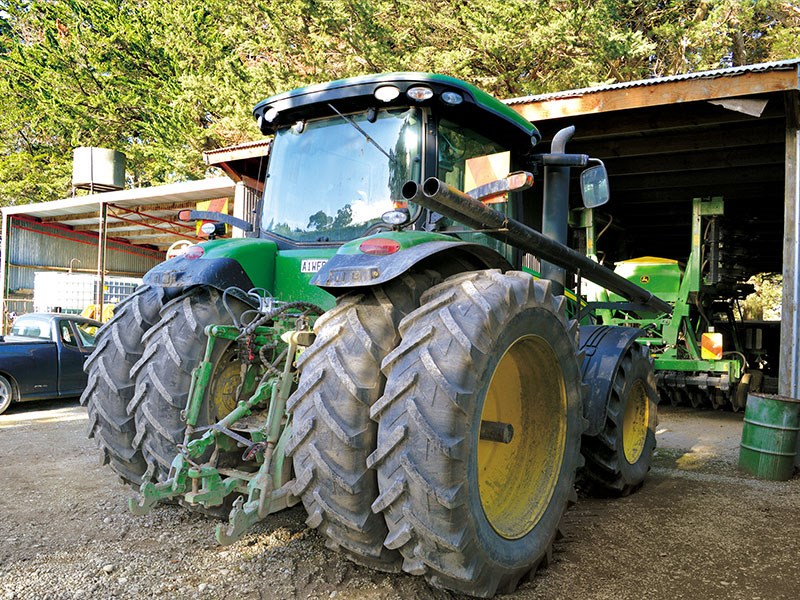 The John Deere 8260 R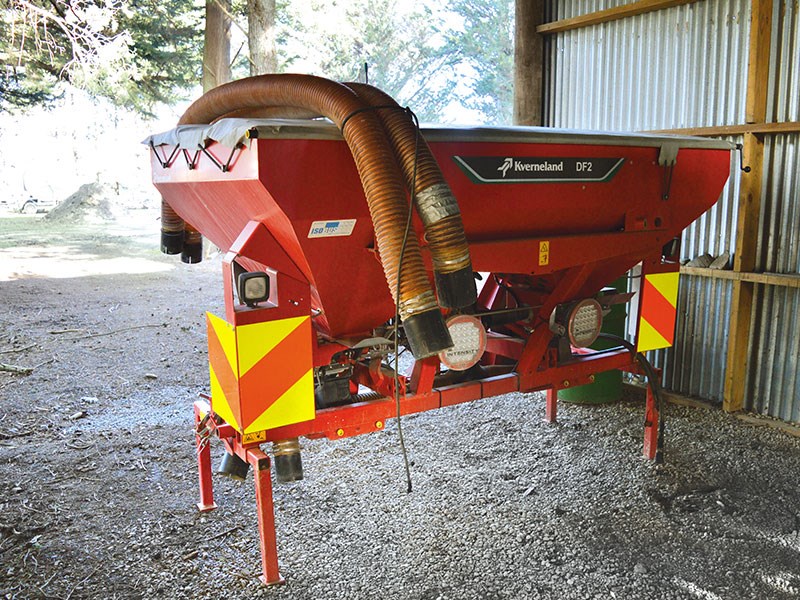 The Kverneland DF-2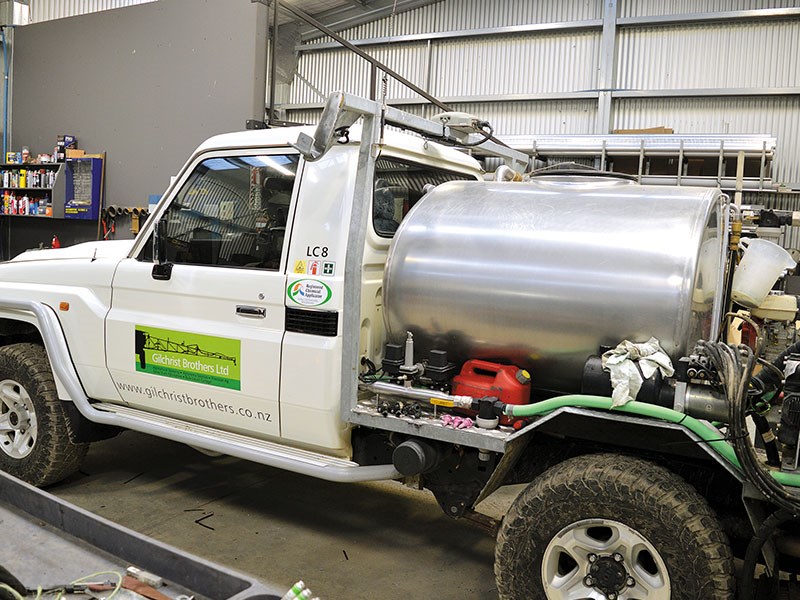 A spray truck in the workshop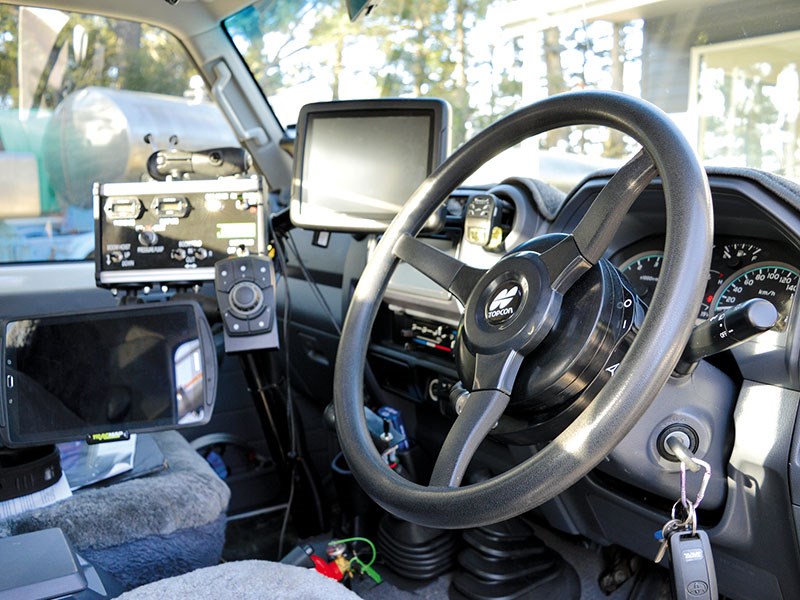 The spray truck cabin has been refined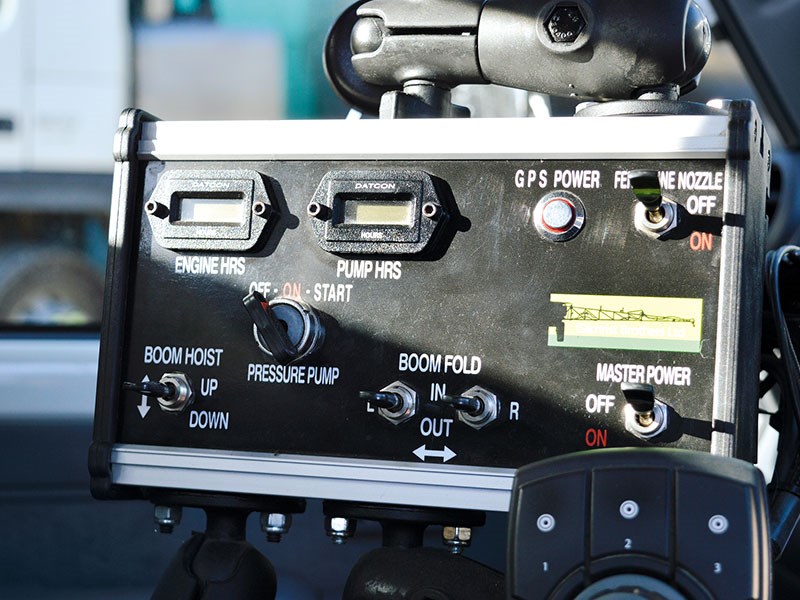 The main boom control interface

Gilchrist Brothers have gone from novice spray contractors to full-on professionals and continue growing and developing
Operating from home base at Swannanoa, near Rangiora in North Canterbury, Gilchrist Brothers have gone from novice spray contractors to full-on professionals, who also build spray trucks on-site, in the space of just 15 years.
While offering a range of chemical application and precision agricultural services remains a major focus, it's now only part of the story.
The origins of how Gilchrist Brothers Ltd as an entity came to be is interesting and a fairly unconventional tale. It was, as the brothers put it "originally owned" by one-man-band and Rangiora-area legend Murray Evans, who unfortunately passed away quite suddenly back in 2005.
Gilchrist Brothers director Pete Gilchrist had some dealings with Murray and his wife Karen when he was working at the PGG Wrightson store in Rangiora.
"I was a store person at that time, still learning about all the different products, and Murray used to come into Rangiora from his 50-hectare oat-growing property at Fernside to buy chemical for his business Murray Evans Spaying.
"He was a fantastic guy, and we formed a bit of a bond, and his son was a top New Zealand wakeboarder, which is something that I was also into."
Pete then got transferred down to Fairlie as a grain and seed representative but kept in touch with Murray since they got on so well and had a shared interest in waterskiing and wakeboarding. They even spoke about Pete going to work for him at one stage.
Tragically, all of this was cut short with Murray's passing.
"I was contracting with a sheep conveyor at that time and Karen asked if I could help her with what Murray had been doing," says Pete's brother and fellow director Andy.
"My reaction was well of course, you name it, what do you want me to do?"
So Andy ended up diving into a spray truck to assist Karen but soon realised he needed a hand.
"I realised that Murray was pretty efficient, which comes with experience, and came to the conclusion that I was not going to be able to do this by myself. Long story short, Pete was ready for a change anyway. I had left PGG Wrightson about six to eight months before to do my own thing with a sheep conveyor, so we decided in our mid-to-early 20s that we had nothing to lose and we might as well give it a shot," Andy explains.
"The PGG experience gave us a really good grounding, and we already had a relationship with the chemical reps and had learnt a lot about agronomy," Pete adds.
Both brothers were seed and grain representatives for the company: Andy covering Cheviot-Kaikoura and Pete doing Fairlie and Mackenzie basin.
Thrown in the deep end
Before May 2005, Andy had never operated a spray truck, but they do breed them tough and with the confidence to learn new skills in North Canterbury.
"We went to the funeral; the spray truck was there. I hopped in it and drove it home and tried to work out how the hell it worked," Andy reveals.
"Murray had been spraying for 17 years and was highly experienced and had built a lot of strong relationships with farmers in the area."
The first year as spray contractors (from mid-2005 to 2006) was "intense" and a steep learning curve for the brothers.
"We knew a lot about the grain and seed sector, but we learned pretty quickly that there was a lot more that we didn't know about it, especially around the whole application side of things," Andy explains.
"In that first year what Murray could do alone we were struggling to do with two of us."
They say that no man is an island and in this case, the brothers were smart enough to seek wise counsel from some older heads from the start.
Graham Morris, who was a great friend of Murray, was very supportive of the brothers.
"Not so much on the technical side but just providing that moral support and saying, 'it's pretty important that you boys crank this up'.
"It's funny how things work because 10 years later, he came to work for us. At the time, we probably didn't realise it, but he was a bit of a mentor to us in the early stages."
Andy says that there wasn't too much hesitation among local farmers in giving the brothers a go, as they were continuing Murray's legacy and quickly proved that they were up to the task.
The official purchase of Murray's business came with one very old Nissan Patrol spray truck with a 17-metre manual fold boom, as well as a client list, a bit of chemical, a shed, and fortunately Karen continued to do the administrative duties for the brothers after the purchase.
Pete had a great relationship with Fairlie-based spray contractor Mike Prosser in the mid-2000s, who the brothers visited.
"He was great and helped give us a few pointers in the truck, so he was a very handy man to know," Andy explains.
"We kept the name Murray Evans Spraying for the first three or four years and when Karen said she was ready to stop doing our invoicing, that's when we changed the name to Gilchrist Brothers."
The brothers slogged away for the first four years by themselves (doing the actual spraying) before they grew too large to be able to cope with the demand.
"We had to decide whether we wanted to be spray truck drivers for the rest of our lives or whether we really wanted to grow the business," Pete says.
"That's when David Jones and Mike Quinn came on board as casuals at first, followed by Mark Forde, who is still with us today."
Mark now runs the workshop and has helped develop the spray truck manufacturing side of the business.
Fast forward to 2021, and Gilchrist Brothers now has a full-time staff of 11, with the addition of two seasonal workers.
"The growth has been pretty big over the last year, so we are looking for another one or two to come on board this year," Andy says.
These days, dairy farmers make up 75% of their spaying business clients and the rest comprises sheep and beef, deer, and the occasional lifestyler, golf courses, and sports grounds.
The incoming Freshwater Regulations will have an impact on their business, as the precision application of chemical by professional spray contractors will become more essential than ever, under the proposed Nitrogen cap next year.
"We can do that with high-accuracy, GPS, self-steered machines, and booms and guarantee that there's nothing going in a waterway," Andy says. 
Branching out
The fleet consists of five sprayers, three John Deere tractors, two truck and trailer units, and other support vehicles.
Then there's also a range of cultivation equipment from ploughing and discing to rolling, precision planting and drilling.
The brothers don't have many preferences in regard to specific makes or manufacturers when it comes to this gear, just a "right tool for the right job" kind of ethos.
While spray contracting now only accounts for 50% of the business, the other side of it is the build and manufacture of their own locally constructed spray trucks.
"It's not just building them, it's servicing them and supplying parts to those clients throughout New Zealand, which is also quite a big job," Andy explains.
At the end of their first season spraying, Andy, who has a knack for turning out some pretty handy gear, started pulling the old Nissan Patrol apart and essentially rebuilt it to his own custom specifications.
"So we refurbished it, rather than replacing it and learnt a lot in the process," Andy says.
"I discovered pretty quickly that although most outside engineers are good at what they do, they really don't comprehend the whole spraying side of it and the intricacies of that. It's a very specific skill set."
Pete, on the other hand, knows his chemicals inside out, is into his gadgets, and is a huge proponent of the latest spraying technologies, so together he and Andy combine to make a formidable team.
Adding a few other great minds into the mix ultimately led them down the route of building their own spray trucks.
As they didn't want part-time seasonal staff, they had to think about how they could justify a full-time employee when they were only busy spraying for six or seven months of the year.
The year-round manufacture of custom-made spray trucks offered the perfect solution, and conversations with other spray contractors around New Zealand only confirmed that there was, and would be, significant ongoing demand.
The first of these was built on a Toyota Landcruiser chassis and body (as they still are) back in 2008, and the brothers haven't looked back since and are continually refining their builds and incorporating the latest technology.
They can normally have one fitted out and ready to roll out within three months of it arriving at Gilchrist Brothers HQ.
They work with BA Pumps and Sprayers for a lot of the spray components.
"We've also modified some of these components to be more 'contractor proof'," Andy says.
"We also manufacture a lot of it in-house ourselves now, so booms and boom brackets. We build the decks from scratch, and we've now got jigs, so have standardised them all so that we can build them without the truck."
By the end of this year, the brothers will have built 35 spray trucks, and while most are operating in the South Island, North Island spray contractors are now starting to catch on. Whoever thought manufacturing in New Zealand was dead is dead wrong.
Find new and used farm machinery for sale in NZ 
Keep up to date in the industry by signing up to Farm Trader's free newsletter or liking us on Facebook