Farm fitness: Farmstrong
---
Fitness tips from Farmstrong ambassador Sam Whitelock are designed to help those working in the rural industries
Farmstrong is a nationwide wellbeing programme for the rural community, aimed at helping individuals and groups live well to farm well.
Farmstrong ambassador Sam Whitelock has helped put together some body conditioning videos so farmers can avoid common strains and niggles.
A series of short video clips on farmstrong.co.nz demonstrate stretches farmers can do at home for 10 minutes each morning to improve their core strength, balance, and flexibility. The routines are designed for people of all shapes and sizes and require no special gym equipment.
Sam comes from a farming background and knows how physically demanding the job can be.
"Tasks such as handling stock, lifting heavy gates, feeding out, and milking involve a lot of turning, twisting, lifting, and repetitive movements. If you're just pulling on your boots every morning and ripping straight into things, over time that can take a real toll on the body," he says.
"By doing a few warm-ups, you wake up your body and give yourself a fuller range of movement and flexibility all day. It makes farming a lot easier on the body and the mind."
A key aspect of the Farmstrong videos is to get farmers to 'turn on their core' by strengthening their abdominal and back muscles.
Here's how to turn it on – first stand tall and straight and draw in your stomach, drawing your belly button in towards your spine. This tenses your mid-section and turns on your core. The aim is to keep your core 'on' during the 10-minute warm-up routine.
"The core is probably the most neglected muscle in the body. It's the part of your body that supports your back and supports movement everywhere else," says Sam.
"So, if you're waking up in the morning with a stiff back or hips, work on your core; the Farmstrong videos will really help. You're going to feel much better very quickly, and a lot of those niggles will go.
"Being farm fit definitely benefits your business. It's a mood boost. Instead of sitting slumped over the tractor wheel or quad thinking 'oh it's been a long day', you feel more alive and awake. You'll make better decisions because you don't feel worn down by strains and niggles."
Sam says the key is to lock-in regular stretching as part of a daily routine.
"The big thing is creating a habit. These warm-ups are an easy commitment – they only take 10 minutes. You can do them while you're boiling the jug in the morning or around the farm or before you get on the tractor. Or have a bit of fun and do it as a team. If you do these warm-ups four times a week, you'll soon notice a huge change."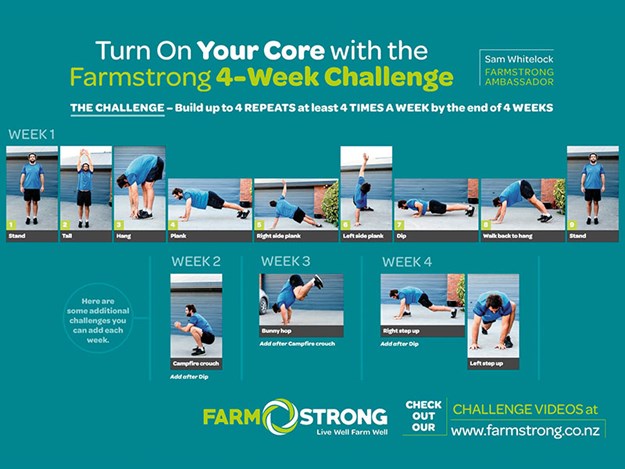 Sam says his own experience in professional rugby has taught him of the importance of warm-ups and conditioning.
"Before I play, I do similar warm-ups, so that when I get out on the field, I'm ready to go. It's no different in farming. Taking time to warm up prevents injuries and means you can go long and strong throughout the day.
"I'm encouraging all farmers to get in there and give these a go. It takes very little time, but after a long, hard day on the farm, whether you're crutching, shearing, or milking, the benefits will definitely be there. You're going to feel stronger, fitter, and enjoy working a lot more."
To check out Sam's 'Turn on Your Core' body conditioning videos, visit farmstrong.co.nz. You can also download a poster of the warm-ups for your shed.
Find new and used farm machinery for sale in NZ 
Keep up to date in the industry by signing up to Farm Trader's free newsletter or liking us on Facebook