Profile: Stump Away NZ
---
After working in farming and mining, James Campbell is busy transforming Waikato properties one stump at a time, with his fleet of remote-controlled Predator stump grinding machines
James Campbell has never shied away from having a go at something new.
The busy go-getter has done more than his fair share of physical work, including a few years spent dairy farming and working in mines, as well as roofing and car painting. These days, thanks to his investment in modern technology and learning a new skillset, he's busier than ever running his own business Stump Away NZ), specialising in tree and stump removal around the greater Waikato and Coromandel.
With the same dedication he applied to his former work paths, James now has an impressive ability for working in the most challenging situations with his two remote controlled Predator stump grinder machines.
The track machines are fully remote control operated, allowing James to get into a variety of terrain and working conditions.
"The remote-control aspect adds an element of safety, as it means I can operate the machines on a slope or in a tricky spot from a distance."
Safety is a key component of successfully operating machinery like this, and James' farming background has given him a solid and practical grounding in respecting machinery, especially machines with such sharp cutter tips and teeth.
Monster results
Specialising in tree and stump removal, James is thriving on the opportunity of being self-employed, and Stump Away NZ continues expanding its client base, predominantly throughout the Greater Waikato and Coromandel.
The Predator 50RX and Predator 65X give him the flexibility to work on sites ranging from small residential blocks of homes to expansive rural plantings.
"They're ideal for everything from residential properties with narrow access through to chewing their way through multiple massive stumps," he says.
With a variable width track base travelling from 790mm to 1170mm, all at the touch of a button, the Predator 50RX offers huge versatility and can squeeze through gateways narrower than three feet with ease. James spent a significant amount of time and effort researching the machines most suited to a solo operator business before deciding on the Predator brand.
"It's solid and well-built, which is obviously important, and the fact it has no belts or clutch is also a drawcard in terms of maintenance."
With eight multi-tip teeth effortlessly gnawing their way through stumps, the machine has a cutting depth of 380mm and cutting height of 600 metres, plus 1500mm of slew. It all sound impressive but is even more so when you see James and his Predator team in action.
Having started his business, Stump Away NZ, in 2016 with the Predator 50RX, James rapidly built a reputation for quality service, and the before and after transformations to properties is quite amazing. As well as removing the stumps, James cleans up any mess after him, even travelling with a portable blower for the last remnants of woodchip and dust.
"I can do everything from shelterbelts to large plantings of trees. I recently cleared an area of massive old gum trees with stumps of around four metres."
With bigger jobs coming his way, James also invested in the Predator P65X – the largest stump grinder machine available from the brand. Like his first model, this machine came with a dozer blade and tow ball and also with additional capability powered by a 65hp Hatz diesel engine.
The most notable difference between the two machines is the faster cutting speed, with the 710mm multi-tip wheel offering a cutting depth of 680mm and a swing of 1750mm.
Fully hydraulic, low ground pressure tracks mean the unit can access stumps without leaving a whole lot of travel mess in its wake.
Easily manoeuvrable and well balanced, the addition of the Scanreco G2B radio control system means James has perfect control of the machine in any environment.
Keeping it local
Having grown up in Ohaupo on the outskirts of Cambridge, James was always a keen rugby player until work and family life got busy but still pulls on his boots every now and then. His early years after leaving school started off with working as a car painter for his Dad, followed by a stint dairy farming.
By trade, James is a roofer, although, after a few years of working solidly in the industry, he decided he was keen to try something new.
"I headed off to Australia where I worked in the mines for seven years and also built a house in Perth."
However, returning to New Zealand beckoned and when James first got back to the Waikato, he helped a mate out in his roofing business while deciding what to do.
"I definitely wanted to be my own boss, and with my farming background, I've got a pretty practical mindset. Being outside was also important as was being 'hands-on' and working in different environments.
"It was actually my Dad who suggested I look into stump grinding, which started me off doing some research into the industry."
Now with the support of his fiancée Trish and son Jackson (2), James continues to grow Stump Away NZ, attempting to juggle managing his own business with carving out time for his family – and the occasional fishing trip to Coromandel where they have a bach.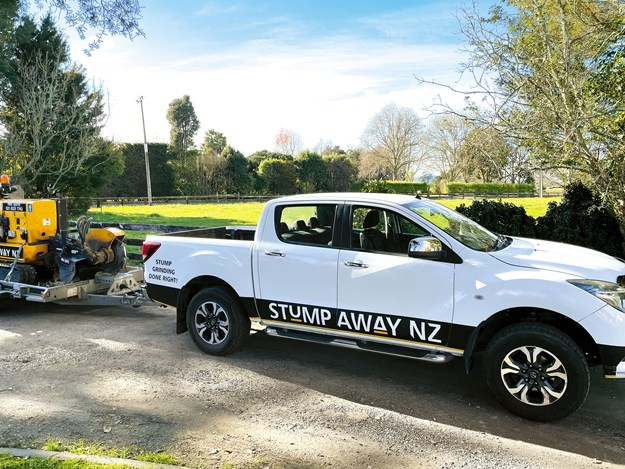 Ironically, after all of his travels, James has wound back right where he started – living in Ohaupo (although this time in his own home with Trish and Jackson). His property is a great central base to his clients, allowing him the flexibility to be home for Jackson's bedtime despite long days with the machines and business.
"It has all just grown gradually and largely by word of mouth, which is always great to know. Generally, one person refers me to another, and my client base just continues growing."
"Whether dealing with hardwood trees, or more fibrous trees such as Pheoenix Palms, the machines just power through them."
Of course, the downside of being a sole operator running his own business is the challenge of surviving during COVID-19 lockdowns.
"It's a difficult time for sure, but like everyone in business, it's just a matter of doing the best you can at the time and hoping you come out the other side. I use the time to make sure my website is up to date, etc."
Find new and used farm machinery for sale in NZ 
Keep up to date in the industry by signing up to Farm Trader's free newsletter or liking us on Facebook