Profile: McHale Baler
---
In terms of ticking boxes and meeting the needs of farmers and contractors, McHale has all the bases covered, with a wide range of hay tools developed in direct response to customer needs
McHale's range of innovative and durable balers, wrappers, and integrated balers is designed to give farmers and contractors everything they need.  
The Irish manufacturer is renowned for providing clever, pragmatic solutions to customers' requirements and introducing upgrades and new models only after extensive testing in the field. 
The Fusion Vario integrated baler wrapper is a great example of this, thanks to notable advancements in technology and design. The Vario's reputation stems from its reliability, its patented high-speed transfer system, and its exceptional output.
Fully automated, it can wrap bales from 1.1 to 1.45 metres in diameter, with the patented tip roller adjusting its height in line with bale size to ensure the plastic is always centred, regardless of how wide it is.
Bale transfer occurs in one pass without slowing output. When the bale is formed, netting is applied, and the bale chamber then splits horizontally; the lower section transfers the bale into the wrapping ring. When the chamber closes work continues, as the machine automatically starts the wrapping process.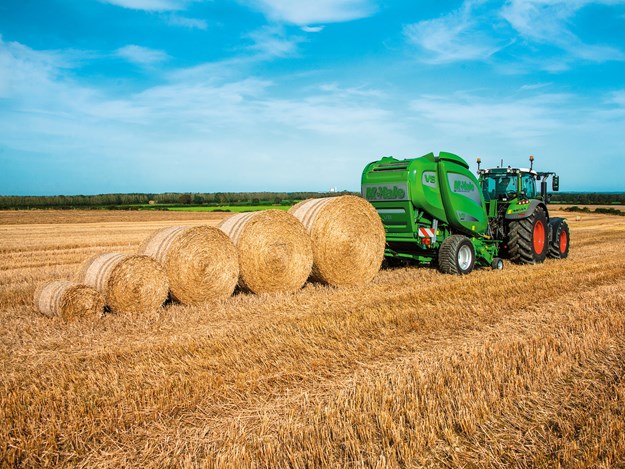 For farmers looking to replace or upgrade a round baler, the McHale V6750 is part of the 'next-gen' V6 range, boasting a bigger rotor, new pickup, enhanced panel design, and different chamber options compared to its predecessor.
Along with a 15-knife chopper unit, it also has a standard cam operated 2.1-metre high-intake galvanised pickup fitted with five tine bars.
A double drive system is standard on the V6750, benefitting belt rotation and bale formation and allowing operators to work in challenging conditions.
The netting system on the V6750 features endless net adjustment and can hold net rolls up to 1300mm in width. 
Topped off with centralised grease blocks, 500/50-22.5 tyres, and McHale's tried-and-tested drop floor unblocking system – alerting the operator to blockages and allowing them to respond by lowering the drop floor from the tractor cab – McHale says the V6750 round baler will boost output and density. The McHale V6 range also includes the V6740 rotorfeed baler.
Then there's McHale's flagship V8 baler series, which the company says ups the ante in terms of bale size and solidity, driven by customer demand.
The McHale V8940 non-chopper baler will create bales from 0.6 to 1.9 metres in diameter and with up to 30% more crop than a V6 bale.
Equipped with a cam track pickup, the new model features a variable chamber, equipped with a high intake twin finger feed rotor to promote consistent and efficient crop flow to the bale chamber. It comes with the large display Expert Plus control console, enabling the choice of bale density and size, as well as net revolutions.
The V8940 features continuous oiling and a heavy-duty drive system powers belt and bale rotation. Also available in the McHale V8 range is the V8950 with 15 knife and auto grease system. 
When it comes to wrappers, McHale also has all the bases covered. The fully automatic Orbital is a high-speed round bale wrapper that harnesses vertical wrapping ring technology – first seen in the McHale Fusion – to deliver high output, low maintenance wrapping capable of keeping up with multiple balers. 
Known for its patented tip roller and consistent, even overlap and outstanding fodder preservation, the Orbital's ring wraps at 40 revolutions per minute for bales measuring one to 1.48 metres. It can apply four layers of film in under 18 seconds and six layers in under 25 seconds.  
Finally, and jam-packed with innovation, the McHale 991 high-speed bale wrapper has quickly forged a reputation for durability and quality.
What sets it apart are the two stepped 750mm aluminium dispensers, a hydraulically operated cut and tie system, film break sensors, and McHale's patented bale dampener system, leading the way for efficient and effective round bale wrapping. 
The 991 wrapper has become the first choice for farmers and contractors, with feedback consistently testifying to the boost in output after using it in the field. Little wonder, the 991's sturdy design, quality components, and precise engineering put it at the top of the pack. 
Find new and used farm machinery for sale in NZ
Keep up to date in the industry by signing up to Farm Trader's free newsletter or liking us on Facebook