Book Corner Summer reads
---
Some last minute Christmas stocking filler ideas with our selected summer reads or just grab a couple to enjoy yourself
With Christmas offering a rare opportunity for a small window of time to stop and relax, the gift of a book makes a welcome treat under the Christmas tree. The Farm Trader team shares some of their recommendations for new summer reads.
Mercy by David Baldacci
$34.99
It's pretty much a dead cert that a David Baldacci read will draw you in and offer an escape from whatever else is going on in life. The bestselling author's latest offering is no different.
Mercy follows the unravelling of information around the disappearance of FBI agent Atlee Pine's twin sister, Mercy, who is missing since she was abducted at six years old. Agent Pine is a popular character from other Baldacci thrillers but this also works as a standalone book.
In true-form, the tale is punchy and fast-paced, with each chapter drawing you in deeper in an uncertain quest for the truth.
The Wild Twins by Amber and Serena Shine

$39.99
If you're looking for an inspiring real read, look no further than rural Waiuku right here in New Zealand.
Twins Amber and Serena Shine have a lifelong love of the outdoors, adventuring, and pushing themselves to the extreme – from running the world's highest marathon together to walking jaguars in the Amazon and racing on dogsleds.
With shared go-getter attitudes, the pair live life to the fullest and their adventures are not only a fascinating read but also a reminder to embrace life and all that it offers.
Theroux The Keyhole by Louis Theroux

$39.99
With COVID-19 rampant around the world, documentary-maker Louis Theroux spent some of this lockdown time assessing his life, his home and family, and the weirdness of the world.
If you haven't discovered Louis' podcast Grounded With Louis Theroux yet, we suggest listening to it before picking up the book – it's well worth the effort, plus, then you can read the book in his voice, which adds enormous character.
Written in the style of a daily diary, this is the perfect beach read, as you can dip in and out of it, reading just snippets, without losing any flow or impact. 
The Younger Wife by Sally Hepworth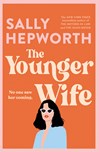 $34.99
Family dramas, secrets, unexpected reveals – everything you want in an escapist summer read is here in The Younger Wife.
When Heather Wisher enters the lives of the Aston family, none can imagine the upheaval ahead. Stephen Aston is smitten, while his daughters Tully and Rachel are downright furious, particularly as he's still married to their mother, who is in a care facility with end-stage Alzheimer's disease.
However, Heather's not the only one with secrets and when she and Stephen announce their engagement, a family implosion looms, along with old wounds and dark secrets finally being forced to the surface.
Blood Trail by Tony Park

$34.99
There's nothing quite like immersing yourself in a good thriller, and if you're only going to get through one this summer, make it this one.
Set in a South African game reserve, a poacher vanishes into thin air, much to the confusion of experienced tracker Mia Greenway. But there are also other mysteries at play, with two young girls missing and the disappearance of a tourist.
Is it murder? Or part of the rituals around sinister traditional medicine practices for poachers resorting to witchcraft for potions they believe will make them invisible and bulletproof?
The 13-Storey Treehouse by Andy Griffiths and Terry Denton

$34.99
If you're a bedtime reader for kids who love funny and adventurous reads, then you'll be familiar with the Treehouse series. This full-colour hardback gift edition is an ideal Christmas gift.
Plus, at 240 pages, it'll keep the kids entertained for quite some time. They'll pour through it for the fun illustrations alone, while the stories are full of imagination and unexpected twists and turns.
With more than a million books by this author and illustrator sold, they're clearly proving a hit with kids and adults.
Keep up to date in the industry by signing up to Farm Trader's free newsletter or liking us on Facebook