New release: New Case Puma Series tractors
---
Major styling upgrades, CVT, and a longer wheelbase are among the features of the new Puma Series tractors from Case IH

Case IH has revealed new major styling upgrades for its Puma tractor series due to arrive in Australia and New Zealand this spring.
The upgrades to the MY2021 Tier 5 Puma Series are the range's first major changes in more than a decade, with its new hood featuring the latest Case IH family styling.
The tractors have a longer wheelbase with horsepower ranging from 185 to 240 (138 to 179kW), depending on the model, and a 6.7-litre FPT Industrial six-cylinder engine, while still meeting Tier 5 emissions standards.
The models are available with continuously variable transmission (CVT), which Case IH says helps to generate more power whilst still optimising fuel consumption.
Changes to the transmission also help to improve acceleration and deceleration as well as contributing to better shuttle behaviour, drive pedal sensitivity, cruise control override, better multi-controller sensitivity and position detection, Case IH says.
The company has also improved the Pumas' front axle suspension, adding reactive steering to enable the wheels to return to a straight position after making a turn, while an adaptive steering control option allows smooth operation and accurate steering in both field and road operations.
Engine service intervals on the Tier 5 Pumas have been extended to what Case IH says is an industry-best 750 hours and transmission service intervals extended to 1500 hours.
Case IH Australia New Zealand product manager for compact and mid-horsepower tractors Seamus McCarthy says the new features make the Puma series both better to operate in the field and to own.
"The reliability of our Puma tractor range has always made it attractive to our customers. We've taken this appeal to the next level with the new design and feature updates," Seamus says.
"Emission-compliant power has been a major focus of research and development at Case IH, and these new Pumas feature the latest in this technology.
"Our patented High Efficiency Selective Catalytic Reduction exhaust gas after-treatment ensures we meet emissions standards without the need for exhaust recirculation, which optimises engine power and performance for customers."
Other features include upgraded road and work lights, including hood work lights options, which are common on Case IH's Optum and Magnum tractors.
That is in addition to a low-mounted
front windscreen wiper, a cool box with
cover on the front end of the steering column, and aluminium steps with LED lighting. Optional features include a hood-mounted camera, fully integrated front hitch, and hand wash tank.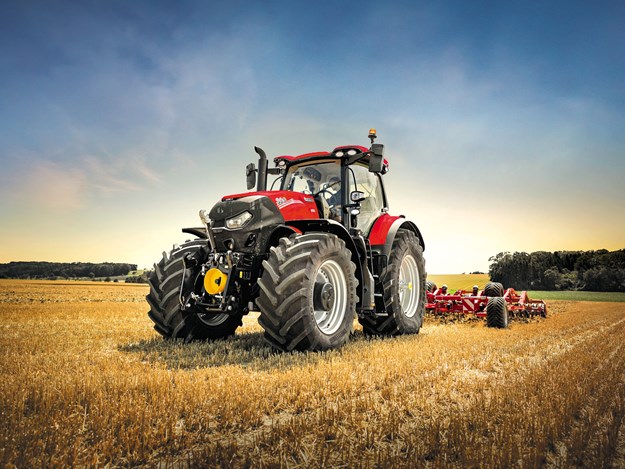 Optimum control
Optum series tractors with AFS Connect technology included will be available in Australia and New Zealand early next year
Case IH has added another product to its Australasian line-up, launching a technology-packed tractor in its re-engineered Optum range.
Case's Optum series of tractors will join the larger Magnum and Steiner series in having the AFS Connect technology included.
It's far from the only change, though, with both the 270hp and 300hp (270 and 224kW) Optum AFS Connect models getting a redesigned cabin. Aimed at increasing space, improving vision, and reducing noise, there's also a new multi-controller armrest, configurable controls, and a larger, high-resolution touchscreen monitor that's ISOBUS compatible.
AFS Connect allows instant data transfer between the tractor and Case's online portal. This can also be accessed remotely by Case IH dealers for service or operating advice while also giving users access to a wide range of operating information.
"This allows them to make management decisions more precisely and with greater speed, supported by instantly-available and accurate data, both current and historical," says Case IH product manager Jason Wood.
"They can also monitor real-time information such as the location of their tractors, their fuel levels, and other key management and performance data."
In addition to practical changes, user comfort has also been considered, with cabin features including a leather seat with heating and cooling capabilities, a coolbox, and multiple USB ports.
Jason says the Optum series has been one of Case IH's biggest sellers due to its high horsepower and high specifications and expects the upgrades to only increase its popularity.
"The inclusion of AFS Connect takes the Optum's capabilities to a new level, giving users a versatile 270 to 300hp tractor with continuously-variable transmission that offers even more in terms of comfort, capability, and connectivity," he says.
The Optum tractors are already available for order with stock expected to arrive in Australia and New Zealand early next year.
Find new and used farm machinery for sale in NZ 
Keep up to date in the industry by signing up to Farm Trader's free newsletter or liking us on Facebook