Kiwi-Made: Treadlite NZ
---
Kiwi company Treadlite NZ is tackling the problem of recycling waste tyres and creating a growing range of products from tyre waste
Take a stroll around any farm, trucking, or contracting yard in New Zealand and odds are there's a common theme – a steadily growing stockpile of used tyres. Once upon a time, before we knew better, tyres were buried and burned in situ. These days, with growing awareness around environmental impact, a more sustainable solution is required.
Waste tyres are not just a problem unique to this part of the world. Globally, billions of tyres are dumped, posting fire risk and leaching contaminants. And getting rid of them, let alone in a sustainable way, has long been an expensive and seemingly unsolvable issue.
So, when a group of like-minded Waikato businesspeople decided that enough was enough, they set about creating their own solution. The result is a tyre recycling business called Treadlite NZ, which is producing a growing range of products from tyre waste.
Having worked together previously, Paul and Jo Collins and Brad Pierce teamed up with Blake Richardson to form Treadlite. The quartet were determined to stop paying mere lip service to the mountainous problem of excess tyres, take action, and do something about it.
Despite having done plenty of research, they could never have predicted just how many hurdles would be thrown their way, even though they came armed with a potential solution to a nationwide problem.
Practical beginnings
Having founded (and still running) earthmoving and cartage business Collins & Son, Paul and Jo Collins were shocked when they discovered that the hundreds of end-of-life tyres their business alone was producing were being stockpiled in paddocks, sent to landfill, and even sent overseas to be burnt.
This led to a conversation with business partner Brad Pierce, who bought in Blake Richardson to address the problem.
"It was really astonishing once we started looking more closely at it, just how few options were out there for dealing with waste tyres," says Brad.
With all four bringing an impressive wealth of business knowledge and problem-solving abilities to the table, Paul and Jo set off overseas to investigate what was proving successful there, what was working, and what wasn't.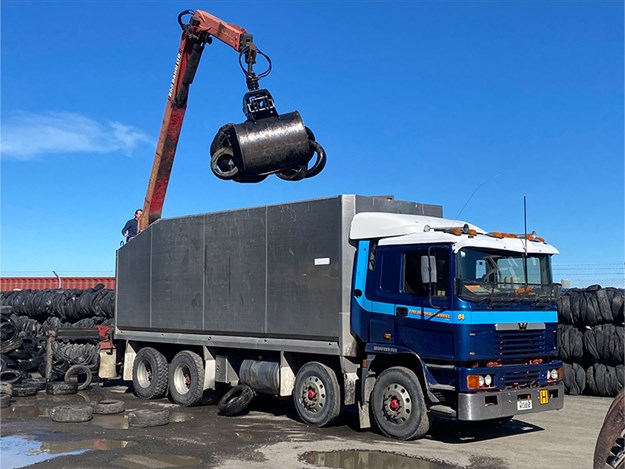 "We looked at various processing plants and how they were working and how successful they were in then utilising any end product," says Brad. "A lot of brainstorming went on, and we found a machine in China that we thought could work here with some adaptations."
Fast forward several years and Treadlite continues its rapid growth, churning through thousands of tyres a day and repurposing them into a range of rubber products, including the equestrian mix, which is finding great favour among equestrians as an arena surface.
After being put through a triple-treated refiner process with a series of shredders and five magnetic beds (to remove any metal and wire), a total of five different products are currently produced, with engineers working on more options.
One of the most popular is the premium horse arena mix, in hot demand with New Zealand's leading equestrian venues and riders. In fact, Treadlite is currently filling orders for four arenas a day from all corners of the country.
"The rubber mix offers helps reduce concussion on horses joints, has less wear and tear on horses' hooves, and reduces dust, plus, the fact we've been able to successfully create a high-value product while helping reduce the stockpile of discarded tyres is a definite win."
Making mighty machines
While the end result is seeing an impressive array of products based around the rubber granules, that's not to say the process has been simple. With so much collective brainpower (from business acumen to engineering ingenuity), the combined skills of the Treadlite team has enabled the creation of some highly customised machinery, but it hasn't come easily or cheaply.
Treadlite has invested significantly in its programme and carried out extensive research and testing, as well as modifying existing systems to allow it to precisely create the end products desired. While the original tyre shredding machine arrived from China represented a hefty initial investment of $600,000 dollars, COVID-19 and global lockdowns meant that the team of engineers who were supposed to arrive and set the machine up couldn't travel.
So Treadlite ended up with container loads of what was essentially unmarked giant Meccano parts.
"Fortunately, we've got two great engineers here: Dan Turner and Richard Upperton. We all had shared input into 'Kiwi-fying' the machine, working out how on earth to assemble it and then making design adjustments to allow it to scale up from doing 400 tyres a day to 1000 tyres a day."
While the time and brain-power investment paid off, it was anything but smooth sailing.
"There were definitely some headaches along the way. We had to use YouTube and video conferencing to try and make sense of the mountain of parts that arrived, with no instructions."
And yes, as expected, some parts ended up backwards or upside down, or in the wrong place altogether, but in the end, the behemoth was complete.
"As with most businesses and growth in life, we experienced plenty of failure along the way, and luckily, some successes also.
It's unrealistic not to expect that to be the case."
Despite the challenges, Brad says there was never a point where any of those involved asked if they were doing the right thing.
"We've known from the beginning that this is something we wanted to do. We want to make a difference and play a role in solving this problem of tyre stockpiles.
"We decided that we wouldn't give up, even if we just came up with a solution to deal with our own tyre surplus and maybe beyond that to provide somewhere to handle the tyre stockpile in Cambridge."
In true Treadlite form, more ambitious plans were already at play, with a second machine under development in China, this time incorporating pretty specific design input from New Zealand.
This second (and current) machine represents in excess of $2 million investment, proof that Paul, Jo, Brad, and Blake aren't just mucking around. Measuring a massive 100 metres long, this machine arrived in nine (yes nine) 40-foot containers, with one part alone weighing 23 tonnes. Now up and running, the finished product can process 5000 tyres a day.
Featuring some of the latest technology available, as well as the ability to produce a granulated product suitable for reusing in roading and sports surfaces, the new machine was designed with plenty of input from the Treadlite design team.
Forward focus
As the team continues to evolve the complex machinery required to strip metal and other by-products out of tyres, they're also looking to grow the range to allow repurposed tyres to be used in roading (a full circle life), playgrounds, and for sports surfaces.
While rubber surfaces are nothing groundbreakingly new, giving a new lease to old tyres and working to make the process as sustainable as possible is a fresh outlook.
"I think one of the reasons for our success is that we didn't start Treadlite solely to make money. We started the business to deal with the problem of waste tyres," says Brad.
"So, we looked at how we could take these enormous stockpiles and at least create something useable if possible. Once your key question is 'what can we use the rubber for' rather than 'how can we make money out of this', everything else flowed from that."
What did surprise Brad, Paul, Jo, and Blake was the complete lack of support they received from organisations or official channels here in New Zealand.
Undaunted and armed with a Kiwi can-do attitude, the quartet pushed on regardless and dipped deep into their own pockets.
Pretty soon into the project, Brad and the team realised that while they were getting to grips with a processing plant, having a system that allowed for the regular collection of tyres was another problem.
"Sure, there are millions of tyres out there, but few people want to take responsibility for dealing with them. So, we bought an existing business in Wellington, Tyre Disposal Services, which runs a fleet of five compactor trucks and collects around 2500 tyres a day from the lower North Island."
Company trucks (Mitsubishi Shoguns) then transport the product around New Zealand.
Paying it forward
While doing some good for the environment is a key driver behind Treadlite, there's also enormous satisfaction in creating new jobs – and Brad is all about helping people better their futures.
"We really try to create some opportunities, and we've got a great team of employees who may have struggled otherwise to get back into the workforce. Most of the guys in our yard we've sourced through MSD, and it's really cool to see how they respond to being given a chance."
In just two years, Treadlite has experienced continual growth, with a team of 15 in Cambridge and eight in Wellington.
With head office alongside the purpose-built tyre shredding facility in Cambridge, Treadlite is looking to set up its second plant in Wellington, followed by another in Taranaki.
Already from Cambridge, a truckload of arena mix heads to the South Island every fortnight, and the first shipment recently left for Australia.
"We set ourselves a target to process 1.2 million tyres a year, which is 30% of the intake of New Zealand tyres each year.
"Sustainability and our environmental footprint are at the heart of everything we're trying to achieve," says Brad, "and knowing we're making a difference to the massive stockpile of tyres around the country is a pretty great feeling."
Find new and used farm machinery for sale in NZ
Keep up to date in the industry by signing up to Farm Trader's free newsletter or liking us on Facebook