Farm advice: Invest in your people
---
Celebrate those around you in the dairy industry with the upcoming Dairy Women's Network 2022 Conference in Invercargill this April
As we move into a new and better year, I encourage you to take the time to invest in yourself and your people through seizing opportunities to connect, upskill, and celebrate the challenges you may have overcome during the past couple of years.
We've undoubtedly faced a period of challenge and change where future-proofing has been pushed to the forefront of our farms and minds. But our industry is full of strength, bravery, and fearless adaptability. Our DWN2022 Brighter. Braver. Bolder conference coming up in Invercargill on 5 and 6 April is one such opportunity for you to take, planned and delivered specifically for you by a committee of women at the grassroots of farming in their respective regions.
Our conferences are known for boldly tackling real and relevant topics, topics that matter now and to the future of dairying. And while learning remains a core aspect of DWN2022, this conference will both celebrate our journey so far while making sure we're all equipped – as individuals, teams, and communities – to make bold decisions with confidence and to be proud to be dairy farming during this time.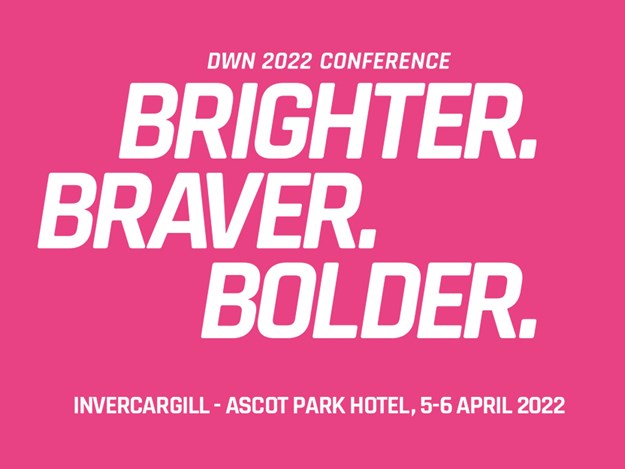 Conference chair Rebecca Green, vice-chair Nicola Bryant, and the rest of the committee – Aimee Wilson, Kielee Mathis, Maria Alvarez, Olivia Byars, and Rachel Usmar – have prepared a programme underpinned by the four pillars of people, farm businesses, communities, and our industry, with sessions addressing everything from mental health and wellbeing to healthy communication within partnerships; how consumer behaviours shape our industry outputs; and the good news and community initiatives that are coming out of the industry.
Time to be Bold will feature four breakout sessions unpacking regulations around land and water, animals, climate change, and preparing for adverse events, while What's the Buzz will provide you with new ideas and opportunities for diversification and a chance to try your hand at practical skills and test innovative technology that can be taken back to your own farm business. And we're pleased to share our keynote speakers, Alicia McKay and Wendy Petrie, who have many stories and lessons to share on keeping focus, resilience, and leadership.
As an industry, we're fortunate to be led by women who already practice leadership, resilience, integrity, and courage. Some of these women we will be celebrating at our Black Tie and Pearls Gala Dinner, as we announce the next Fonterra Dairy Woman of the Year and the FMG DWN Regional Leader of the Year for 2022.
We know that what you put into yourself and your farm team, you get back tenfold in productivity, team retention, and a great culture. As an organisation of impact passionate about growing people in the dairy industry, this conference is for them, for you, and for us to come together as a sector, looking ahead to a brighter, braver and bolder future.
We'll see you there.
Find new and used farm machinery for sale in NZ 
Keep up to date in the industry by signing up to Farm Trader's free newsletter or liking us on Facebook