Profile: Joskin
---
Fresh innovations from Joskin are part of the refinements across its effluent range, with new rear implements recently released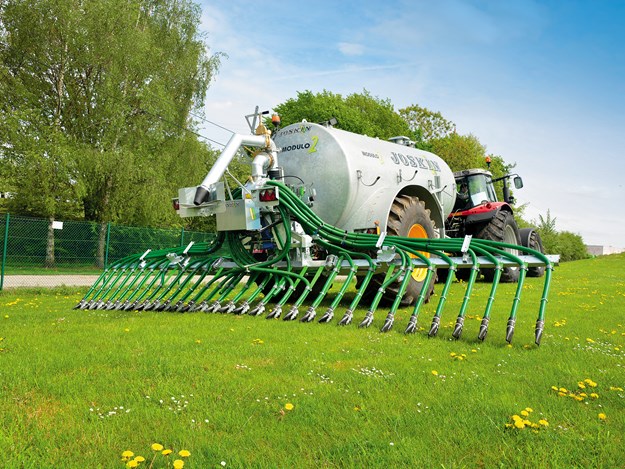 The world's largest slurry tanker manufacturer continues to lead the charge with innovation and refinements across its range.
New to the range of rear implements are the Pendislide Basic and the Penditwist Basic.
The Pendislide version places the effluent in lines via sprung-loaded shoes, which slide along the ground between the grass, while the Penditwist version places the effluent also in lines but on top of the ground in 25cm rows and is recommended for both arable and pastoral applications.
These new models are aimed at small tankers (from 5000 to 16,000 litres) to provide farmers with the same spreading quality as with a contractor's machine.
Both of the new independent spreading booms are fully galvanised and the boom dimensions have been specifically designed to be compatible with small tankers. Two working widths are available for each boom: six metres (24 outlets) or 7.5 metres (30 outlets) with 25cm spacing for homogenous distribution of the slurry.
Neither of the two booms require any linkage or rear buttresses on the tanker. They have been designed to be fastened quickly and easily on a 600mm° manhole, so can easily be mounted on new and existing tankers without having to add extra pieces of equipment.
Smaller but unique
The name 'Basic' is only related to the simplicity of these booms; both models feature high-tech pieces of equipment, and every boom is fitted with a:
Vertical Scalper Macerator: This distributes the slurry homogeneously, while the self-sharpening circular blades (mounted on HARDOX blade holders) improve the flow of highly fibrous slurries, as well as also systematically cutting all foreign bodies, before distributing the slurry uniformly in various line hoses. A stone trap is also integrated.
Lock Matic secure hydraulic folding system: During transport, the boom is automatically locked by a clamping system on a stop device (directly integrated on the frame).
Twist anti-drip system: This lifts the boom and prevents slurry drops on the road or losses in the field when manoeuvring.
Set of continuous hoses: Despite the anti-drip lifting system, the hoses between the macerator and the outlets on the ground are in one piece. The absence of connections ensures optimal slurry flow.
Manual flow adjusting valve: Allowing easy adjustment of spreading flow.
Automatic electrohydraulic equipment: Automation with control box is part of the standard equipment and is directly connected to the tractor. Only a single-acting connection, a free return plug, a load-sensing signal (unpluggable), and an electric plug are necessary for it to work properly.
Feeding hose through a six-inch outlet: Directly on the manhole, this diameter allows constant feed from the boom with an appropriate flow.
In New Zealand, Joskin is imported by OriginAg and distributed by its nationwide sales and service dealer network.
Find new and used farm machinery for sale in NZ  
Keep up to date in the industry by signing up to Farm Trader's free newsletter or liking us on Facebook