Profile: WelFarm
---
With something of an information overload to sift through, farmers can turn to WelFarm to help ensure they've got a handle on herd health and welfare, among other things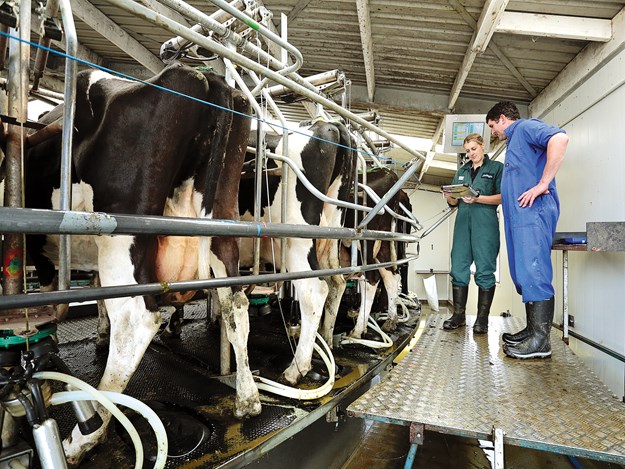 Sometimes the simplest information can be hard to find, and this is where the WelFarm team comes in.
"As a sector, we have so much information, we have so much science and research, and we're so good at sharing that, that we overload people with it," says Samantha Tennent, WelFarm general manager.
"So how do we drill that down to what's important here and why should you care?"
"Farming is so comprehensive and really complex; farmers have to know so much. If we as industry people can simplify it, they're going to maximise the most out of all this information," she says.
"A lot of it comes back to you don't know what you don't know. We try and make it easy for people."
Information sharers
The team at WelFarm has developed a website (welfarm.co.nz) covering the basics of dairy herd health and welfare, keeping information brief, to the point, and providing links to other web pages for further information.
"We didn't want to recreate what's already available; there are some great sources of information but sometimes they get lost in the sea," Samantha says.
"We were keen to consolidate and provide a simple hub for herd health and welfare to help farmers find what they need."
The WelFarm programme is delivered through vet clinics and provides a framework for farmers and vets to proactively monitor and manage herd health. Benchmarking provides context to the numbers and allows farmers to identify opportunities and prevent problems to save time and effort in the long run.
Using the programme provides assurance of what they are doing well and supports the growing demands from milk processors and consumers. Being on the same page and using a consistent programme makes it easy for everyone to understand, as we're all speaking the same language.
"You need to understand the why before you buy into something, before you want to do something, and you need to know why you need to do it, and then you can prioritise accordingly," Samantha says.
"We've kept it simple by saying, hey mate, it's important you do this because of this, this, and this. Within there, there might be an economic, wellbeing, and maybe time management driver that will connect with people. If we can simplify and outline what the benefits are, it's going to help drive people's interest and engagement and once they understand, it's easy to implement."
Cutting through the noise
Samantha says a lot of this year has been about laying foundations and developing WelFarm's communications strategy to best support dairy farmers and vets, as well as the wider sector, by providing information in this space.
"Animal health and welfare is our thing, so how are we adding value and supporting the wider sector above just the farmers we do touch directly," she says.
"A lot of that is direct messages to farmers to help the vets as well. We all need to be singing from the same song sheet, we all need to be talking consistently to help people understand, keep it simple, and cut through all that noise."
Samantha says there's power in banding together and having a stronger voice to provide assurance around animal health and welfare.
"The more we can work together and create this as an industry-led thing, where we're all casting the type of information that the customer and consumer are wanting from farmers, the better," she says.
"One of my personal measures of success is for farmers to start asking their vets about our programme. We have two angles – the vets that already are connected and are already members of the programme and delivering it with some farms and also trying to grow the farms that they are connected with. And then we have the other angle of trying to recruit new vet clinics so that more farmers can have access to the programme. Personally, it's a sign of success when we're starting to see farmers directly requesting it; it adds a bit of power and value for clinics to see there's an interest and there is demand from farmers.
"We're starting to hear more of those kinds of stories, that farmers are becoming more aware of us, which is really exciting."
Getting value out of data
Heading into 2022, Samantha says WelFarm will continue to raise its profile to have as many farmers as possible connected to its programme.
"We will keep connecting with different parts of the sector because we don't want to be working in silos," she says.
"We'll keep doing what we're doing, and like anything, it's a slow-moving thing trying to bring a lot of people to the party.
"Key for us is collaboration and continuing to simplify things and making sure farmers are getting value out of their data and their information."
Samantha says farmers will continue to face difficult questions from consumers and stakeholders and will have to keep answering and providing assurance around animal health and welfare.
"We're exploring how to support that data sharing ability. We're collecting high-level herd health and welfare data, but it's coming from a lot of other places," she says.
"Again, it's the old age problem of entering the same data multiple times. How can we make this simple and easier for our farmers?
"So, we want to help them do that in a simple, easy way, while also getting the best returns for their efforts."    
Find new and used farm machinery for sale in NZ 
Keep up to date in the industry by signing up to Farm Trader's free newsletter or liking us on Facebook