Profile: Hustler chainless bale feeder range
---
The versatility of being able to feed out quickly and efficiently when required is just one reason for the success of the popular Hustler chainless bale feeder range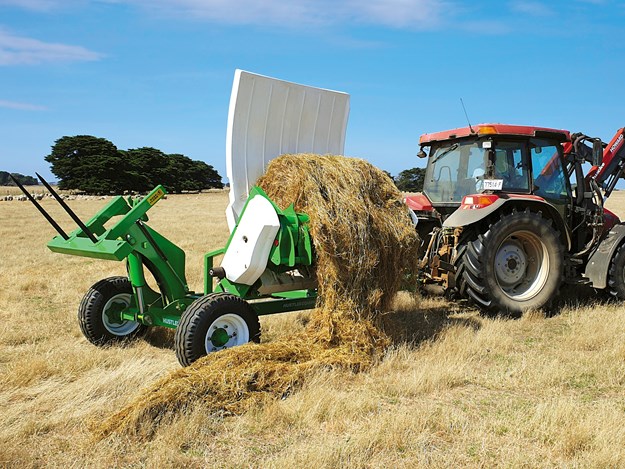 While parts of New Zealand are bracing for a third consecutive year of drought, hundreds of farms have already started feeding their herds, tapping into their winter feed supply or having to buy supplementary stock.
With this challenge in mind, Hustler Equipment invented the chainless bale feeding system over 25 years ago. The idea was to arm farmers with the resilience to face the ever-changing environment. The chainless bale feeder range (available in trailed and mounted models) can handle any type of bale of any size – round or square, tight or loose. This feature is particularly useful when there's no choice but to buy whatever bales are available.
Since the '90s, the chainless system has been constantly improved and fine-tuned.
Now in its third generation, Hustler's New Zealand-made chainless machines are flexible, sturdy, and efficient. While the back-end loader of the trailed version has been beefed up to handle bales weighing up to 1500kg (depending on the model), the mounted version can be equipped with a multi-hitch bracket kit, allowing the operator to swap between rear and front mount in just a couple of minutes – an ideal feature for feeding out into hay racks, hay rings, or over a fence.
The chainless system allows the operator to create a narrow windrow of fluffed up hay, minimising feed waste, making it evenly accessible to all animals and eliminating damage from hoof trampling, manure spoilage, and animals laying down on the feed.
Being 100% hydraulically driven, the silent chainless system is also safer to operate than any other baler feeder gear and offers lower maintenance and a more efficient use of fuel and power.
For more information, visit hustlerequipment.com/bale-feeders
Find new and used farm machinery for sale in NZ  
Keep up to date in the industry by signing up to Farm Trader's free newsletter or liking us on Facebook