Farm profile: Aron-Amy Stud
---
Maximising per-cow production has always been an interest of Manawatu dairy farmers Craig and Raewyne Passey, and Holstein Friesian cattle have proven the ideal breed to achieve this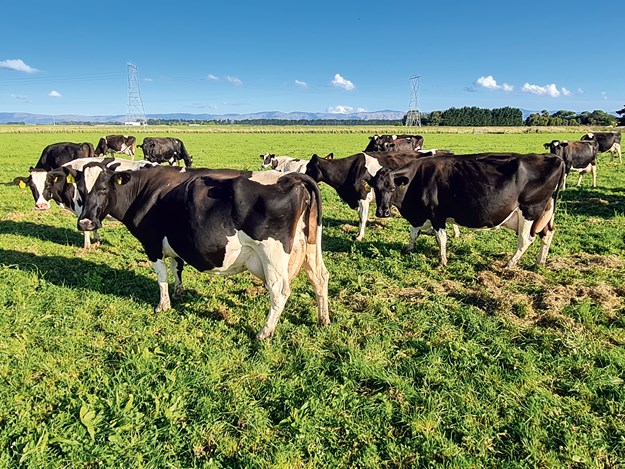 Milking 500 cows on 180 hectares effective at Kairanga, just outside of Palmerston North, Craig and his wife Raewyne have 348 registered Holstein Friesian cattle under the Aron-Amy Stud.
Named for Craig's grandparents, the farm was originally a 1919 settlement farm of 19 hectares when his grandfather returned from World War I. Craig grew up on the farm after his father took over from his own parents, and in 1978, Craig started work on the family farm.
"Farming was something I always wanted to do," he says. "In 1981, I started as a 39% sharemilker of 96 cows for my parents. At that stage, the farm was 44 hectares, of which 12 were leased. I then went 50/50 sharemilking in 1983."
Craig met Raewyne through a mutual friend; she was the daughter of an Army Major who had travelled internationally with his family. They married in 1989.
Sheer hard work and consistency has been the foundation of the Passeys' success. The couple bought their first block in 1991 while they were sharemilking. Bit by bit, land was purchased until the farm reached its current size of 202 hectares (180 hectares effective). The Passeys ended up purchasing seven blocks in total from neighbours to create the farm.
Craig says when their three children were small, they had a 12-a-side herringbone dairy shed and 200 cows to milk, with no labour.
To add fuel to the fire, their three children are triplets: Tyler, Kaitlin, and Jenna.
"They arrived when we were just starting our business," Craig says. "Milking took a long time and I worked very long hours."
When they went on to milk 320 cows through a 16-a-side shed, they ended up splitting the herd into two mobs – two/three-year-olds and four years and older; the herd is still split today, although they built a new 44-bail rotary dairy in 2004.
"Having a split herd really suits the farm," Craig says. "The farm has been added onto so many times. Also, the two-year-olds do so much better on their own, without the competition."
In 1995, the Passeys employed their first staff member; today, they have three, including Tyler.
"We are very lucky to have Tyler working for us," Craig says. "He has been working on farm for 14 years and has a great knowledge of the farm, managing for us until Hayley came on-board."
Hayley Hoogendyk is the Passeys' farm manager. She has been with them for five years and is a valuable part of the farm team.
"Having Hayley is great. She's so good with the cows and has a great interest in the breeding side of things," Craig says. "We're very fortunate to have settled staff in Hayley and Conrad Schrieber, who has been with us for the past three years."
The herd, which sends 500kgMS/cow to the factory annually, is milked twice a day. Instead of moving to once-a-day milking before Christmas, milking times are adjusted – cows go through the shed at 5am and 11.30am, meaning they are in the paddock, not the shed, during the hottest parts of the day.
"We don't lose any production, and we're done by 2pm, which is great for both the cows and team wellbeing," Hayley says.
Craig says when trying to achieve his goal of maximising per-cow production, Holstein Friesian is an obvious choice.
"To get more milk production from fewer cows is a trademark of the Holstein Friesian breed," Craig says. "They have always been a preference of mine. The breed produces bigger cows, with good capacity and better milk production."
Craig says his father had a good herd when he purchased it.
"Our herd code is 744 – not many herds would still have a three-digit code these days!" he says. "When I started sharemilking, I did have crossbred cows in the herd, but I was never sure of how their daughters would turn out. With the Holstein Friesians we have today, we're reasonably sure that a good cow will produce a good replacement."
The herd calves on 1 August, and from 20 October, the farm undertakes six-and-a-half weeks of AI, followed by three-and-a-half weeks of tailing by bulls. The top 45 R2s are AI'd for three weeks.
Because the farm is a pasture-based system 2–3 (with 500 tonnes of PK fed annually, plus a little homegrown baleage, if required), the traits they breed for are strong udders, good capacity, and a positive rump angle.
The Aron-Amy herd is purebred Holstein Friesian except for the yearlings, which are mated to crossbreed bulls for ease of calving.
"When choosing genetics, BW and PW are still important to us but are not the be-all and end-all," Craig says. "I've tried to build the herd so if it was sold one day, it would be suitable for all levels of feed systems from one to five."
He says they are focused on achieving good protein and fat percentages in their milk. The temperament of the current herd is fantastic, and this is due to prior focus on breeding for it.
A former AI technician for LIC, Craig uses 70% nominated semen, which is a mix of genomic and proven sires and 30% premier sires.
The herd has a lot of Fairmont Mint-Edition daughters, and more recently, they have used San Ray FM Beamer-ET S2F.
"Beamer daughters are excellent production cows and often come out on top," Craig says.
The Passeys have a good work-life balance, enjoying going away to their lake house, spending time with their grandchildren, and following their racehorses.
"It's important to us that the on-farm team is also able to enjoy a good work-life balance, which the altered milking times after Christmas assists with," Craig says. "We will also continue to focus on improving the herd overall and would like to increase per cow production while maintaining the current feed system."
Farm facts
Owners: Craig and Raewyne Passey trading as CG & RM Passey Ltd
Location: Kairanga
Farm size: 180 hectares effective 
Cows: 500 cows (348 registered Holstein Friesian)
Production: 500kgMS/cow
Stud name: Aron-Amy
Find new and used farm machinery for sale in NZ 
Keep up to date in the industry by signing up to Farm Trader's free newsletter or liking us on Facebook