New innovations: John Deere See & Spray Select
---
NZ producers will soon be equipped to 'light up the night' with the addition of LED lighting to John Deere's See & Spray Select technology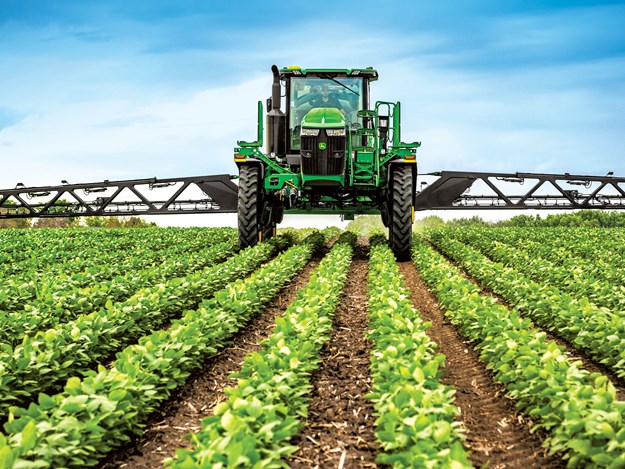 This will be available on MY23 400 and 600 Series Sprayers, allowing fully targeted spot spraying functionality in tight operating windows.
Launched in March 2021, See & Spray Select is John Deere's integrated camera technology developed to deliver sizeable gains in efficiency and productivity by detecting green plants in fallow ground and triggering a spot treatment application to these plants only.
In doing so, the technology markedly reduces input costs and grows sustainability by delivering a similar hit rate to traditional broadcast spraying while using an average 77% less herbicide.
New Zealand John Deere production systems manager, Ben Kelly, says John Deere had listened to the needs of farmers and invested in this next iteration of spraying innovation to allow effective spot treatments both day and night.
"We understand the summer fallow spraying window is limited by the heat during the day in local conditions, so it was essential we offered night-time spot spraying for our farmers to complete spraying as efficiently, safely, and sustainably as possible," he says.
"Local farmers have reported up to 90% chemical savings by using See & Spray Select, so providing the technology for farmers to be able to achieve targeted spraying during the night hours will bring enormous benefits to their bottom line, while helping them to tackle critical issues like herbicide resistance.
"Additionally, our research has shown that weeds sprayed with complex tank mixes with more than two modes are 83 times less likely to develop resistance."
Driving efficiencies further, farmers using John Deere 400 and 600 Series Sprayers can switch between targeted spot spraying and a highly productive broadcast mode without leaving the cab.
Alternatively, operators can use both spot spray and broadcast at the same time to apply different application rates for more effective spraying. As part of the update, See & Spray Select is also now available on all boom sizes.
John Deere 400 and 600 Series Sprayers are also equipped with JDLinkTM, at no ongoing cost, giving operators access to John Deere's Operations CenterTM to easily monitor what's happening in the field, while collecting data to inform decision-making.
"The 400 and 600 Series Sprayers with See & Spray Select are among John Deere's most advanced pieces of machinery," says Ben.
"See & Spray Select technology ensures not a drop of herbicide goes to waste, while supporting John Deere digital infrastructure provides valuable insights and easy
record-keeping to help farmers with future decision-making and recording input usage."
The MY23 400 and 600 Series Sprayers are available to order now for delivery in
early 2023.
Find new and used farm machinery for sale in NZ 
Keep up to date in the industry by signing up to Farm Trader's free newsletter or liking us on Facebook