RCNZ profile: Julie Clarke
---
For Julie Clarke, moving from a banking job to rural contracting seemed like a natural progression, and today, she's the part of the Rural Contractors NZ Board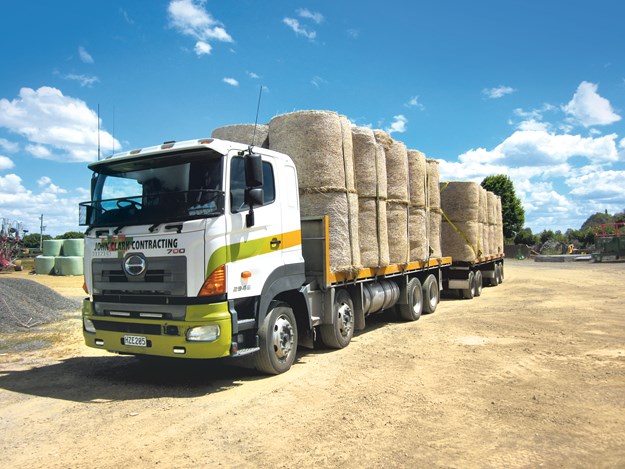 Julie Clark grew up on a sheep and beef farm near Otorohanga in the King Country, and while she hasn't moved far geographically, she's come a long way. In June, Julie joined the board of Rural Contractors NZ Board after being active in RCNZ's Zone 1 (Taupo north) for 15 years, the last half as chair. She's drawing on 25 plus years of experience running with her husband John, John Clark Contracting, which employs seven permanent staff and twice that in the season.
Julie worked in a bank after leaving school where she met John, a townie, who's father was in banking.
They went sharemilking near Te Awamutu and combined dairy farming with contracting over an eight-year period, but eventually, the contracting won out.
From a two-tractor start in the 1990s, the Clarks now run 14 Fendt and a range of other machinery for baling, maize, grass harvesting, and land development. Dairy and dry stock farmers across King Country/Waikato make up most of their client base.
"John and I work as a pretty good team," she says.
Julie manages the office and brings good organisational skills that were on display at last year's RCNZ conference in Rotorua, which she helped bring together.
"I had a very good committee," she says, adding that while she enjoys a challenge, the amount of Government red tape is becoming a nightmare.
Transport regulations, environmental compliance, and labour requirements are all becoming more complex.
"The hours I have to spend in the office keep increasing."
Despite her experience over nearly three decades in the industry, she finds daunting, at times, the demands on the mid-size contracting business. "It's hard to know if you're doing things right," she says.
Adding to those pressures has been a tough season and mounting costs.
"Our season was a grind," she says. "Dry conditions continued through autumn when King Country/Waikato should have been in flush."
Last year, the company had 4000 bales of sileage in stock in early June, much of it from land they lease. There were no bales available this winter, with everything presold.
Costs for fuel, fertiliser, and labour had already risen significantly and though the company, like many in rural contracting, had already lifted prices, there was more to come.
"The forthcoming season could be quite nasty cost-wise. Let's just hope the dairy price holds up."
John Clark Contracting used to bring in up to six Welsh and English staff to help drive machinery but only got one this past season. It recruited some former staff and hired three young Kiwis all of whom are focused on training. One is already doing his diesel apprenticeship and a school leaver wants to follow him, while another is doing Level 3 qualifications.
Julie says the company has been largely fortunate with its hiring.
"Our size is just about right," she says.
John is still driving a tractor and son Matthew is also part of the team, though daughter Kristy has followed her mother's early career and gone into banking.
For Julie, moving from a bank counter to rural contracting seemed like a natural progression. She enjoys stretching her wings and being part of a solution.
Julie is joined on the RCNZ Board by fellow new member Ben Clarke from Waitohi Agricultural Contracting, who's based in Hawarden and represents members from Canterbury north.
The pair replace Ross Alexander from Kerikeri and John Ranford from Culverden who both stood down after serving some years on the RCNZ Board.
Find new and used farm machinery for sale in NZ 
Keep up to date in the industry by signing up to Farm Trader's free newsletter or liking us on Facebook