Fencing feature: Styx Solutions
---
Styx Solutions is a forward-thinking fencing business dedicated to solving everyday fencing issues using a combination of cutting-edge technology and a practical mindset
The business originally set out to improve upon the wooden fence batten. Millions of these can be seen around the New Zealand landscape, and with a desire to improve on that early mode, founder Darryn Ross worked to find a durable alternative product, utilising his experience in the plastic industry.
Styx Solutions Easy Batten was the result and offers a long-life alternative to a wooden batten, plus, eliminates the need for staples and tools for installation.
Designed to suit wire spacings from three through to nine, the battens are made in Christchurch from a high-quality UV-resistant plastic material that won't rot, splinter, or leach like some treated timber products do. It's also fully recyclable at the end of its life, and current design research is investigating making the battens from as high a percentage of recycled material as possible, taking the evolution full circle.
"There are thousands of hectares of farmland out there with sagging fences and damaged wooden battens," says Darryn. "We've worked to create a product that's quick and easy to install and can result in dramatic improvement without having to completely tear down fences and start again.
"It's a durable fencing solution for the 21st Century – ideal for new fences and a quick way to replace old and damaged battens."
Darryn says that the battens have proved to be a cost-effective alternative to traditional wooden fencing products, removing the need for time-consuming and labour-intensive installation. Installing the Styx Easy batten is a one-person operation.
No staples are required, and it's simply a matter of inserting the batten down through the wires, and then with a push and click, the battens are installed. Time required – seconds, not minutes.
The Easy Battens are designed for the commonly used 2.50mm wire, and the patented wire location slot and clip stop the battens from sliding or moving along the fence.
"They're also designed to flex and bend in order to absorb animal impact,"says Darryn.
Styx Solutions
Although the battens were at the heart of the original business set-up, and remain so today, innovative thinking has seen the range expand to include electric fence outriggers, gate handles and other accessories, and a New Zealand-made range of electric fence polywire, tape, and braids (all UV stabilised).
"If I had to sum up the business, I'd say we're an innovation company, specialising in the design and manufacture of solutions-based products," says Darryn.
"We're also driven to provide value for money products, solving real-world problems."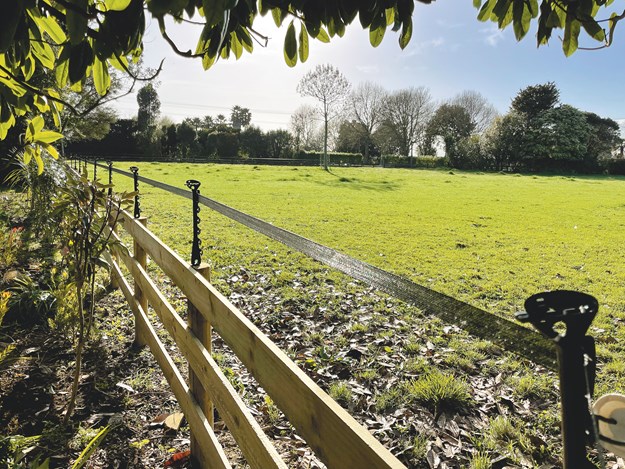 The company also recently launched the Batten SE in collaboration with Shear Edge – the same fence batten with 10% (by volume) of wool fibre added to the batten to reduce polymer content and to use low value wool, such as bellies and dags.
Darryn says the highly engineered matrix of wool fibres embedded in the Batten SE provides adds strength and durability. The wool fibre matrix also improves the sustainability profile of the Batten SE, replacing virgin plastic with natural, renewable, strong wool fibres.
Future focus
With a swag of future developments in play, including sensory IoT devices, data and comms for remote areas, pest control, and modular fencing systems for stock management, there's no shortage of inspiration within the walls of Styx Solutions.
"We want to create a user-friendly modular system that uses not only existing fencing infrastructure but also sets the standard for future fencing designs that enables and incorporates new technology as it unfolds," says Darryn.
The business continues to develop new products, mainly manufactured in New Zealand, along with a small range of products that are imported and made to the Styx Solutions specifications after customers came looking for some additional accessories.
The company's impressive array of innovations also includes the Styx base plate mounting system. Designed as an electric fence insulator capable of taking wire from 2.5 to 8mm, the base plate is designed for the easy attachment of electric fence outriggers if required later, and ultimately other devices currently in development.
"The fence batten is the base foundation for more products to come to market. I'm also proud that we do not supply a product that will take barbed wire. As a business, we're against the use of barbed wire. It's not great for animals or people using the product, and it's expensive," says Darryn.
Find new and used farm machinery for sale in NZ 
Keep up to date in the industry by signing up to Farm Trader's free newsletter or liking us on Facebook