Hay & Silage: BKT Tires
---
The BKT Tires range is equipped to deal with harvest conditions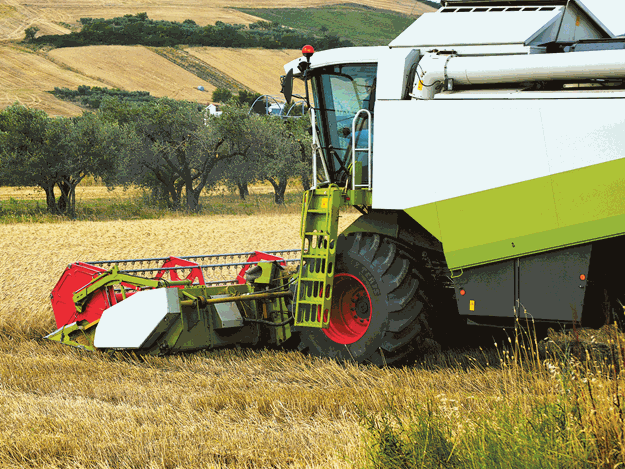 Hybrid crops, excessively short cutting, and bad soil maintenance can cause punctures and tears in tyres. For this problem, BKT suggests tyres with specific compounds from its ranges dedicated to harvesting and ploughing.
A tyre can suffer punctures and tears in crossing a field after the harvest, where the toughest stalks, the so-called stubble, can represent a real problem.
There are numerous causes but only one solution: to use compounds and structural solutions to make the tyre more resistant because the stage immediately after the harvest, as well as dry-ploughing, are the conditions with the highest risk of puncture.
Producers of seeds, such as corn and rapeseed, have developed genetically modified crops, which stay stable and have high wind resistance, can withstand significant temperature variations, and resist disease and parasitic infections. But the counterpart to a robust crop is equally robust, extremely rigid stubble, which operators have to fit out their machines with special equipment in order to cut, with highly resistant,
high-performance tyres.
Stubble damages tyres in the sidewall and tread and also in the grooves. In passing over stubble, friction causes the detachment of large pieces of rubber, something which cannot always be repaired.
Of course, there are techniques to reduce or prevent the problem: cutting stubble higher at the moment of the harvest, for example, thus allowing the tyre to pass over the stubble in a point, which does not penetrate or using stubble deviation devices, such as stompers, which help push aside the residue before passing over it.
For the tyres themselves, there are also solutions and BKT has tried and introduced various ways to minimise the damage.
The most effective interventions regard specific, highly-resistant compounds, and structural changes in the body of the tyre.
An excellent solution is to use belts in aramid, a fibre that's five times more resistant than steel and characterised by high traction resistance. These belts also enable greater uniformity in the product on the ground, and at the same time guarantee better puncture resistance.
Given its sensitivity to this particular issue, for some years, BKT has been working on its bias and radial tyres, offering innovative aramid-belted versions, i.e. with belts in aramid for more resistance to punctures and special versions where the compound guarantees extraordinary resistance against cutting.
Against stubble, punctures, and cuts, BKT deploys the Agrimax Teris, a radial tyre that has a different compound from that designed for tractors – tougher and more resistant for cropping and harvesting machines, in particular for combine harvesters.
Special protection for the sidewall and the reinforced shoulder increases the resistance and, consequently, also the life-cycle of this product. There's no lack of traction or stability, and with a high load capacity, Agrimax Teris guarantee excellent performance.
Numerous sizes are available, and some are equipped with IF technology.
When it comes time to plough, machinery is usually fitted with flotation tyres, for better distribution and weight support. In this case, BKT suggests its Flotation 558 and Flotation 648 bias tyres, which already have Aramid Belted HD compound as standard to avoid punctures and are particularly suitable in case of tough stubble.
Flotation 558 is a cross-ply tyre for combine harvesters and round balers, both on and off the road.
Flotation 648 is particularly suitable for transport in the field, as well as spreading applications.
Both have a high traction capacity. The design of the tread allows the transport of heavy loads at low pressure, consequently guaranteeing reduced soil compaction and at the same time protecting crops from damage. Specifically, the rounded profile, which is a feature of these tyres and typical of bias products, is an excellent ally to deploy in the field.
BKT's radial tyres for agricultural equipment and trailers incorporate different technologies to provide resistance to stubble. Among these are the AW 711 specifically designed for soil tillage applications, with a special tread compound, which ensures its long life cycle when used on both soft and hard surfaces.
The RIB 713 is a tyre whose steel belted structure guarantees extraordinary resistance to puncturing, and the SR 713 is an all-steel radial tyre with VF technology, characterised by a large tyre footprint for reduced soil compaction. Completing the line-up is the I-1, designed with a compound that's resistant to stubble to increase its duration and overall performance in the field.
Find new and used farm machinery for sale in NZ 
Keep up to date in the industry by signing up to Farm Trader's free newsletter or liking us on Facebook