Profile: Wholly Cow
---
Wholly Cow, an artisan butchery in Cambridge, is leading the way when it comes to sustainability and the paddock to platter mindset
Owned and operated by Tom and Carrie Andrews, Wholly Cow produces all of their own meat on their 186-hectare park-like farm on the outskirts of Cambridge. Operating a whole resilient system, the family grows their own Angus beef and lamb and processes it in their on-farm micro abattoir, having responsibility and management of their entire system from raising beef and lamb to the processing component.  
"It's not the cow, it's the how," Carrie says. "Our whole ethos is to help produce high-quality meat and sell at a fair price, protect the environment, and support the community. We have an equal animal/human approach where our meat is produced ethically and sustainably."
With a store on the main street of Cambridge, the final piece in the puzzle, Wholly Cow is one of the few community butcher stores left in the Waikato. Tom and Carrie's son Reuben came up with the name Wholly Cow when he was 10.
"Now, 14 years later, it seems even more fitting because Wholly Cow was always around the idea of using everything from tongue to tail, and now we're looking at the whole cycle from the farm to the plate and bringing it back to the farm to regenerate again."
Staying local
Keeping things small and local is a huge part of being sustainable for Tom and Carrie. They don't farm intensively, so the animals live relaxed lives, not having to compete for feed, and it's better for the land too.
"By limiting the hands that you have to do it all, you have to wear many hats, and we do a lot ourselves," she says. "To keep our prices fair to customers, we have to keep it small. The ethos is small because that way we're cutting down on food miles and keeping it sustainable."
For one thing, it doesn't make sense to ship their meat around the country when there's enough business in Cambridge to support their business.
"Keeping it all manageable so we can remain a family business, down to working the farm and in the store, means there's no barrier or divide. People know us – we front up to our customers, and we're confident we're doing a good job. There's a direct connection between the customer and us. We stand by our product, and it also means that if ever something isn't right, there are no excuses – we fix it," she says.
"Often where businesses go wrong is when they try and grow too big, but we value balance. You work so much in your life that you want to make it the best you can. The possibilities of what we can do are endless, but it's about keeping the balance," she reflects. "We shut down over Christmas for a few weeks. We're doing what suits us; I'm not saying this is what everyone should do, but this is working well for us. Ultimately, we're all about providing good meat to the community, not just those who can afford good food, but everyone."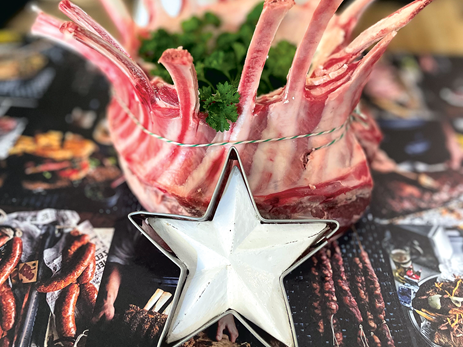 Every Tuesday, Carrie cooks lunch for the workers in the abattoir. "We care about everyone who's involved. It isn't just about a paycheck. People are so important, so having that fellowship and human connection is essential," she says.
"Our staff are mostly young, and they are legends – full credit to their skills and work ethos, their banter, it's a good time for them. They all work really hard, take it seriously, are there every day, and never muck around."
Keeping traditional skills going and honing their craft motivated Luke and
his apprentice Dallas to enter the butcher awards. Wholly Cow was a food finalist at the Sustainable Food Awards and this year they were a finalist in the Circle Awards in New Zealand and Australia.
"You just have to keep grafting away, adapting all the time and learning as much as you can," Carrie says.
The butcher shop is now run by their 22-year-old son Luke.
"When Luke was 10, he went out with our neighbours on their home kill truck, and he developed a keen interest in the trade," Carrie reflects.
"He left school, got his apprenticeship, and was fully qualified by the time he was 17. The beauty of having your own family business is that he has been fully exposed to much more, so he has a diverse skill set."
Luke not only manages day-to-day running at the butchery part-time along with farm duties but also runs deliveries to customers, and he has a hands-on approach to the entire business. Carrie works behind the counter at Wholly Cow, while Tom does most of the work on the farm.
Previously before opening their butchery, the Andrews would send their livestock to the works, which would mean hours on the truck. They wanted to find a better solution for all and built their own on-farm micro abattoir, which they process from once a week.
"It took about two years of paperwork and everything to get it set up, but now it's great. It's better for the animals. They go in individually to be processed, and it all happens quickly. Everything is cleaned up before the next one, so they don't even know what's happening," Carrie explains.
"It's important to us that the animals are treated with respect in life and death.
They not only process their own animals on the farm but also take some outside animals. They always arrive a day or two before processing, so they are relaxed and happy beforehand."
Like many, the family had to adapt quickly during COVID, which led them to develop their own app where customers can choose any cuts of meat they want and then it will be delivered on Monday, Wednesday, and Friday throughout Cambridge and Hamilton.
Circular farming
Nothing is wasted of the animal at Wholly Cow; all the waste from the abattoir is hot composted and fed to worms, and everything else from the animal goes to the shop. Carrie came up with a unique solution using the tallow from the beef to make eco-friendly packaging using fallow to coat paper bags instead of using the usual plastic.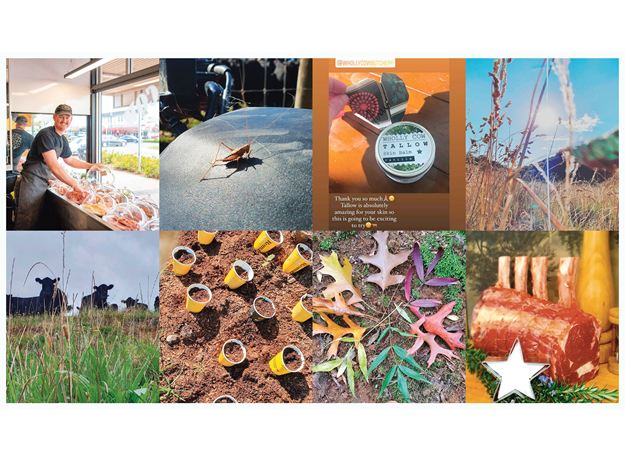 "It's a simple idea, but it replaces about 800 plastic bags a week; an easy solution but a huge win for sustainability," she explains. Shifting the mindset to viewing waste as a resource is something they value, and they are always trying to find creative ways to utilise everything. This thinking led Carrie and Tom to explore options to make fertiliser and compost to put back on the farm. Tom sources manure from the nearby racing stables, trucks it back up to the farm, and pour the leftovers from the plant into it. Then they let it sit for a while, turning it occasionally, and after about a year, it's composted down and ready to put on the farm.
"Everything is a big cycle. The makings of the compost come from the farm,
and then it gets put back onto the farm," she says. Carrie also became interested in developing her own worm farm to process the paunch (undigested grass) from the beef and waste such as meat trays, cardboard, and paper towels from the store. She also picks up waste from local coffee shops for the worm farm.
"The cafés have to pay someone to take all that stuff away, and they weren't always reliable picking it up, so now I take it away for them and put it on the worm farm. It helps them, and it's better for the environment, so it's a win either way," she says.
The worms turn it into garden compost, which is then put back onto the farm. It's a lot of work, but the rewards are huge.
"Our grass growth from the compost and the activity and life in the soil is outstanding. I grew broccoli that grew to 1.8kg," she says.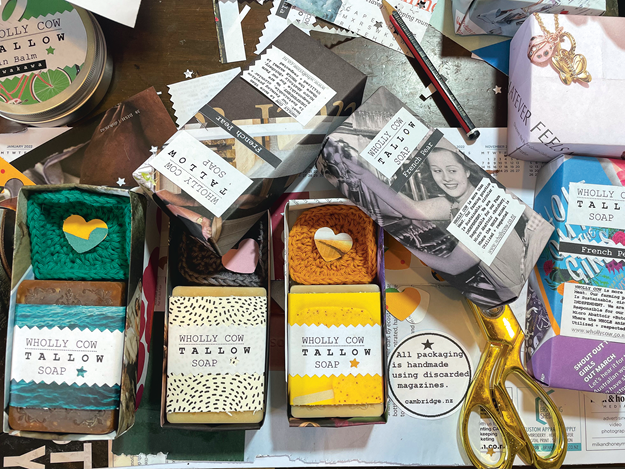 Carrie also makes natural beauty balms from the tallow.
"I use simple ingredients in the balms – tallow, olive oil, and hemp oil so they are completely natural, and a lot of customers are finding good results from using them. It's another way to use the whole animal without waste," she says.
All the packaging is created using discarded magazines.
"The biggest therapy for me is being in the outdoors and nature. That's a big part of it all; we all belong to the Earth. We all need to take responsibility," she says.
"We farm because we love it. If you don't believe in what you do, it's a lot of work, but for us, we believe in it.
"Our vision of success is probably so different to other people, but that doesn't matter. It's important to do work you value and believe in."
Find new and used farm machinery for sale in NZ  
Keep up to date in the industry by signing up to Farm Trader's free newsletter or liking us on Facebook