Farm profile: Lake Hawea Station
---
Lake Hawea Station is an inspiring example of smart thinking, initiative, and business bravery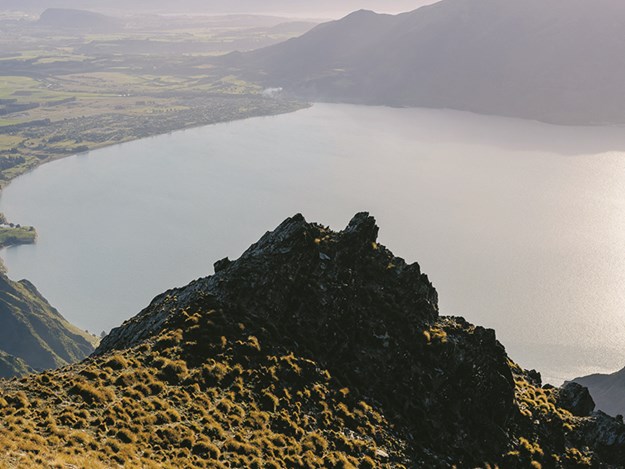 Lake Hawea Station is a carefully managed slice of New Zealand, which has received recognition on the world stage. This impressive property also leads the way with innovative thinking around climate and biodiversity solutions and conservation, alongside initiatives for accommodation, and a film and wedding location, and delivering hiking, biking, and hunting opportunities.
With such a diverse array of focus points, the team and creative minds behind Lake Hawea Station are all the more impressive for the dedication across all aspects of the business given to the global challenge of climate change.
The effort required for a business to become carbon neutral is significant.
So, for a farm business to not only become carbon neutral but two times carbon positive in only five years, sequestering more carbon than it emits, one might rightly believe there are a few movers and shakers behind the scenes.
And, at Lake Hawea Station, indeed there is.
Geoff, Justine, Finn, and Gabe Ross live the values of the station – environment, people, and innovation – having recognised the critical need to not only talk the talk but to walk the walk.
And they are just beginning. Their goal is to become 10 times climate positive in 10 years, which, when you look at what they have achieved already, is not as impossible as it sounds.
Lake Hawea Station
Five years ago, Geoff and Justine bought the 6505-hectare sheep and beef property, situated in the Queenstown Lakes District with views of Lake Hawea to the west.
They had both grown up on farms but diverted into different industries: Geoff studied a Bachelor of Commerce at Lincoln University and became a 'serial entrepreneur', founding vodka company 42 Below and becoming director and chairman of The Trilogy Group and Moa Group, and Justine is a trained Speech Language Therapist and later, journalism graduate and published author.
However, the couple always dreamed of returning to farming when the time
was right.
Today, Lake Hawea Station runs a flock of 8000 purebred Merino sheep; of that, 4500 are breeding ewes. They also have a herd of 200 purebred Angus cows.
The business focuses on high-value lamb and fine wool from their sheep and high intramuscular far bloodlines from the cattle.
Finn Ross – a University of Canterbury graduate in Ecology and now a blue carbon PhD candidate at Deakin University – says it became apparent early on that there would be a strong environmental focus to the business.
"Collectively, as a family, we feel strongly about climate change," he says. "Mum and Dad have always been passionate about the environment but when I was at the university, I was bringing a lot of information home, telling them about this global existential crisis happening all around us and how we had to do something about it."
This catalyst sent the family further down the road of protecting and enhancing the property's waterways, conserving and restoring biodiversity, and introducing regenerative farming practices.
The first step they took back in 2018 was to fence a mature Kowhai grove, allowing the trees to recover from years of stock browsing. They then planted 20,000 trees along a 35-metre strip along the lake, creating a new native forest, and fenced off the station's seven kilometres of Lake Hawea lakefront to prevent stock from reaching the water.
They then looked at critically endangered species and how they could support these populations to flourish – in particular, the nationally critically endangered Western Grand Skink. The big focus of the station team is to build a thriving population of skinks, based on the handful they have found on the property.
And as part of their regenerative farming approach, the Merino sheep were liberated as browsers to get the right mix of modern legumes such as lucerne and clover and native grasses and cattle numbers were halved.
This comprehensive development programme has led toward one overarching business goal, on which a brand is being established – to sequester more carbon than the farm emits.
Carbon sequestration
As time went on, Finn says it became clear that the real gains lay in carbon sequestration.
"We found that carbon was the biggest issue," he says. "We have a reasonably large flock of sheep that are responsible for a moderate burden on our planet – 2500 tonnes of emissions – so the first step we took was to create a carbon budget."
LHS had its carbon position audited by Toitū Envirocare, a carbon certification business, revealing 2516.1 tonnes of CO2 equivalent emissions and 4958 tonnes of sequestration for July 2019–July 2020.
LHS has also privately calculated a budget within five percent of these figures for 2019 and 2021.
"This makes LHS climate positive, although, we received a carbon-zero certification from Toitū as they were not able to provide a farm-level climate positive rating," Finn says. "We are the first carbon zero certified farm in New Zealand."
The results of their certification for 2021 and 2022 are underway.
To ensure they stay on top of their figures, Lake Hawea Station has a science-heavy approach to measuring their carbon sequestration. It measures all its emissions, including transportation hours of people and stock, and has re-mapped all of its new and existing vegetation to confirm they are going in the right direction. They are using the emerging sciences of remote sensing and AI to measure the volume of carbon sequestered from their native forest.
In the future, they hope to measure regenerative soil, pastures, and tussock land. They are also looking at grass types and seaweed that will reduce stock methane emissions; Finn's PhD is researching seaweed as a natural climate solution.
"To sequester more carbon from this world than we emit into it is the single biggest koha we can make to the world," Finn says.
"We will now work to become 10 times climate positive."
In addition to the fencing, planting, biodiversity, and regenerative work they have already undertaken, the team has also introduced a range of renewable energy sources from solar and hydro, and when possible, will eliminate fossil fuel-powered vehicles over the whole property to help further reduce emissions and increase sequestration.
CarbonZ
Finn, who currently leads Future Farmers NZ and the Both Sides Now podcast, also founded CarbonZ, an exchange that allows individuals and entities to buy and sell traceable native carbon credits.
"CarbonZ happened after I watched the Emissions Trading Scheme (ETS) pine plantation situation, where productive farming land was being planted in pine trees," he says. "There's no reward for farmers to restore native forests… but a lot of incentives to plant pines."
Finn says accessing carbon credits is a process that can easily get complicated. With the average farmer already having a lot on their plate, Finn's goal was to help farmers with their carbon sequestration goals and see if they can access carbon markets and increase revenue outside of the Emissions Trading Scheme.
"Farmers are already under debt and financial pressures so anything that can help is good," Finn says. "The key premise of CarbonZ was to get value to farmers."
Allbirds partnership
Lake Hawea Station's carbon-zero reputation has led to some exciting opportunities, including partnering with Allbirds to create the world's first net-zero carbon shoe.
With an industry average of 14kg Co2e, the net zero shoe, Mo.onshot, will be launched in 2023.
In Allbirds' search for regenerative wool with which to make the shoe, they found Lake Hawea Station via the New Zealand Merino Company's regenerative wool programme ZQRX.
After verifying Lake Hawea Station's farm-level carbon footprint with Toitū Envirocare, Allbirds collaborated with The New Zealand Merino Company to translate the farm footprint into a product-level wool material carbon intensity for Mo.onshot.
"We jumped on this project as soon as we were certified carbon-zero by Toitū," Finn says. "What's even better is that the wool Allbirds is buying from us is already two times carbon positive, so the sequestration on farm covers all the emissions over the whole supply chain.
"Hopefully, more international brands can support farmers and the supply chain this way. It's fantastic to work with a brand at the other end of the supply chain who shares our regenerative philosophy and values around climate action."
More eggs in the basket
Lake Hawea Station is determined to excel in many ways. Alongside the two-times carbon-positive working farm is a growing tourism business offering accommodation, events, and tours.
The Station's luxury accommodation experience is such that it recently received a rare honour: it was named in the Condé Nast Traveler: Gold List 2023 for the Best Hotels and Resorts in the World, with reviewer Erin Florio calling it: "one of the most impressive, can't-believe-this-place-could-possibly-exist retreats you'll ever be lucky enough to stay in."
Finn says they have followed the Gold List for a number of years and have strived to be one of the lucky few to hold the honour.
"We are beyond proud to be on the 2023 Condé Nast Traveler Gold List," he says. "We have consciously crafted our accommodation experience and could not be happier to be globally recognised for the experience we're offering."
From the three-bedroom, two-bathroom Lake House to Little L, a modern tiny home with a mini library and firepit, there are a number of options for people wanting to relax, rejuvenate, and get back to natural surroundings with all the modern conveniences you could wish for. Lake Hawea Station also offers educational backcountry experiences and eco-tours by their guide Richie Laming.
Not finished yet
It's easy to forget that the Ross' have only owned Lake Hawea Station for five years. Their 10-year plan includes more conservation and restoration work: more planting to meet their goal of 100,000 trees planted and further reduction of emissions to help them meet their carbon sequestration goals, improve water quality, and support biodiversity to become 10 times carbon positive.
"Not only is this practice good for the environment, but our bottom line as well," Finn says. "We get a premium for our products, and the regenerative farming practices such as no tillage and no fertiliser are massive cost savers.
"We aspire to produce more from less and believe productivity and profitability can work hand in hand with biodiversity and environmental improvement, alongside a business model that's also sustainable and profitable.
"We're trying everything we can to ensure farming is part of the climate and biodiversity crisis solution rather than an ongoing contributor to the extinction of species and the planet's demise."  
Find new and used farm machinery for sale in NZ
Keep up to date in the industry by signing up to Farm Trader's free newsletter or liking us on Facebook