Effluent feature: Teagle Titan 12
---
Designed for strength and longevity, Teagle Titan spreaders have made quite the impression since arriving in New Zealand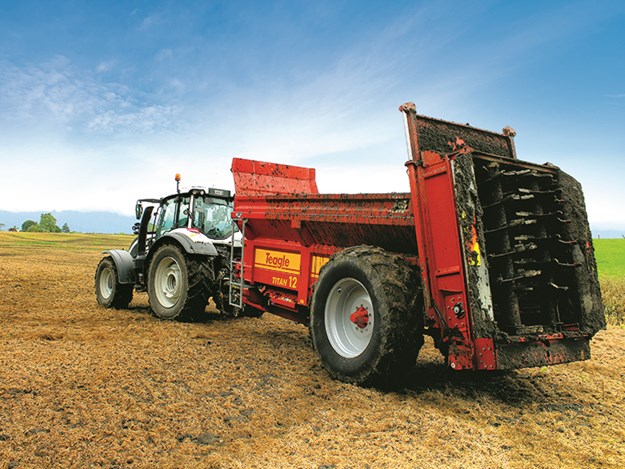 Imported and distributed by Power & Earth, and manufactured in the UK, the Teagle range of muck spreaders is well proportioned, with the range available here spanning from 9 to 15 cubic metres. 
In true Teagle form, these versatile spreaders are well-thought-out from top to toe. The range is renowned for being robust and easy to use.
Farm Trader spent some time working with a Teagle Titan 12, offering a capacity of 12 to 14 cubic meters of product (loaded). Despite its ability to spread a wide range of materials, there's nothing overly complicated about operating this unit.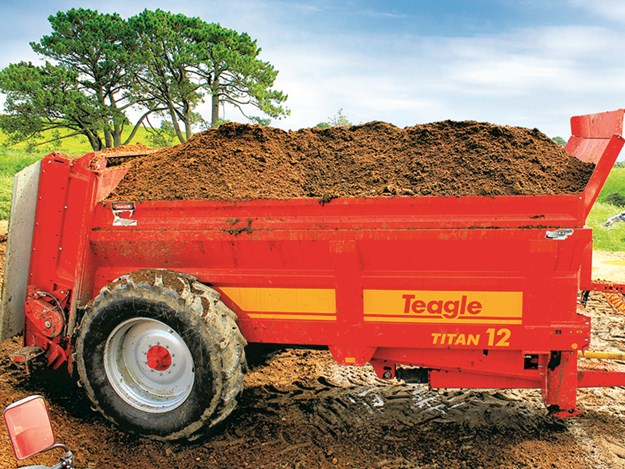 Simply head to the paddock and start the PTO (1000rpm speed for larger model Titans like the 12 and 15), then open the door to the desired height to give the application required. Different products have different spread widths due to particle size.
The wide-angle PTO allows for comfortable turning at headlands without having to turn off the spreading beaters.
The twin vertical beaters have a large overlap to produce a fine spread. The tip speed of the spreaders and door height and floor speed (if fitted) allow you to apply at the desired rate. For future-proofing your machine, you can add scales, etc. and spread accurate rates per hectare, with tractor mapping providing proof of placement.
The large leaf spring system used in the drawbar helps decrease the load and shock on the tractor, while large 580/70R 38 tyres (standard) give minimal rolling resistance, so can be operated with tractors from 140hp up depending on the spreading conditions (flat/rolling, etc).
When it comes to loading, the almost five-metre internal bin length on the Titan 12 proved a good size for loading with a 2.4-metre bucket. This allowed you to get two bucket widths in, so an even load, without getting a heap in the middle, like a shorter machine would. At just under eight metres overall length and with an overall width of 2.9 metres, there was also no problem getting through gateways, plus, the dimensions are good for stability and within road rules in terms of width.
The simple but effective auto cover for the road lights operates off the back spreading door as it opens, so these are covered while spreading, and become visible again when the door is closed. This is a particularly useful feature when road work is involved.
Designed for strength and longevity, Teagle Titan spreaders should give years of trouble-free operation. Twin floor chains with a combined breaking load of 83 tonnes should be adequate for most challenges.
Large full-width floor slats help clean out the load. With only two chains and two adjusters at the front of the machine, these are easily accessible should they need adjusting. The drive sprockets are a one-piece welded design, the ultimate in strength. Although Teagle has years
of experience designing muck spreaders, they still use the latest in CAD design software to continually improve and refine these machines. At construction phase, a special rollover welding jig is used, where more than 30 hours of welding takes place on the 5mm steel floor and 4mm steel sides.
The Teagle Titan 12 we tested is still looking good, even after almost three years as a hire machine, thanks to the shot blasting it receives before being oven-baked with two-pack paint system.
At the business end, the augers and flight tips are made of boron steel. Boron steel has 6.5 times greater wear resistance than mild steel and twice the flexural strength of mild steel for greater service life of components. The flight tips on the auger are reversible to get full use out of each one.
The spreading disc is a flail set-up, so if it does happen to strike an object from within a load, it folds back, doing less damage to itself or the gearboxes.
Teagle has been producing farm machinery since 1943. With its first trailer spreader produced in 1963, the brand certainly has plenty of experience in the business.
From basic side discharge spreaders to the current machines available today, Teagle has built a solid reputation for muck spreading equipment. Power & Earth is the New Zealand importer and distributor for Teagle, and as well as muck spreaders, have straw bale processors and mounted three-point linkage fertiliser spreaders available.
Find new and used farm machinery for sale in NZ
Keep up to date in the industry by signing up to Farm Trader's free newsletter or liking us on Facebook