WithWild rural profile
---
WithWild is ticking boxes in the conservation, sustainability, and culinary spaces, acknowledging that the introduced wapiti found in the Fiordland National Park is a valuable food source
Supported by conservation enthusiasts, alongside award-winning chefs, business owners, and those with a shared interest in sustainability and better utilising wild products, WithWild was founded in 2020.
The organisation came about after the Fiordland Wapiti Foundation (FWF) contacted WithWild co-founder Scott Mcneil with an interesting proposition.
"FWF wanted to know if I had the capacity to distribute the wapiti meat that was being left behind as a result of the selective control programme they run in the Fiordland National Park, through my company Awatoru Wildfood," Scott says.
With a background in supplying many top New Zealand restaurants, Scott's strong efforts around ethical and sustainable products were an integral part of his Awatoru Wildfood business.
About wapiti
Wapiti, or North American Elk, were introduced to New Zealand from their native North America in 1905 when 18 of the animals were released at the head of the George Sound.
In 1993, a group of hunters formed the FWF to reduce the impacts the animals were having in what has become known as 'the Wapiti Zone', an area of 175,000 hectares within the two million hectare Fiordland National Park, a World Heritage area, and to manage the herd for recreational benefits.
A major aim of the foundation is to control the deer population in the sensitive alpine environment to protect browse-sensitive indigenous species.
As part of a community agreement between the Department of Conservation (DOC) and FWF, each year, a selective control programme is undertaken to maintain the deer population below established ecological threshold levels. The estimated deer population in that area is 4500, with the selective control programme removing 1000 hybrid wapiti animals annually.
Scott says when he got the call, during the first COVID lockdown, he was hesitant.
"There was a lot of uncertainty at that time, and I thought it might be too big a project for myself," he says. "So, I contacted chef Dariush Lolaiy, who introduced me to Nick Loosley from Everybody Eats, a charity that turns good surplus food into restaurant quality meals, as we initially thought it might be a charity situation.
"But once we got on the Zoom calls, we could see there was a much broader picture, and it evolved into us thinking we had the opportunity to utilise this product. It was an area that we were all interested in, and we all had specialities within the programme."
Collaborative conservation
WithWild was born, with the intention of honouring the free-roaming wapiti animals by acknowledging them as a valuable food resource.
By harnessing an array of knowledge, expertise and shared attitude towards better utilising wild meat, WithWild was co-founded by Scott, Dariush Lolaiy) a multi-award winning chef, cookbook author, hunter, and restauranteur), Tom Hishon (award-winning chef, food innovator, and restauranteur), Nick Loosely (founder of award-winning charity Everybody Eats, and owner of restaurants using premium and wild products), and Donald Shepherd (co-founder of Citizen dedicated to rescuing and upcycling edible food waste).
Scott says the founders of WithWild were all equally drawn to the project.
"It's such a direct, short-chain conservation effort," Scott says. "It appeals to anyone who's interested in conservation. While managing and utilising these wapiti is not the be-all and end-all of conservation efforts, it is a great tool and a great part of conservation that we want to expand on.
"We are not here to eradicate the wapiti population; rather, it's about population management as part of conservation efforts to protect our native flora, fauna, and ecosystems."
"The philosophy of WithWild is heavily based around utilisation. Currently, people don't see the full value of the animals that need population control in the wild. It makes sense to make use of these."
With the programme established, WithWild takes the majority of the wapiti meat from the selective control programme and distributes it to a variety of hospitality outlets, from cafés to fine dining establishments, via Awatoru Wildfoods.
The WithWild founders could see immediately that there was something special about the wapiti animal and the quality of the protein.
"Through our businesses, we work with the very best protein in New Zealand. It was evident that Wapiti has potential way beyond being one of the most sustainable meat in the world."
Based on the Kapiti Coast, Awatoru – owned by Scott and Maaike McNeil – sources and supplies the hospitality and restaurant trade with wild, seasonal proteins, including wapiti, red deer, fish (that Scott catches himself), truffles, and honey from all over New Zealand.
In 2022, a partnership with Burger Fuel was formed, launching a limited-time-only Wild Heart Wapiti burger.
Through this collaboration, a total of $30,000 ($1 per burger) was raised for the FWF to enhance its predator control work in the Nitz Valley. Fifty DC200 traps were funded and installed to help protect the native bird population, including kiwi, kea, whio, weka, and kaka.  
With Wild Heart Wapiti burgers back on the menu for a limited time in 2023, "it looks as though this will be an ongoing relationship," Scott says.
WithWild Wapiti has also been featured in My Food Bag, Farro Fresh New Zealand, and in best-selling Wapiti pies made by both Cazador and Daily Bread.
"We're also looking at creating shelf-stable, longer-life meals that appeal to hunters," Scott says.
"So many people see deer as a huge food source; they are a staple in rural communities, for sure. We want people to see these products as a staple – they are there, and they should be eaten.
"We can speak to the purity of the meat; the lack of inputs compared to farmed meat is extraordinary."
Future expansion
The vision for the future of WithWild is, for the wapiti at least, the total utilisation of not just the meat that is left behind, but many other products sourced from the animal's carcass.
"And we are forming relationships with other groups such as Tahr and the Sika Foundation, but at the moment it's just one step at a time," Scott says.
"WithWild is pioneering the commercialisation of critical partnerships that enable privately funded conservation by applying new thinking about how we use nature's scarce and valuable resources."
"Long-term partnerships are key to the success of this programme," he says.
"WithWild will always take the deer, regardless of the market for it, and our wapiti recovery team, Southern Lakes Helicopters, is a key part of that exercise.
"To have the ability to take groups into the region to see the selective control programme and recovery take place is a 'selling point' that is second to none. We took a group of six chefs into the Nitz Valley recently via boat and helicopter.
"I could go into a million restaurants and say how delicious this incredible, lean, free-range meat is, but taking them in to see what goes on behind the scenes sells itself."
"Our aim is to protect environments like Fiordland National Park for future generations, but it's not easy. To do this we are taking Wapiti to the world. WithWild plans to engage as many people as we can to experience nature's bounty in new ways with the very best wild cuisine."
WithWild Fiordland Wapiti Sausage & Fennel Risotto recipe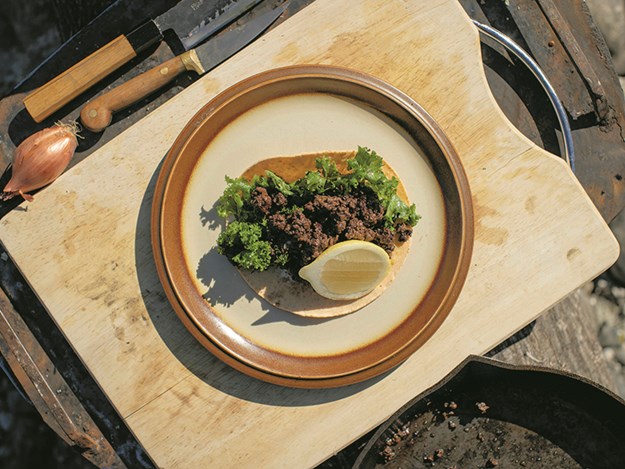 Feeds: 4
Cook time: 30 minutes
INGREDIENTS
50ml Extra Virgin Olive oil
500g WithWild Fiordland Wapiti Sausage (broken out of skins)
1 small onion, diced
2 cloves garlic, chopped
½ fennel bulb, chopped
500g carnaroli or arborio rice
150ml white wine
1L Wapiti stock (substitute for chicken stock)
100g flat parsley, chopped
100g parmesan
METHOD
Heat a heavy-based pan over a medium heat. Add olive oil and cook sausage until caramelised.
In another pot, heat the stock over a high heat.
Remove the cooked sausage from the pan and reserve for later.
In the pan that the sausage is cooked in, add the chopped onion, garlic, and fennel. Sweat the vegetables until softened. Add a little more olive oil if needed. Once the vegetables are translucent and soft, add the rice.
Stir the rice through the oil and vegetables for about two minutes.
Add the wine and stir. When the wine has almost evaporated, add the stock a few ladles at a time. Keep adding stock to keep the rice almost submerged.
Continue adding stock until the rice is al dente.
Add the sausage back to the rice with the chopped parsley and mix well.
SERVE
Grate parmesan on top of the rice and stir to combine. Serve with another generous drizzle of olive oil and extra grated parmesan on top.
WithWild Fiordland Wapiti Mince Taco recipe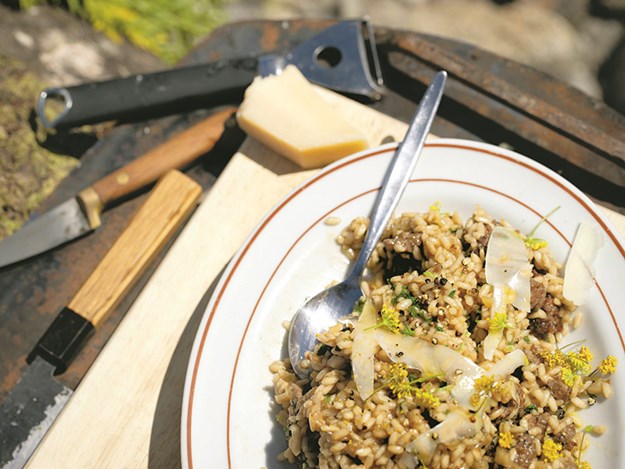 Feeds: 4
Cook time: 30 minutes
INGREDIENTS
400g WithWild Wapiti mince
Corn tortillas 1 pack or 12 (Hands Down or Tío Pablo)
1 tsp cinnamon
1 tsp chipotle salt (or chilli flakes)
½ tsp black pepper
2–3 squares of 70% dark chocolate
Kale, good bunch
2 lemons
Extra virgin olive oil
Sour cream
Hot sauce of your choice
(we love the Apostle spicy smoked BBQ)
METHOD
Thoroughly wash the kale, spin dry, then remove the stem and rip it into small pieces. Place in a bowl with a glug of virgin olive oil and massage thoroughly to break down the fibres, then squeeze in the juice of half a lemon.
In a heavy-based pan on high heat, add a pinch of flaky salt and a glug of olive oil then begin to brown the wapiti mince heavily.
Once evenly caramelised, add a dusting of cinnamon (1 tsp),
a generous few pinches of chipotle salt, and some coarsely cracked black pepper. Cook for a further minute then remove from the heat. Fold through the dark chocolate.
Reheat the tortillas over a dry cast iron on both sides then wrap in a folded tea towel ready to serve.
SERVE
Smear the bottom of the tortilla with the sour cream, add a spoonful of the kale salad, then a generous spoonful or two of the mince.
Squeeze a drizzle of fresh lemon juice on top then a dash of your favourite hot sauce for a kick or keep it natural.
ABOUT WITHWILD
Driven by a goal of helping with conservation in areas that have introduced species that require management to reduce their impact on Aotearoa's native flora and fauna
Partners with Fiordland Wapiti Foundation to help recover deer from within Fiordland National Park
Investigating ways to utilise all parts of the deer, exploring how to upcycle and repurpose all elements of the recovered animal, from the hide to the antler
For every kilo of protein WithWild sell, $3.30 goes back to the FWF. This helps fund projects, including protecting kiwi, kea, kaka, weka, and whio.
Find new and used farm machinery for sale in NZ 
Keep up to date in the industry by signing up to Farm Trader's free newsletter or liking us on Facebook